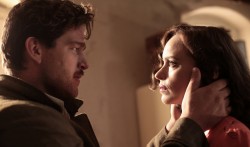 Christian Petzold's Phoenix (currently at TIFF Bell Lightbox), a haunting tale of obsessive love set in Berlin just as WWII has ended, is a kind of inverted Vertigo with subtle twists of character that undulate to a score based on Kurt Weill's Speak Low ("Love is pure gold and time a thief"). Nelly (Nina Hoss, masterful), a concentration camp survivor, her face badly disfigured by gunshot wounds, has been rescued by Lene (Nina Kuzendorf) of the Jewish Agency for Palestine. She's anxious to find her husband, Johnny (Ronald Zehrfeld), a piano player she sang with before she was apprehended in the fall of 1944. Despite strong indications that Johnny's character resembles his namesake in Weill's Surabaya Johnny, Nelly seeks him out after reconstructive surgery on her face. He's working in a bar called Phoenix, convinced his wife is dead, when she discovers him. To underscore his nature even more, two cabaret performers sing Holger Hiller's Johnny du Lump (Johnny You Scoundrel). Johnny's struck by the resemblance Nelly (she calls herself Esther, after her sister who did not survive the war) bears to his wife and concocts a scheme whereby she will pretend to be his wife in order for him to collect her inheritance in return for a lump sum payment.
Admittedly, this calls for a suspension of disbelief, but Hoss and the script make it easy with Nelly's amour fou and the layers of unreality in which it's wrapped. The Weill motif begins at the movie's outset in Paul Kleber's stand-up bass before Stefan Witt's mysterioso piano joins in. Witt composed the film's unobtrusive score as well as the Speak Low riffing, some of which includes Valentin Gregor's sweet Grappelli-like violin in a Hot Club of France setting. We even get to hear a phonograph recording of Weill accompanying himself on piano as he sings the song himself. The movie ends with Nelly singing Speak Low with Johnny on piano, a revelatory, highly charged scene.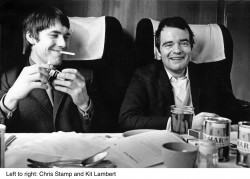 James D. Cooper's documentary Lambert & Stamp (currently playing at Cineplex Canada Square) takes a riveting, thorough look at the two men who discovered and managed The Who from their beginnings as High Numbers, a basement band catering to British mods in the mid-60s, to the early 70s after Tommy's unprecedented success. This 1960s nostalgia trip (with fabulous footage of the era) is centred on Christopher "Kit" Lambert and Chris Stamp, two assistant directors who bonded at Shepperton Studios in the early 60s on their love of Jean-Luc Godard and Cinéma vérité. They wanted to make a film about a rock band; they ended up managing one of the most successful.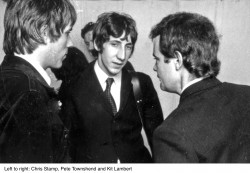 Lambert (who bears a slight resemblance to Rowan Atkinson's Mr. Bean) was an Oxford-educated upper-class gay man who could skilfully navigate British society. The movie is especially clear on the value of a proper address. Pete Townshend recounted how Lambert insisted that he move in with him on Eaton Place because then "we won't have to pay our bills." In fact, Townshend said, that since he was 20, he had never paid for wine at his Belgravia wine shop despite several attempts. Lambert's father was the British composer/conductor Constant Lambert and Townshend developed his guitar chord sound based on repeated listenings of Henry Purcell records that once belonged to Constant Lambert.
Of the managerial team, Kit was the creative musical force, offering sound advice in and out of the studio. Stamp, the son of a tugboat captain and younger brother of the actor Terence Stamp, was more logistically inclined. Their contribution to the popular culture of the 1960s was vital and the stories Stamp, Townshend and Roger Daltrey tell about that time, are both entertaining and instructive.