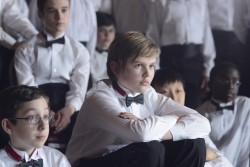 Director François Girard's best films have revolved around music: Thirty Two Short Films About Glenn Gould propelled him to early critical fame and The Red Violin proved to be a popular success. With Boychoir he's back in his element with a touching, crowd-pleaser that percolates with choral music.
He's able to put flesh on the screen despite the brittle bones of the plot.
Stet (Garrett Wareing), an undisciplined 11-year-old, abandoned by his father and being raised hard scrabble by his alcoholic waitress mother, has a beautiful voice, which has been noticed by one of his elementary school teachers (Debra Winger).
She arranges an audition with the American Boy Choir when they come to his hometown of Odessa, Texas but he runs away. The sudden death of his mother in a car accident brings his wealthy father (Josh Lucas) briefly into the picture just long enough to enroll him in the American Boy Choir Academy in New Jersey, where after a series of predictable plot points, he becomes the choir's lead soloist in a prestigious concert in Riverside Church, Manhattan.
With the first notes of Tallis' Spem in Alium the film takes flight and with each subsequent musical note or reference its course is maintained. The quality of that beauty is not strained. It's like a cascade of choral music diamonds that fall from the screen. Stet sings Pie Jesu from Duruflé's Requiem on the basketball court early on. It's actually Benjamin P. Wenzelberg who's doing the singing and judging from his website he's doing quite a bit more, including composing, as well as performing in the NYC Opera production of The Turn of the Screw. The movie cleverly uses Balulalow from Britten's Ceremony of Carols introduce the choirboys. (The real American Boy Choir supplies all the choral singing throughout.)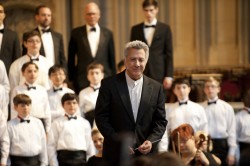 The choir is led by a failed pianist, Carvelle, played by Dustin Hoffman. One moment Stet catches Carvelle playing a Rachmaninoff prelude on the piano in an empty hall. "He wrote it when he was 20," Carvelle tells Stet, just about the time that Carvelle himself gave up the piano. Stet takes Carvelle up on his lesson that "giving your voice to the audience is about as spiritual as it gets" and sings Handel's Ode for the Birthday of Queen Anne. And being able to sing the high D in Handel's Messiah proves to be Stet's ticket to the top.
Hoffman's star quality falls victim to the clichéd script but he comes across believably as a musician. Both Kevin McHale as an academy teacher who has faith in Stet from the beginning and Eddie Izzard as the choir's ambitious assistant conductor give empathetic performances. Girard does manage to make the heartwarming ending affecting and that's no mean feat.
Boychoir began its theatrical run at Cineplex Varsity Cinemas March 27.