An exotic, compelling journey up the headwaters of the Amazon with echoes of Fitzcarraldo and Apocalypse Now, the third film by Colombian director Ciro Guerra, Embrace of the Serpent, one of the nominees for the Best Foreign Language Film Oscar, has opened at TIFF Bell Lightbox just in time for the upcoming Academy Awards.
Based on two real-life scientific expeditions, 30 years apart, in the first half of the 20th century, this gorgeous splash of black and white cinematography is a searing indictment of colonialism and the Catholic Church, whose priests enslaved Indigenous children orphaned as collateral damage of the ravenous greed of the Colombian rubber barons.
So authentic is the look of the film it's as if we're watching found footage beautifully restored.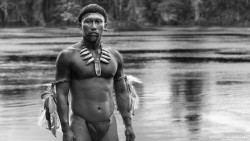 The two river journeys cover the same territory and Guerra deftly cuts back and forth between them. The film was inspired by the real-life journals of two explorers (the German,Theodor Koch-Grünberg, and the American, Richard Evans Schultes) who travelled through the Colombian Amazon in search of the yakruna, a rare, sacred plant with psychedelic and curative powers that grows on rubber trees. Each was guided by the same Amazonian tribesman, Karamakate, and it is his perspective which steers our perceptions; the American followed the German's trail via notebooks he had kept that were published after his death. Not to be outdone, the filmmaker was looking for the soul of the Amazon itself. It's no understatement to say that he found some of its shards.
The stunning photography (can I repeat myself enough?) is underscored by the film's sound design which uses natural sounds of water, birds, insects and the force of the river itself to buttress the images. An ambient drone or ominous synthesizer guides our senses from time to time; the occasional notes of traditional flute music add to the authenticity of the setting. The American's prized possession is a phonograph on which he listens incongruously to Haydn's Creation. Even Karamakate, now aged and disconnected from his shamanistic powers, finds it curiously inoffensive.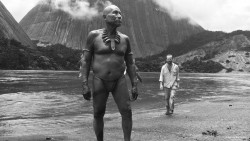 At the film's climax, the scientist's ingestion of the yakruna momentarily turns the black and white images to colour and the soundtrack explodes with a musical starburst.
Embrace of the Serpent is a road trip on water you'll be glad to have taken, a spellbinding journey that doubles as forensic anthropology with a subtle, non-didactic ecological message.