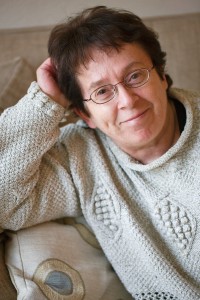 As she prepared for her next film, Heddy Honigmann graciously took the time to answer several email questions prompted by her superb documentary about the Royal Concertgebouw's 125th anniversary season, Around the World in 50 Concerts (now on view at the Bloor Hot Docs Cinema until August 21).
WholeNote: Yours was a very musical film, and not just because the love of music was at its core.
For example, there is a section that begins with a dinner conversation between the flutist and the bassoonist. The flute player reveals that he is easily moved by folk music, that the melancholy nature of the tango makes him feel warm; he finds folk music in The Rite of Spring, Mahler and Dvořák. Suddenly it's the next day and the film has taken us into the bassoonist's hotel room where he's calling home. As we hear the famous minor key funereal version of the Frère Jacques folk song in Mahler's First Symphony, the camera seamlessly pans through the streets of Buenos Aires ending up in the concert hall where the orchestra is playing the Mahler – it's a very musical montage that grows organically out of the material.
Thank you for this lovely film that lets us into so many lives that have been touched by music.
I was struck by how you gave the world tour such a wonderful human dimension. How hard was it to find the key people in each city? What was the process like? How did you go about it?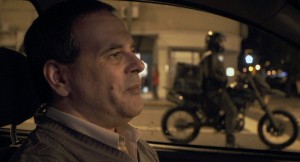 Heddy Honigmann: Many times I imagine/invent the characters I would like to film and after that I go to find them in reality; mostly I have found them much richer than in my imagination. I love taxi drivers and made a "legendary" feature documentary [Metal and Melancholy] about the taxi drivers in Lima in 1992 (when the middle class was destroyed by the gigantic inflation and the country terrorized by the guerrilla movement Lightning Path). Taxi drivers can be very interesting people. A friend of mine was going to a film festival in Buenos Aires and I wrote to her: "You'll take many cabs, it's a gigantic city; if you ever step into a cab with a driver who's really listening to classical music, but not just in between other stuff, please ask him what he's listening to and if he knows, please ask him for an email address and a mobile number."
That's the way we found Mr. Fuentes … and later on I sent my researcher in Buenos Aires to visit him … and finally I met him and loved him as a character – as I love all the people I film.
The girls in Soweto (the twins – even if they don't seem to be twins, they are) I saw in a marimba youth club from Soweto in a short YouTube video. The group was big but the smile of of one of the two, and the energy of both, was touching … When we were in Soweto we went to look for them and they were just as in the video clip. Mr. Masote, the older man who learned to play the violin with just a bow (imitating Yehudi Menuhin) was found by my researcher in Amsterdam, Lies Janssen.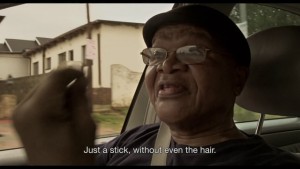 And Mr. Sergej Bogdanov, the old man in St. Petersburg who loves Mahler and survived the aggression of Hitler and Stalin, well, he was first a lady (in our imagination), a lady called Gallina Popova, with a strong love story. Our St. Petersburg researcher, Edwin Trommelen, went to search for "Gallina" in all kinds of old people associations related to music, art, wars … and so we found the moving Sergej Bogdanov, who was from the beginning a very moving person with a profound sense of what loss means and lots of love for Mahler's music – and I knew the Royal Concertgebouw Orchestra (RCO) would play the Second of Mahler in St. Petersburg.
The few listeners of the RCO in the different countries where they played, had to be very special, maybe not representative of the typical classical music goer, but I wanted to make a film for everyone who loves music and not only the grey-haired people who earn enough money to pay for a ticket.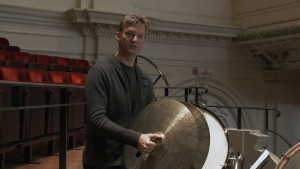 WN: It seemed to me that the percussionist, the double bass player and the young woman in Soweto were presenting their own narratives of how they feel as they perform and that's something we don't often see. Did you have this as a goal before you made the film or did it evolve as you went along?
Honigmann: You forget the flutist you mentioned before, the one loving folk music. It evolved as I went on filming. The percussionist (Herman Rieken), the flutist (Kersten McCall) and the double bass player (Dominic Seldis), each starts an act of my doc. You could say they are axes and the film rotates in between them, growing with the breathtaking story of Mr. Seldis and the Tenth Symphony of Shostakovich that brings us to St. Petersburg.
I think the story of the girl in Soweto taking about music is of a different level. She is not a professional, she is a girl who finds in making music a great consolation for the dark life she lives in this shantytown in Soweto.
WN: Do you have a particular relationship with the Concertgebouw? Have you, for example, attended many of their concerts?
Honigmann: I did not have a special relationship but now I have. Of course I've been many times there! The first when my mother went to visit me in Amsterdam for the first time.
I miss sometimes the orchestra, I miss making the film, a new film with the orchestra, let's say, a new film with music at it's heart. (Before this last one, I've done three documentaries with music at the heart of them.)
WN: For me, watching the film, seeing that man in St. Petersburg cry during Stravinsky's The Firebird was a particularly moving experience. Not to mention the taxi driver in Buenos Aires who loved classical music and used it to enrich his solitary work environment. I'm therefore wondering, as a filmmaker, did you have a moment during the filming that particularly moved you?
Honigmann: Yes! Sergej in St. Petersburg for sure and of course the taxi driver, but I was very moved by Liviu Prunaru (concertmaster of the RCO) and his wife Valentina Svyatlovskaya (RCO violinist) playing Bach for their friend in her chocolate shop because she couldn't come to the concert. Of course I knew they would do it because they told me the day after the concert when they knew she was not there. But she did not [know]!
I love the sound of The Firebird starting at the long wall in Buenos Aires where the names of those who disappeared in Argentina during the years of The Dirty War (1976-78) are carved, and continuing on the faces of three very tired orchestra musicians. I love flutist Kersten McCall playing the popular Dutch song "De Amsterdamse Grachten" (The Dutch Canals), a song very very popular which is played at a canal in Amsterdam, first off screen by Kersten and the RCO takes over; it's such a beautiful folk song …
WN: Do you play music? Did you as a child? Do you have a musical background?
Honigmann: I don't. My granny wanted to give me a piano but my father didn't want a piano in our home. I was supposed to become a physician! Terribly sad … I've created my own musical background. At home we heard only operas, all the time – so I've hated operas for a very long time.
WN: Do you have a favourite musical moment in the film?
Honigmann: Two moments: When Mahler's First starts on the hotel balcony where first bassoonist Gustavo Núñez stands, continuing on a very long travelling shot looking at a poor crazy world built along and beneath the highway … and when Liviu and Valentina play Bach at the chocolate shop; and yes, of course The Firebird starting on Sergej's face crying after Mahler's Second Symphony and going on with the snow-covered mountains and clouds.