The Lady in the Van, the engaging film by Nicholas Hytner, based on Alan Bennett's 1989 memoir of his 15-year relationship with an elderly woman who lived in a van parked beside his front garden in North London's Camden Town, benefits from a lively performance by Maggie Smith as "The Lady." Fractious though she may be, with an upper-class hauteur that makes her prickly sense of entitlement almost charming, it's her backstory, once we eventually come to understand it, that engages our sympathy and tugs at our emotions. Bennett turned his book into a play starring Smith in 1999, so she clearly owns the role. Coincidentally, after The Madness of King George and The History Boys, it's the third time Hytner has successfully directed a Bennett adaptation of a Bennett play.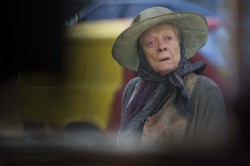 The movie opens with black and white footage of a young woman performing Chopin's Piano Concerto No.1. Even though Smith's character, Mary Shepherd, cannot bear classical music -- she attacks a quartet of diverse street musicians playing at Beethoven's Fifth Symphony early on -- we discover that she had been a piano student of Alfred Cortot's in France before WWII. And that she had her love of music literally beaten out of her -- as she was playing Chopin -- by nuns in the convent where she was a novice. Our first clue that music had something to do with Shepherd's mysterious past, comes when she visits a seniors' club and enjoys listening to a young woman perform Schubert's Impromptu Op.90, No.3 D899. The pianist is Clare Hammond, who also stands in for the young Miss Shepherd in the several excerpts from the second and third movements of the Chopin concerto, playing with a sensitive poignancy in the Larghetto Romanze and a restrained delicacy in the Vivace Rondo.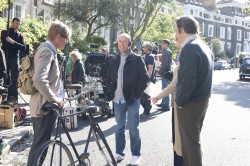 Among the artistic types who populate Gloucester Crescent, the leafy street where most of the film takes place, is the widow of Ralph Vaughan Williams, but it's the eccentric outsider Bennett, who shares centre stage with Shepherd. He's presented onscreen as two sides of himself, the knowing writer and the misfit who cycles around and engages his neighbours in small talk.
The writer side of the equation is constantly offering advice to his other half while commenting on the screen goings-on. It's a clever device that bears fruit in the film's final frames.
The formidable supporting cast -- Frances de la Tour, Roger Allam and Deborah Findlay as the neighbours -- includes History Boys' alumni James Corden, Dominic Cooper, Russell Tovey and Samuel Barnett in brief cameos. But it's Maggie Smith's touching portrayal that stays with you long after.
The Lady in the Van opens at the Cineplex Odeon Varsity Cinema February 5 for an extended run.