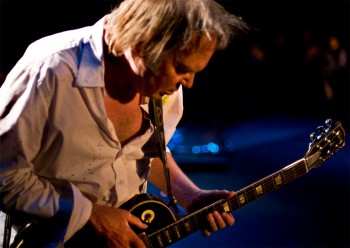 Journey through the Past (1972), the invaluable collection of footage from 1966 to 1972 documenting the early years of singer-songwriter-guitarist-filmmaker Neil Young's prodigious career, peels back the layers of the onion that was at the centre of 1960s counterculture. Built around a trip to Nashville, the film cuts between old footage of Buffalo Springfield classics For What It's Worth and Mr. Soul, by Stephen Stills and Young, respectively; Crosby, Stills, Nash & Young elevating Young classics Ohio and Southern Man; manager Elliot Roberts worrying about concert ticket prices going up to the colossal price of $10; Crosby analyzing the Nixon-Billy Graham ruling class nexus; and outright hippie talk from Stills ("We reassure ourselves with words. Someday the reassurance won't be necessary. Soon.")
It's clear that Young's fertile musical imagination, versatile musicianship and the need to project his interest in classic cars, trains and environmental concerns over a wide canvas was there from the start.
His soliloquy atop a '57 Buick Limited in a Nashville automobile junkyard extolling the virtues of the "best car ever made by Buick" is evidence of one of those enthusiasms. Not often seen, it's onscreen July 24.
The seven feature films that make up the retrospective running at The Royal July 23 to 26 reinforce the idea that Young has continued to live out his youthful passions with an energy, drive and good humour that are both admirable and appealing.
The hard-to-see Human Highway (1982; recut 2014), which opens the retro July 23, is a full-fledged narrative film set in the 1950s with bona fide movie stars Dennis Hopper, Dean Stockwell and Russ Tamblyn that sends up the burgeoning nuclear plant industry with innocent glee. The action takes place in a diner-gas station complex in the shadow of a constantly leaking nuclear facility. Young (surprisingly genuine as an actor) plays a naive, nerdy auto mechanic fuelled by music fantasies. The wacky plot may not be able to hold all its heavy water but Young's casting of Devo as plant workers moving barrels of nuclear waste while singing Worried Man Blues is genius. Even better is a pared-down, new wave version of Hey Hey, My My (Into the Black) with Devo providing the rhythmically rigid undertow to Young's singing lead guitar. Breaking the Wind, a parody of Bob Dylan's Blowin' in the Wind is a fitting end to the satire.
All but two of the films in the retro were directed by Young a.k.a. Bernard Shakey except Solo Trans (1984) which is credited to the redoubtable Hal Ashby, and Jonathan Demme's Neil Young Trunk Show. An appearance in Dayton, Ohio, is the impetus for a TV show send-up that harkens back to the early 1960s in its hokey, brightly coloured patter and set design. The acoustic opening includes a nicely shot Heart of Gold, a nostalgic Old Man ("24 and there's so much more") and Helpless on piano and forlorn harmonica with Young filmed by Ashby in distinctive profile. Later, the powerful protest song Ohio takes on extra authority given its locale and synth accompaniment. The late 1950s get their rock 'n' roll props with direct references to, among others, Alan Freed and an infectious performance of Do You Wanna Dance. A rare chance to watch it on the big screen, July 26.
Even harder to see is Muddy Track (1987) which chronicles Young's chaotic 1987 European tour with Crazy Horse. "If anything happens that's going wrong I want it," Young says at the outset. With the help of a small camera, Young manages to record all manner of intimate moments. And the hotel room rehearsals working on new material as well as the candid admissions of what occasionally went wrong in concert become precious nuggets in Young's hard-working professional life that he's only too willing to share. The degree of intimacy is unrivalled. As is Hey Hey, My My (Into the Black) at the tour's end in Ireland. The title is taken form the world of horse racing: "We're good on a muddy track," Young says, confronting another day of rain on the road.
Muddy Track plays July 25, the same day as two other Young music documentaries, Rust Never Sleeps (1979) – which conveys the 1978 Cow Palace show in San Francisco with some idiosyncratic Shakey touches – and Demme's Neil Young Trunk Show (2009), most notable for the 20-minute high-voltage guitar work on Hidden Path. The retrospective finishes on July 26 with Young's didactic rock opera Greendale (2003), an environmental lovefest set in an Our Town-like Daley City Northern California locale, where Young's countercultural aspirations have seemingly taken root between faded idealism and lingering acceptance.