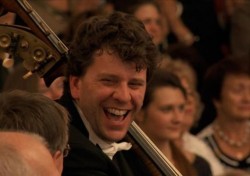 In her captivating documentary celebrating the Royal Concertgebouw Orchestra's 125th anniversary year (2013), Around the World in 50 Concerts, filmmaker Heddy Honigmann focuses on the human element.
The movie concentrates on four of the orchestra's musicians, a percussionist, flutist, bassoonist and double bassist, as well as concertgoers in three cities on the tour: Buenos Aires, Johannesburg and St. Petersburg. Each of Honigmann's subjects describes what music means to them, from the orchestra members who play it, to the Argentinian taxi driver who can't live without it; to the Soweto girl for whom playing in a youth orchestra provides self-worth and to the man who fell in love with the violin as a poverty-stricken child, learned to play, and now leads that orchestra (the Soweto Youth Orchestra); to the Russian with a connection to Mahler's music so personal that when he hears the Concertgebouw play the Symphony No. 2 and Stravinsky's The Firebird, we see his tears.
Honigmann's camera lingers on faces. It's the main way she draws us into her subjects. And she gets inside the orchestra by keeping her camera on the instrumentalists even after they play; it's unusual to see musicians at rest this way. You really get a sense of what it means to be a symphonic musician on tour.
Mostly conducted by Mariss Jansons, the film is carried by a judicious use of Bruckner's Seventh, Rachmaninov's Paganini Variations, Tchaikovsky's Fifth Symphony and Violin Concerto, Verdi's Requiem, Mahler's First, Second and Eighth, among others. The emotional connection is intensified by Honigmann's subjects' evident joy in music.
Honigmann's direction can take on a musical life of its own. For example, there is a section that begins with a dinner conversation between the flutist and the bassoonist. The flute player reveals that he is easily moved by folk music, that the melancholy nature of the tango makes him feel warm; he finds folk music in The Rite of Spring, Mahler and Dvořák. Suddenly it's the next day and the film has taken us into the bassoonist's hotel room where he's calling home. As we hear the famous minor key funereal version of the Frère Jacques folk song in Mahler's First Symphony, the camera seamlessly pans through the streets of Buenos Aires ending up in the concert hall where the orchestra is playing the Mahler – it's a very musical montage that grows organically out of the material.
The power of music to elevate, soothe and communicate is at the core of this moving documentary.
Around the World in 50 Concerts plays August 14 through August 21 at the Bloor Hot Docs Cinema.