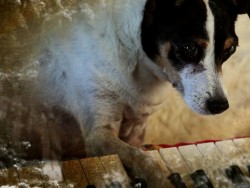 The most musical film I saw at TIFF 2015, Laurie Anderson's Heart of a Dog, is a visual and aural poem filled with truths and lies, imaginatively linked by the writer/director/narrator's familiar persona.
Her Rat Terrier Lolabelle's death sparks a lighthearted yet serious reminiscence that mirrors Kierkegaard's maxim, "life can only be understood backwards, but it must be lived forwards," as it pertains to her wondrously talented pooch. The lovable and talented animal doesn't mind hearing her owner's hypnotic cello figure for the 70th time.
Anderson learns to feel sad without actually being sad as she deals not only with Lolabelle's death but that of her mother and husband (Lou Reed) as well. Reed is never mentioned but appears at frame's edge in a home movie taken in Central Park and briefly as a doctor in a hospital scene. His song Turning Time Around ends the monologue after nearly 75 minutes and carries on through the final credits (which finish with a dedication to his "magnificent spirit"). It's a touching acknowledgement of a significant part of her life the loss of which she obviously is unwilling to fully confront. Meanwhile her dry sense of humour carries the narrative as she showcases Lolabelle's talent at the piano and "a pretty good Christmas record" that she and her pet produced.
Her whimsy masks a serious undercurrent. Humour is apt to appear in unlikely places that gently jar the viewer's mind but always crack a smile; she uses 8mm home movies, dollar-store animation and her own drawings to further layer her artistic mien.
The soundtrack's major instrument is Anderson's voice. However filtered it may be, it's always ultra-present, the perfect elastic vehicle for her insights, bemused observations and grains of Buddhist teachings (which reminded me of John Cage's Indeterminacy).
Heart of a Dog includes musical excerpts from several of her pieces—The Lake and Flow from Homeland (2010), Beautiful Pea Green Boat from Bright Red (1994), Rhumba Club from Life on a String (2001) and excerpts from Landfall (2011) with the Kronos Quartet. The music interrupts, comments on, bumps up against and fuses with the narration; it's an essential component of this fanciful, uplifting film.
Heart of a Dog is currently playing at TIFF Bell Lightbox in Toronto.