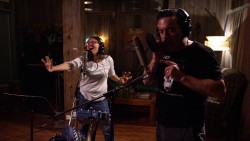 In Al Purdy Was Here dozens of literary talking heads led by Margaret Atwood bring the charismatic Canadian poet Al Purdy to life with anecdotes, reminiscences and first-hand history but it's the copious video evidence of Purdy himself that makes the best case for his unique voice. The fate of Purdy's Roblin Lake A-frame in Prince Edward County is the starting point for this thorough documentary directed by former Maclean's magazine film critic Brian D. Johnson and written by Johnson and his writer/editor wife Marni Jackson.. Elevating the proceedings are a number of songs inspired by Purdy's poetry that mainly succeed in their genre cross-pollination. Standouts include "Say the Names" performed by violinist Jesse Zubot, Giller Prize-winning novelist Joseph Boyden and the extraordinaryTanya Tagaq, who internalized Purdy's words (as spoken by Boyden) transforming them into raw emotional energy. Sarah Harmer performed her song about a place where music and art are welcome, the melancholic, moving, "Just Get There," on the old upright piano in her house. Bruce Cockburn's "3 Al Purdys" ends the film, offering the singer-songwriter's own inimitable take on the poet, summing up the previous 90 minutes in a song.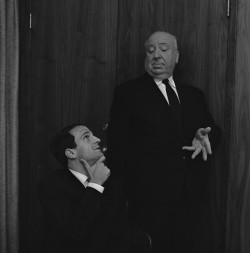 Soon after The Birds was completed in 1964, François Truffaut sat down with Alfred Hitchcock to discuss the master of suspense's filmography. Director Kent Jones uses footage of their week-long encounter as the basis for a riveting documentary that captures the personalities of the two men as well as the impact Truffaut's subsequent book on Hitchcock's films had on other filmmakers – Martin Scorsese found the book "revolutionary"; for Olivier Assayas it was "essential."
As we rediscover Hitchcock through the perceptive and eloquent voice of Truffaut, the doc also offers up the unique experience of being in the same room with two masters of cinema, with Hitchcock unspooling a seemingly endless stream of bon mots, for example: "I have a favourite saying for myself – logic is dull." The great Bernard Herrmann scored every Hitchcock film beginning with The Trouble with Harry and ending with Marnie (eight in all); Georges Delerue's memorable contributions to Truffaut's films began with Shoot the Piano Player and Jules and Jim and continued through 11 titles in all up to and including his final four. Delerue's melodic gifts were spread far and wide from the French New Wave to Hollywood but their poignant beauty and Gallic energy will forever be associated with Truffaut.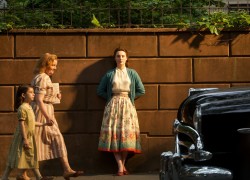 I was drawn to John Crowley's Brooklyn by the prospect of Irish music but was swept up in the coming-of-age story of a young Irish immigrant navigating the new world of Brooklyn while tied to the old one. I was not alone. Now in its third week in Toronto, Brooklyn is an artistic and popular success. Apart from a lovely a cappella song by Iarla Ó Lionáird, the diegetic music is generic and serviceable (there are some period nuggets buried beneath the action) but Saorise Ronan's understated star turn won me over. It's another world, this period piece set in the early 1950s.
Al Purdy Is Here plays December 4, 5, 8 and 9 at the Bloor Hot Docs Cinema.
Hitchcock/Truffaut begins its run at TIFF Bell Lightbox, December 4.
Brooklyn is currently playing at the Cineplex Varsity Cinema and Cineplex Queensway Cinema.