Laszlo Nemes' intense, intoxicating, immersive debut feature, Son of Saul, won the Grand Prize (the silver medal, if you will) at Cannes this year. A few days ago it took the Golden Globe for Best Foreign Language Film. Now it's poised to win the Academy Award in the same category.
It's the rare film that grabs your attention from the first few seconds and never lets go.
Filmed almost entirely from the protagonist's POV in a continuous series of hand-held takes, Nemes packs the frame with shallow-focus shots, taking us into the heart of Auschwitz in the person of a Jew forced to aid the Nazis in their extermination mission. We see him trying to maintain his humanity over the course of a few days by attempting to arrange a proper burial for a child whose body he finds while engaged in his abhorrent routine. Compelling and astounding.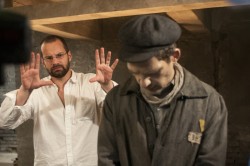 In accepting the Golden Globe Nemes said that he wanted to put a human face on the Holocaust. That he certainly did. And more.
The sound design and score are critical to the artistic success of this Hungarian-made movie. Early last month (December 2), Nemes spoke to Variety about his relationship to his composer and sound designer:
Laszlo Melis (Composer)
"I didn't want a 'score,' it wouldn't have been right. We wanted something where you cannot trace the music, you cannot put your finger on it. It's very hidden; that was one of his achievements. The second achievement was to find the final song at the end. He helped us get access to lost music from Transylvania, very folkloric and Hasidic. This civilization has vanished, so this is a song from a lost world. That was an important contribution."
Tamas Zanyi (Sound)
"He was the sound designer who also did sound mixing and editing, of course assisted by other people. I warned him at least 50% of the film would be sound. We spent almost five months in post-production on the sound. We kept adding layers, because the sound is suggesting that there is much more than the audience can see. So we added human voices, and the sound spectrum of the crematorium, which is always there, always making noise. At some point, we had to take away some sound, because it was overwhelming. I think the most difficult part was the human voices, the cries and shouts in the gas chambers."
Son of Saul is currently playing at TIFF Bell Lightbox and Cineplex Cinemas Empress Walk.