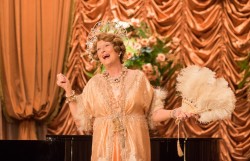 Meryl Streep walks the finest of fine lines between send-up and sincerity in her inspired portrait of the socialite and patron of the arts, Florence Foster Jenkins (Toscanini was a beneficiary and friend), in this nuanced and enjoyable biopic directed by Stephen Frears: a bon mot here, a visual joke there. For 25 years, the matronly Jenkins promoted classical music through her Verdi Club with annual presentations of vivid tableaux set to the likes of Wagner's Ride of the Valkyries, in which she would invariably appear, for example, as "the angel of inspiration sent from on high to inspire."
"We'd rather go without bread than Mozart," she said.
Finally able to realize her childhood dream of singing after her father's death, she began performing before her society friends and "music lovers," ultimately making a record and playing a legendary Carnegie Hall concert in 1944 at age 76. It's quickly apparent that the voice she heard in her head was not the one that came out of her mouth; it was excruciating and inimitable. The notoriety of her high coloratura soprano is marvellously captured by Streep and Frears in the film which unfolds over the months leading up to the infamous recital.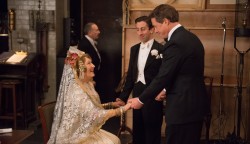 The Queen of the Night's aria from Mozart's The Magic Flute from that evening was gleefully depicted in the film, brazenly off key. Yet by this point, Frears and screenwriter Nicholas Martin had humanized Jenkins, her husband St. Clair Bayfield (wittily underplayed by Hugh Grant) and piano accompanist Cosmé McMoon (Simon Helberg, an adept comic actor whose musical training enabled him to actually play as Streep sang, upping the verisimilitude quotient immensely).
Considering the amount of music that was inherently part of the narrative – Adele's Laughing Song from Die Fledermaus and The Bell Song from Lakmé (both enthusiastically and lovingly massacred by Streep and Helberg); Respighi's Valse Caressante (surprisingly sung sweetly and straight by Streep and Helberg); Brahms' Lullaby serenely done by Anne Sofie von Otter and Bengt Forsberg; Take It Easy by Fats Waller wisely used as an instrumental bridge – Alexandre Desplat's discreet score was the model of support, lightly orchestrated contemporaneous jazz-based, even riffing on Tchaikovsky's Pathetique Symphony at a crucial plot point.
Florence Foster Jenkins is currently playing at Cineplex Varsity & VIP and 14 other cinemas in the GTA.