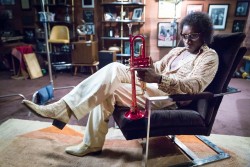 Don Cheadle directs and stars in Miles Ahead, a mercurial portrait of the jazz icon Miles Davis. Cheadle's uncanny physical transformation and convincing performance conjures up the quixotic trumpeter while the soundtrack, heavily laden with Davis' own recordings, is a well-chosen accompaniment to the fictional plot point that is the impetus for this uncommonly good piece of cinematic entertainment.
Set in 1979, at the end of a fallow period of creativity that stretched for five years when Davis was more interested in drugs than playing his instrument, the film revolves around the stolen tape of Davis' first recording session since his withdrawal from the scene. Issues with his record company and various unscrupulous producers get conflated with a Rolling Stone writer looking for a story, the simultaneous search for cocaine and the recovery of the tape, along with flashbacks to the 1950s and Davis' memories of his second wife, Frances Taylor. (Her face adorned several of his album covers, including Someday My Prince Will Come -- there's a subtle reference to it in the film.)
Steven Baigelman and Cheadle's script avoids the pitfalls of most music bio-pics by not being a bio-pic. Instead the focus is on a specific period of the subject's life with allusions to another, all in the service of presenting the protagonist as a working musician (or a blocked one; as Davis puts it early on, he stopped playing because he has nothing to say).
The movie opens with Agharta: Prelude Part 2, slides into Kind of Blue's iconic So What, pointedly uses Jack Johnson's Duran as we see an old newsreel of Johnson boxing Jim Jeffries, brings commercial radio into play with a DJ and Solea from Sketches from Spain, introduces Frances (Emayatzy Corinealdi) with Frelon Brun from Filles de Kilimanjaro, takes us inside the master's dishevelled lair with Rolling Stone journalist, Dave Braden (Ewan McGregor), before Braden and Davis drive uptown in Davis' Jaguar accompanied by the short, sharp, jagged sounds of We Want Miles' Back Seat Betty. By the middle of the film's first act, its score has already reached the heights of Clint Eastwood's Bird, Bertrand Tavernier's Round Midnight and Louis Malle's Elevator to the Gallows (which Davis himself composed in 1958).
There's a brief flashback to Davis' life with Frances listening to Chopin, Stravinsky and Ravel, "revolutionaries, innovators." And a remarkable re-creation of the recording session of Gone from Porgy and Bess, working with Teo Macero and Gil Evans. As well as a brief interchange in a club between Davis and Bill Evans, with Coltrane and others performing Blue in Green from Kind of Blue, just before Davis goes outside for a cigarette and gets hassled/arrested by a racist cop.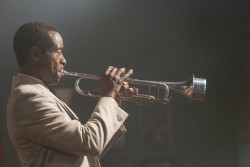 The movie's present is kinetic, edgy, movement-based; the flashbacks are cool and reflective. Many of the scenes were written with specific Davis tunes in mind. The scenes were shot to the music playing in the background, which goes a long way to explain the seamless integration of sound and image.
Cheadle learned to play the trumpet (with the help of Wynton Marsalis) and did so in several scenes. Even though we never hear him, it's a big part of the actor becoming the character.
Other key elements of the soundtrack are the elusive Wayne Shorter tune Sanctuary from Bitches Brew, the uncannily contemporary Black Satin from On the Corner, the funky Go Ahead John from Big Fun, Nefertiti (which plays throughout an argument between Davis and Frances), Teo from Someday My Prince Will Come, He Loved Him Madly from Get Up With It and Moja Part 1 and 2 from Dark Magus Live at Carnegie Hall (which perfectly underscores the climactic chase scene) are other key elements of the soundtrack.
The film ends with a comeback fantasy jam, "What's Wrong with That?," written by Robert Glasper, that imagines Cheadle as Davis playing in the present day with guest performers Glasper, Herbie Hancock, Wayne Shorter, Gary Clark, Jr., Esperanza Spalding and Antonio Sanchez. Cheadle sports #Social Music on his shirt, a reference to Davis' preferred sobriquet for jazz, a term he disliked. Whatever it's called, music has seldom been this well integrated into a movie.
Miles Ahead is currently playing at the Cineplex Varsity and VIP Cinemas.