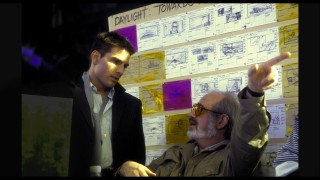 De Palma, the indispensable documentary about Brian De Palma, directed by Noah Baumbach and Jake Paltrow, is a candid, highly entertaining and illuminating look at one of Hollywood's longest directorial careers from the mouth of the man himself. In compulsively watchable detail, De Palma -- who considers himself "the one practitioner who took up Hitchcock's form" -- talks about each of his 29 features, dropping one factual nugget after another. (As a child, the fledgling director saw a lot of blood watching his orthopedic surgeon father operate; later he would follow his father hoping to catch him cheating on his mother.) Anecdotes and analysis range from camerawork and direct influences to gossip about famous actors not learning lines (Orson Welles).
Baumbach and Paltrow seamlessly intercut scenes from 45 years of filmmaking; the comfort level among the three men (who have known each other for ten years) is key to De Palma's ease and forthrightness as he examines his entire career.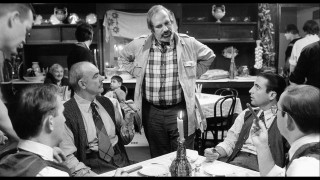 De Palma has worked with the cream of film composers, from Bernard Herrmann ("who sees the movie and goes off and writes the score") on Obsession and Sisters to John Williams (Williams' 1978 score for The Fury was one of De Palma's favourites); Danny Elfman (Mission: Impossible), Mark Isham and Ryuichi Sakamoto to seven with Pino Donaggio (Carrie, Dressed to Kill etc). The idea for Phantom of the Paradise came from hearing a Beatles song playing as Muzak in an elevator; Paul Williams, its composer, was able to write parodies of all sorts of pop music forms. De Palma offers several insights into Ennio Morricone's work on The Untouchables. ("Give a composer the time and space to develop the scene… the sequences inspire the composer.")
And to think it all began when De Palma saw Vertigo at Radio City Music Hall as a teenager in 1958.
De Palma opens at TIFF Bell Lightbox June 17. Split/Screen: The Cinema of Brian De Palma – also at the Lightbox – runs from June 18 until September 3 screening 25 of his feature films.