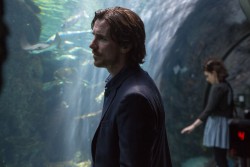 The opening today of Knight of Cups at the Cineplex Cinemas Varsity is a reminder that Terrence Malick has had a significant classical music component in all of his films, beginning with Badlands (1973) and its haunting use of Satie's Three Pieces in the Shape of a Pear. (He's also capable of a popular music throwdown: in Badlands it was Mickey & Sylvia's Love Is Strange). For Days of Heaven (1978), Malick memorably turned to Saint-Saëns' Aquarium from Carnival of the Animals but he also used Leo Kottke and Doug Kershaw to support Ennio Morricone, who composed the bulk of the soundtrack.
Malick hired Hans Zimmer to score The Thin Red Line (1998) and James Horner for The New World (2005) but ended up discarding much of their work, concentrating on Zimmer's atmospherics and scrapping some of Horner for the simple eloquence of the slow movement of Mozart's Piano Concerto No.23 K488 and a portion of Wagner's Prelude to Das Rheingold. By the time of Tree of Life (2011) and To the Wonder (2012), Malick had basically gone full Kubrick, outsourcing much of the soundtrack to pre-existing music leaving Alexandre Desplat's Tree of Life score dwarfed by music by Tavener, Preisner, Górecki, Mahler, Respighi, Holst, Smetana, Brahms, Berlioz, Mozart, Bach, Couperin, Schumann and Arsenije Jovanović (whose audio artistry combining voices, instruments, field recordings and manipulated sound struck such a chord with Malick that he used excerpts from Jovanović's works in his last three films).
It's not only the extraordinary use of Wagner's Prelude to Act One from Parsifal which elevated the Mont Saint-Michel episode of To the Wonder, it's the way Malick piled on phrase upon phrase with (often) unrecognizable bits of many works, among them Haydn's The Seasons and Respighi's Ancient Airs and Dances, Suite no. 2, the second and third movements of Górecki's Symphony No.3, the third movement of Rautavaara's Cantus Arcticus and Shostakovich's Piano Concerto No. 2 to Rachmaninov's Isle of the Dead.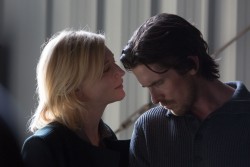 And so it goes with Malick's latest film, Knight of Cups, a sound and image poem leaning heavily on the classics, with compositions by Arvo Pärt, Pachelbel, Corelli, Chopin, Górecki's Symphony No.3 (again), Beethoven's Ninth, Bruch's Kol Nidrei and some contemporary poptronica from Biosphere and others. Much of the soundtrack is imperceptible or buried in layers, part of an overall sound design. Malick loves the low clarinet figure from Wojciech Kilar's Exodus, which he makes into a questioning leitmotif for Christian Bale's title character's life gone askew. Vaughan Williams' Fantasy on a Theme of Thomas Tallis has always been a go-to source of celestial beauty, as it is here. Malick repeatedly returns to Grieg's The Death of Ase as a grounding device for Bale's failed marriage to Cate Blanchett and uses Grieg's Solveig's Song as a point of peaceful repose. Debussy's Sirènes from his Nocturnes for Orchestra and Six épigraphes antiques: Pour l'égyptienne, as well as his Images for Orchestra, alternately buoy and add a sense of mystery to the proceedings.
Bale plays a successful screenwriter whose life is presented in fragments as he narrates the film, describing the memories his mind seems to be conjuring up onscreen. Voiceover, a Malick trademark from Day One, here takes the form of Bale's interior monologues -- in fact, it's hard to remember a moment where his character speaks directly to another. He's the recipient of much philosophical badinage, often from women with whom he's involved. ("Dreams are nice but you can't live in them" and "You live in a fantasy; you can be whoever you want to be.") He suffers from an overbearing father (Brian Dennehy, his hefty role bent by old age) and somewhat strained relations with his brother (Wes Bentley). There's a deliberate parallel with John Bunyan's Pilgrim's Progress, as Bale tries to save his soul in L.A.'s lotus land. (The film opens with John Gielgud reading from Bunyan's poem.)
With Emmanuel Lubezki's rapturous cinematography, there's even more to catch your attention. But as Antonio Banderas' bon vivant character says early on: "Music is playing; it helps me to fall in love."