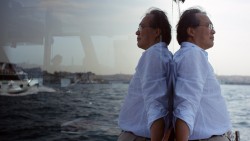 Morgan Neville, fresh from his Oscar-winning documentary, Twenty Feet from Stardom, has crafted his most personal film to date with The Music of Strangers, a joyous account of Yo-Yo Ma and the Silk Road Ensemble. Neville, a musician himself, found working with "these great musicians almost a religious experience." His devotion shows in the three and a half years of work that took him all over the globe to tell the film's uplifting story of the power of music to speak to disparate audiences and unite diverse performers.
Ma literally grew up with music and fell into being a professional musician without having found his voice (according to the composer Leon Kirchner who was one of his Harvard professors). But he would do so through his association with the worldwide collection of upwards of 50 musicians who comprise Silkroad. A constant questioner, Ma was influenced by Leonard Bernstein's 1973 Norton Lectures that sought a universal explanation of music. The cellist's search for the origins of creativity took him to the intersections of cultures.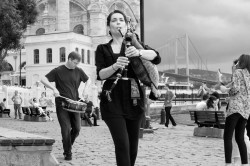 Neville focuses on Ma but also brings us the stories of several key Silkroad participants: Kinan Azmeh, the genial Syrian clarinetist, who found refuge in New York City from his country's civil war; Wu Man, pipa virtuoso extraordinaire, who was part of the first class to enter the conservatory in China following the Cultural Revolution, and who benefitted from Isaac Stern's historic master classes [see the 1979 documentary From Mao to Mozart]; and Cristina Pato, the Galician bagpiper whose enthusiastic musicianship is contagious, and whose dog is named Yo-Yo.
Neville said after last September's TIFF premiere that he thinks of culture as the plate the cake sits on -- it's "the most essential thing, not just the frosting on the cake." The Music of Strangers is prima facie evidence of that essence.
The Music of Strangers plays the Hot Docs Ted Rogers Cinema [formerly the Bloor] from July 8 to 14.