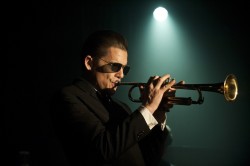 Chet Baker, the epitome of West Coast cool, won the DownBeat Reader's Poll as best trumpeter over Dizzy Gillespie, Miles Davis and Clifford Brown in 1955, the year after Chet Baker Sings introduced his unembellished, flat vocal stylings to the world. That same year Hollywood cast him in a B-movie war film, Hell's Horizon, that might have made him a star had his heavy heroin habit not made that an impossibility. Five years later, he appeared as Chet l'americano in Howlers of the Dock, an early, little-known film by director Lucio Fulci who later gained fame with two giallo genre classics, including A Lizard in a Woman's Skin.
The new Canadian film by Robert Budreau, Born To Be Blue, is a reimagining of Baker's life starring Ethan Hawke. It juxtaposes black and white film images from a fictional biopic film-within-the-film starring Baker (sparked by the famous William Claxton mid-50s photographs of him that evoked James Dean), with a factually loose narrative history of the trumpeter's life from 1966 to 1973, when he was relearning his embouchure and struggling to regain his trumpet-playing chops after losing his teeth in a beating related to his drug habit.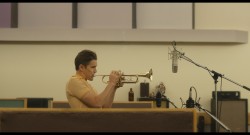 Hawke brilliantly captures Baker's spirit in a convincing portrait of a drug-addled, music-loving womanizer. He's believable singing "I've Never Been in Love Before" a cappella in a bowling alley and covers the iconic "My Funny Valentine" in the studio respectably, his voice lower than Baker's but just as naked, if not unblemished. Equally essential, however, is Toronto's Kevin Turcotte, whose uncanny trumpet on the soundtrack makes Hawke's portrayal believable. The versatile Turcotte also supplies the sound for Gillespie's and Davis' horns, in brief cameos in two Birdland scenes.
Pianist David Braid, who arranged much of the extensive music track and even wrote a tune inspired by "Cherokee" and "Salt Peanuts," leads a solid quartet with Turcotte, bassist Steve Wallace and drummer Terry Clarke. The music in the film is far more reality-based than the plot.
Born To Be Blue pulls no punches with Baker's love of drugs. "Being a junkie is nobody's fault," he says early on. "It makes me happy; I love to get high."
"Time gets wider, not just longer, and I can get inside every note," Baker says later, about the effect of heroin on his music making. "Playing on methadone's like wearing a condom."
A visit to his parents in Yale, Oklahoma reveals the sourness of Baker's relationship with his father (Stephen McHattie -- who once played Baker himself in Budreau's short film The Deaths of Chet Baker -- in a searing cameo). Carmen Ejogo (Baker's wife in the film-within-the-film) stands in sympathetically for Baker's many wives and girlfriends. An amiable seducer, Baker used women for self-gratification and as drug procurers. Simply put, he was a junkie who loved to make music, as Born To Be Blue, to its credit, makes clear.
Born To Be Blue is currently onscreen at TIFF Bell Lightbox.