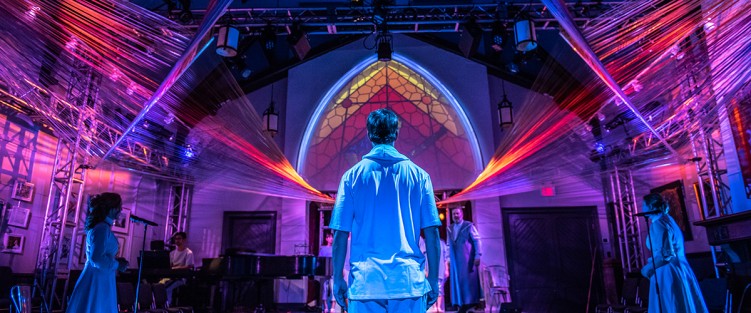 The Johnson sisters from Stratford, Ontario, Britta and Anika, are building an enviable reputation as creators of new music theatre – both individually and as a team.
Britta is probably best known for Life After, her musical that opened Canadian Stage's 2017/18 season a year ago after an auspicious beginning at the Toronto Fringe Festival the previous year. (Anika was both the dramaturg on that show and a member of the cast.) Anika is most likely best known for her work with frequent collaborator Barbara Johnston at Edge of the Sky Productions, most recently One Small Step, a new musical in part about Canadian astronaut Chris Hadfield that debuted at the 2018 Toronto Fringe. Together, Britta and Anika previously created Brantwood, their first immersive musical and first collaboration with Mitchell Cushman and Outside the March Theatre Company, in 2015.
This year the sisters have teamed up to create a new immersive musical together: Dr. Silver: A Celebration of Life, running until October 14 at Toronto's Heliconian Hall. Book, music and lyrics are by both sisters, Mitchell Cushman directs and Barbara Johnston is both assistant director and choreographer, with Elizabeth Baird as music director. Outside the March is co-producing with The Musical Stage Company, who have chosen Britta as their inaugural composer for the Crescendo Series, committing to developing three of her new musicals over a three-year period (of which Dr. Silver is the second, following Life After.)
Intrigued about both the production concept and the process of the sisterly collaboration, I asked Britta and Anika to tell me a bit more about both and what an audience might expect to experience coming to see their new show.
The following interview has been condensed and edited.
The WholeNote: What or who inspired the story and concept of Dr Silver: A Celebration of Life?
Britta and Anika Johnson: In 2015, Outside the March put out an open call for new large-scale immersive theatre projects. We are both musical theatre writers, and so immediately started brainstorming ways in which a musical could be immersive – and more specifically, immersive in a way where both the music and the immersive element felt effortless and essential to the storytelling.
That's how we arrived at a funeral. In a funeral, the guests function in much the same way that an audience does – so their role in the immersive experience is already built in. We often sing at funerals, so again, it provided an inherent justification for the show to be musicalized. But we wanted to raise the stakes even higher. So we made it the funeral for a cult leader.
Our fictional cult worships music as divine, which provided a way for us to use music as the primary carrier of the narrative. It's also proved useful on a deeper level. Cults are obviously super fascinating, but in our research we always found a moment of disconnect when it came to examining their various belief systems. We'd listen to an interview with someone from a cult, and relate to them completely on a human level – that is, until they started talking about beaming up to the spaceship in order to reach the next level of existence (or whatever). But music is the most universally evocative thing we know. Everyone has had an experience of feeling healed or transported by music. So by placing music at the centre of the Silver worship, we hope that audiences will be able to enter our fictional world, feel the same emotional stakes that our characters do, and hopefully find a human connection to what it might be like to be part of an organization like this.
WN: This is billed as an immersive musical; can you tell me more about what that means?
BJ/AJ: As soon as the audience enters the space, they are guests at Dr. Silver's funeral. We don't waste a lot of time with exposition. The assumption is that the guests at this funeral know why they are there and know the ritual that is about to take place and their role within it. The audience is invited to discover the world by being immersed and implicated in it, sometimes even singing along.
There is also a psychedelic element to the show. Without giving too much away, the audience begins their journey by joining the cast in drinking a toast 'to the master conductor'. From there, the style of music and storytelling evolves as the show goes on to help the audience feel like they are joining our characters on a kind of drug trip, and we try to continuously change the rules of what you can expect from the piece as we journey deeper into the cult mentality.
WN: You have collaborated before with director MItchell Cushman and his company Outside the March on the Dora award-winning Brantwood. Did Dr. Silver grow out of that initial collaboration?
BJ/AJ: Our initial proposal was anonymous, but once Outside the March selected Dr. Silver for development, our past collaboration certainly helped us to hit the ground running. This show is quite experimental and does not live on the page alone – its development has depended on a constant collaboration with our team. As such, having a pre-existing shorthand and a deep level of trust with Mitchell has been vital. Constructing a new show is a massive act of faith, and our long history of working with Mitchell and Barb [Johnston] (our choreographer/assistant director, and also a frequent writing collaborator on other projects) was what made the process possible.
WN: You have a longstanding partnership working together on shows. Did that start when you were young?
BJ/AJ: We definitely grew up making up silly songs and putting on little shows together at home – but we only began working together officially about four years ago, when we collaborated with Mitchell on Brantwood. We had been writing a lot separately and then one day decided to see what would happen if we worked together. We were amazed with the result and have just kept writing together ever since. We kind of have the ability to get inside one another's minds and we are not afraid of disagreeing – we're sisters, so we've been disagreeing our whole lives. Above all else, we just trust each other completely.
WN: The high school-aged Edge of the Sky Young Company, from Wexford Collegiate, is joining you on Dr. Silver. Can you tell us more about deciding to make them part of this project?
BJ/AJ: Wexford, under the leadership of Ann Merriam, has a truly special arts program. It's a public high school in Scarborough whose student population comes from a super diverse set of backgrounds. Their faculty has a real focus on helping students perform authentically, as themselves, whatever that might mean – without any of the artifice or assumptions that often come along with a clichéd idea of what a musical theatre performer should be.
When we were first conceiving this show, we immediately envisioned working with a youth choir, since choral music (and youth groups!) are so deeply embedded in religious and spiritual traditions. I knew that the students from Wexford would be well-suited to the pop/classical hybrid style that we were writing in, and that they would be uniquely capable of channeling the specific energy that the show requires. So the collaboration kinda seemed like a no-brainer.
WN: Can you tell me about the choice of the historic Heliconian Hall in Yorkville for the production?
BJ/AJ: We wanted a location that felt sacred and important while maintaining a sense of intimacy. We were drawn to Heliconian Hall because of its incredible acoustics and rich history of experimental music performances. We also love how it feels like a church without being one, which felt like a perfect backdrop to construct our fictional musical religion. It's such a cool building that hides in plain site – it's right downtown, but no one knows about it. Plus, for over a century, it's been a club for women in the arts. In every way, it felt aligned with both the logistical and artistic needs of our show.
WN: Did the Luminato Festival "in-progress" performances in June 2018 lead to changes in the script/music/staging?
BJ/AJ: Absolutely. We kept writing this script right up until we opened. A new work is never done and a piece this experimental requires constant trial and error. We've had the benefit of sharing the piece with audiences a few times during its development, which has been harrowing and super-vulnerable for us as creators, but ultimately hugely beneficial to the work. Now that the show is open, and audiences are seeing it every night, we're learning even more things about it, and frankly already have the next draft prepped in our heads.
WN: How would you sum up in a few words what an audience member will experience coming to this show?
BJ/AJ: An experimental electro-pop opera that starts as one thing and ends up as another. An epic story about a cult that's actually an intimate story about a family. A show that may not be perfect yet, but is courageously fighting to find a new language for musical storytelling, and in doing so is inviting its characters, its audiences, and (frankly) its creators to risk venturing away from certainty and into the unknown!
Dr. Silver: A Celebration of Life runs until October 14 at Toronto's Heliconian Hall.
Toronto-based "lifelong theatre person" Jennifer (Jenny) Parr works as a director, fight director, stage manager and coach, and is equally crazy about movies and musicals.