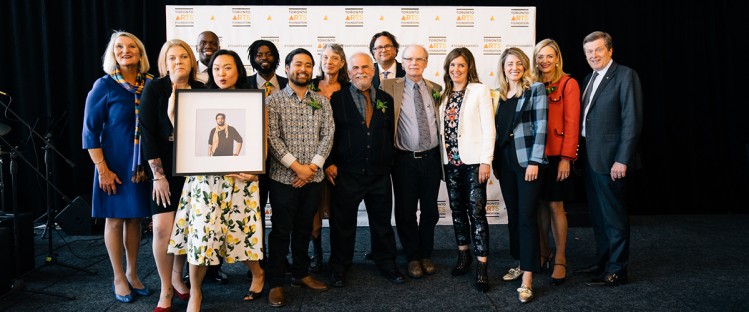 Sometimes when trying to hammer out a piece of writing for a deadline like this one, the only way to do so is to nail oneself to a chair and let one's fingers do the walking. So before I gave up on trying to explain why the thing I am about to ask you to do is is important, I managed to hammer out the following:
"Just as in dead of winter it's hard to wrap one's mind around planning for what one will be doing musically next summer, so too it's a bit hard to wrap one's mind around the idea of taking time, while the snow flies, to sit down and write something that will influence the outcome of an arts award that will not take place until the black flies fly, in May of next year. But, with The WholeNote having been the recipient of one of last year's Toronto Arts Foundation #TOArtsAwards, we'll always be grateful that one individual actually took the time, this time last year, to nail themself to a chair and nominate us for the award.
"Toronto Arts Foundation Signature Awards honour Toronto's arts community, shining the spotlight on the role of the arts in keeping the city vibrant and humane. Most of the awards are presented at a so-named annual 'Mayor's Arts Lunch' in the late spring (yes, Virginia, hard as it is to believe right now, there will be a spring). Not all awards are presented annually: the Roy Thomson Hall Award of Recognition that The WholeNote received last year, 'in recognition of its role in promoting current music and emerging artists,' for example, is biennial.
"This year's five award categories are: ARTS FOR YOUTH AWARD (celebrating an individual, collective or organization that has demonstrated an outstanding commitment to engaging Toronto's youth through the arts); EMERGING ARTIST AWARD (celebrating the accomplishments and future potential of an emerging Toronto artist working in any discipline); MURIEL SHERRIN AWARD (celebrating outstanding achievements in music and a global commitment to the arts); MARGO BINDHARDT AND RITA DAVIES AWARD (celebrating an individual who has demonstrated creative cultural leadership in arts and culture in Toronto); and the EMERGING JAZZ ARTIST AWARD (celebrating an outstanding emerging jazz artist in Toronto)."
And that is as far as I got. Because sometimes, when trying to hammer out a piece of writing for a deadline, the only thing to do is to stop staring at the half-written draft on the screen (with its paragraphs degenerating into half-formed sentences containing words like energetic, significant, leadership, celebrate, spotlight, honour, nominate) and get the hell out of the house, letting my feet do the talking while my mind bounces ideas off every passing building, so they can rebound as voices in my head telling me what might be useful to say. And besides, I had a meeting to get to, to chat about a very different award ceremony coming up in February, a couple of miles away.
So off I went, heading south-east, finding diagonals wherever I could and zig-zagging the rest of the time. From home base on Bellevue Avenue, where we could listen to the sounds of last September's Kensington Market Jazz Festival from our front yard, as that astonishing initiative, only in its third year, continues to grow and evolve. Diagonally across Bellevue Square, where anyone can sit, and does, and music is perpetually part of the fabric of things. Down that little stretch of Augusta Avenue just above Dundas Street, where every year during Nuit Blanche things happen, even though they are not on the "official" festival map (from a "live karaoke" tent to a Philippine gong ensemble rehearsing in a basement art gallery I never knew was there till I heard the call of the gongs). Across Dundas Street through the heart of Chinatown, to Beverley Street, the Italian Consulate to my left, where from the lawn on summer evenings you just might hear the sounds of opera or vintage car chases, corresponding images flickering on a movie screen. And straight ahead, the Art Gallery of Ontario, with all its treasures and potential for partnership. Down Beverley a short way, then the long south-east diagonal through Grange Park, past the wonderfully relocated Henry Moore two large forms. And past University Settlement House, with its vibrant and inclusive community music school where 24 years ago a child too small to reach the pedals sat at a piano, and the ensuing photograph found its way to the cover of the very first issue of this magazine.
Exiting Grange Park down John Street, the pace picks up. Past St. George-the-Martyr, for two decades the home of the Music Gallery (before they moved to 918 Bathurst) and still a treasured intimate music venue, despite the condo going up, loudly, to the east of it. Hanging a left at the laneway just before hitting Queen, and emerging from that laneway alongside the Rex Hotel. The Rex Hotel. Turning left onto Queen, directly ahead the Four Seasons Centre for the Performing Arts. But before crossing University Ave., a quick glance to the north at Campbell House Museum, a little gem of an occasional music venue, as violinist Edwin Huizinga could tell you. And a longer, nervous glance north up University Ave. to Queen's Park, where the shadow of Ford the Elder, who talks about art the way George H.W. Bush talked about broccoli, looms large. Past City Hall, from which sanctuary, a few years back Ford the Younger didn't get out of his chair and walk across the street to attend the Mayor's Arts Lunch, held that year in the Arcadian Room in the Simpsons Tower, on the southeast corner of Bay and Queen.
Somewhere along the last couple of blocks of my walk,on Bay between King and Queen, a man who looks to be 20 going on 50 is moving to some music only he can hear, trapped in some paroxysm of the body or dance of the spirit, twisting and turning on the sidewalk across the road from me, in front of the freshly painted white hoardings around the base of some tower with a crane (the official bird of the city) perched on top. Between each gyration he stretches his hand as high up the hoarding as he can, writing giant looping letters with a pen, all along the hoarding; then back to the beginning, a little lower down, for the next line, and starts again. The pen is imaginary. His story is invisible.
So, what am I asking you to do? Take the time this winter – the deadline is February 15 – to nominate some artist, in any and every sense of that word, whose work in the arts you honour, for a Toronto Arts Foundation Award. By doing so, irrespective of who the finalists and winners turn out to be, we collectively make visible the stories, block by block, of who we are, what we do, and why it matters.
You can read about the awards here. And about the awards that are currently accepting nominations at: https://torontoartsfoundation.org/initiatives/awards/nominate-today.
David Perlman can be reached at publisher@thewholenote.com.