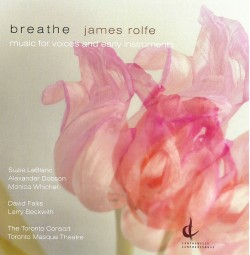 James Rolfe – Breathe
Suzie LeBlanc; Alexander Dobson; Monica Whicher; Toronto Consort; David Fallis; Toronto Masque Theatre; Larry Beckwith
Centrediscs CMCCD 24517 (musiccentre.ca)
The title track, Breathe, in its performance here, is by far one of the most extraordinarily beautiful recordings experienced in recent memory. The blending of texts, ancient (Hildegard von Bingen, Antonio Scandello) and modern (Anna Chatterton), is mirrored by the use of period instruments for new music. Composer James Rolfe infuses the work with connections between human emotion and the natural world represented by the four elements – water, earth, air and fire – so exquisitely. For example, we enjoy the sensation of love overflowing (as water does) with undulating chordal textures and an abundance of cascading note sequences as Suzie LeBlanc, Katherine Hill and Laura Pudwell magically intertwine their voices.
The two masques on the recording further demonstrate this Toronto composer's exceptional gift for intermingling qualities of early music with contemporary techniques whilst coaxing subconscious elements to seep through in performance. In Europa, the roles of the title character (Suzie LeBlanc) and her long-searching fiancé Hiram (Alexander Dobson) are both composed and sung with an extraordinary measure of pathos as they submit themselves to the will of the gods. And a refreshing new interpretation of the mythical Aeneas and Dido provides a much more intimate view of the doomed romance. As Dido, Monica Whicher is both stately and vulnerable, Alexander Dobson both bold and conflicted as Aeneas, while characters such as the spritely Mercury (Teri Dunn) and the Goat (Vicki St. Pierre) provide comic relief, if somewhat malevolent. Kudos to Larry Beckwith and David Fallis for their direction of these performances.