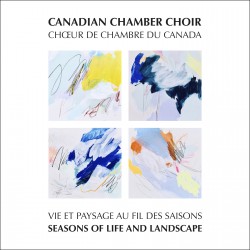 Seasons of Life and Landscape
Canadian Chamber Choir
Independent CCCCD003 (canadianchamberchoir.ca)
A truly national ensemble, the Canadian Chamber Choir draws its membership from across the country, gathering for seven to ten-day projects in different regions in order to actualize a mandate to bring Canadian choral music to every corner of the land. This particular project is meant to guide the listener, as if walking through an art exhibit that draws on different media but is built around a common theme; in this case, the ever-changing seasons.
At the beginning of the recording, a gorgeous Intro featuring Jeff Reilly on bass clarinet, Keith Hamm, viola, and Beverley Johnston, vibraphone, sets a high bar for the rest of the program. The forces of nature and its effect on the human spirit are then conjured through pieces like Laura Hawley's undulating Le Rideau and effervescent Singing Summer's Praises while mystic elements shine forth in Imant Raminsh's In the Night We Shall Go In and Cree composer Andrew Balfour's Vision Chant, as well as Antiphon by Peter Togni and Jeff Reilly. Reminiscences shape shift like clouds in Levasseur-Ouimet's Parlez-moi and composer-in-residence Jeff Enns' Le pont Mirabeau. Throughout these offerings, members of the choir execute a myriad of styles soulfully, meticulously and with remarkable quality of tone. They also do a fine job with arrangements of Joni Mitchell's River and Gordon Lightfoot's Song for a Winter's Night.