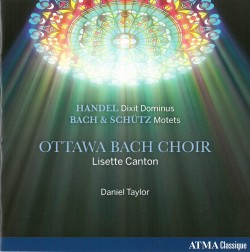 Handel – Dixit Dominus; Bach & Schütz – Motets
Ottawa Bach Choir; Lisette Canton
ATMA ACD2 2790 (atmaclassique.com/En)
The Ottawa Bach Choir and Ensemble Caprice join forces in this recording for thrilling performances of Baroque masters Handel, Bach and Schütz. From the outset of Dixit Dominus, the quick pace and precision with which the chorus deftly moves through Handel's ever-running and cascading phrases is awe-inspiring. Daniel Taylor guests for the alto aria Virgam virtutis in which the interplay between his golden voice and the continuo instruments is sublime. Soprano Kathleen Radke maintains a wonderfully relaxed vocal line through the execution of elaborate lines in Tecum principium in die virtutis and later she and Kayla Ruiz create enchanting chemistry in the soaring duet De torrente in via bibet.
Looking back almost a century, next on the recording are rarely heard Passion Motets from Heinrich Schütz's Cantiones Sacrae. Heavily influenced by Italian madrigals of the time, Lisette Canton coaxes the full anguish of the thematic material from the choir in emphasizing dissonances and highly expressive rhetoric. The recording ends with homage to the choir's eponym. In Bach's Komm, Jesu, komm, excellent recording technique and choice of venue shine through, with a lovely resonance from the start and an erudite interchange captured in the dialogue of a choir divided into two sections by the composer.