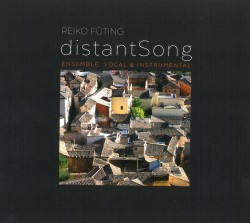 Reiko Füting – Distant Song
Ensemble Vocal & Instrumental
New Focus Recordings FCR216 (newfocusrecordings.com)
Composer Reiko Füting (Germany b.1970), a faculty member of the Manhattan School of Music, offers an intriguing study of a juxtaposition of ancient and modern practice. The first two pieces on Distant Song, performed by AuditiVokal Dresden and Art D'Echo are als ein licht/extensio and in allem Fremden/wie der Tag/wie das Licht, based on works by Heinrich Schütz. The motet Verleih Uns Frieden Gnädiglich is framed by dynamic percussion, spoken word and lush, dissonant vocalizations meant to illustrate, in the composer's own words, a "continuing compositional interest in time and space." Meant as an epilogue to the first two pieces, eternal return (Passacaglia) features the Byrne:Kozar:Duo, in an alarmingly engaging duet for soprano and trumpet using text from Nietzsche's Thus Spoke Zarathustra. Next is mo(nu)ment for C, on the 2015 attack on Charlie Hebdo in which the ensemble loadbang reiterates "Je suis," "Ich bin" and "I Am." Dutch ensemble Oerknal performs Weg, Lied der Schwäne, a "swan song" on the subject of euthanasia based on Arcadelt's renaissance madrigal, Il bianco e dolce cigno. The same ensemble backs vocal quartet Damask in versinkend, versingend, verklingend which recalls Debussy's La cathédrale engloutie and quotes the 15th-century German folk song Gesegn dich Laub.
In listening to Füting's compositions, it becomes clear that while focusing on contemporary issues, he brilliantly incorporates musical fragments of memory which bridge present and past.