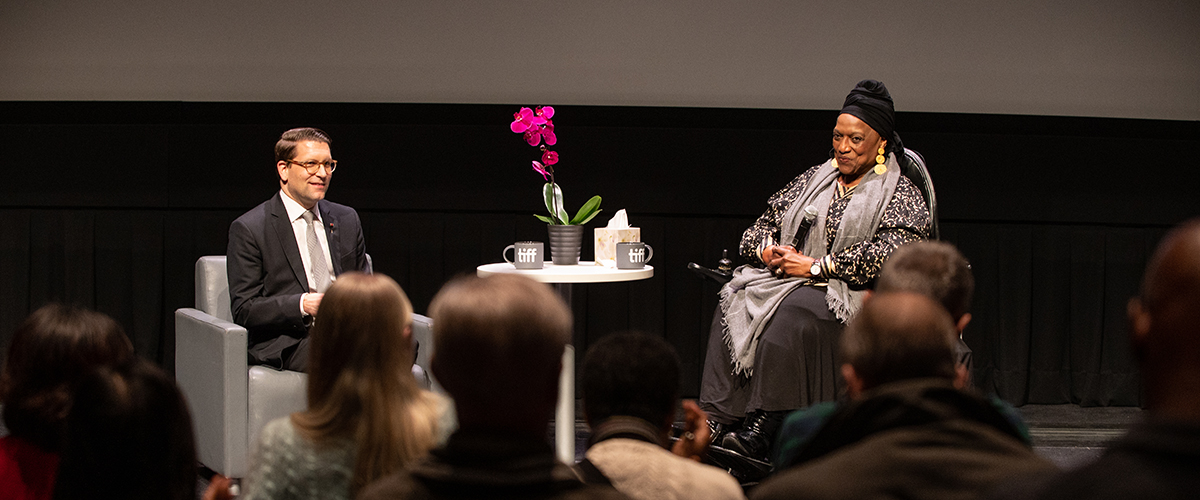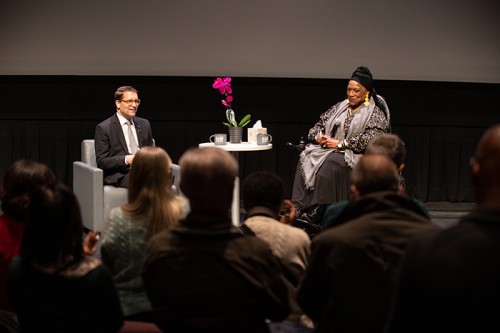 The newest laureate of the Glenn Gould Prize, legendary soprano, activist and educator Jessye Norman brought her regal countenance to TIFF Bell Lightbox on February 12 for an engaging 90-minute conversation with Canadian Opera Company general director Alexander Neef.
Neef began by asking about Norman's early memories of music in her life.
"Jesus Wants Me for a Sunbeam was my big number when I was four [and singing in the church choir]," she said. At nine, she was given her own radio and the chore of cleaning her room ("What drudgery!") on Saturdays. But she had just discovered Milton Cross and the Met broadcasts, so cleaning her room lasted as long as the opera.
"I was very lucky that I didn't have my first voice lesson until I was 17 at Howard University," she said (although she did take piano lessons when she was younger).
Hearing Marian Anderson singing Brahms' Alto Rhapsody with Charles Munch impressed her deeply: "I had never heard a voice so low with such timbre."
By age 24 she was onstage with Deutsche Oper Berlin as Elisabeth in Tannhauser; it was her professional debut. Notified in the spring of the coming December date, she spent five months at Duke University in between studying conversational German. It was an early indicator of her devotion to the importance of text in singing: "I don't sing a language I don't speak."
In her extraordinary masterclass at U of T on February 15, she put that axiom into practice by going over the pronunciation of the text of each of 12 songs with the six U of T singers who performed for her. Sometimes she would speak a word into her mic just before or just after it was sung; occasionally she would have the singer say each word of the text for her after the first run-through. As she pointed out in her introduction to the capacity crowd: "What we're doing is a work in progress; we're correcting, thinking, improving … to make music."
She was an active participant in the process, mouthing the words of an aria, conducting with her left hand (or both hands), moving her fingers as if she were the collaborative pianist, even letting a word or two escape into the Walter Hall air through her mic. Frequently she would exhort the singer to "Go on!" or "Take your time." Or comment in French: "C'est pas facile ce phrase." Or German: "Wunderbar." Her joy was infectious; sometimes it felt as if she were performing the piece herself.
She learned from Laurence Olivier no less, to keep the opera's drama on the stage and leave it behind once you're off the stage. Questioned by Neef about how she saw her legacy: "I hope I would inspire artists to step beyond our professions – to be concerned with the welfare of other people. I cared," she said. "And it showed." In answer to a question from the audience about how to deal with the onset of a career: "Preparation is the first part of success," she said. "Learn a new piece; preparation and opportunity will give you success."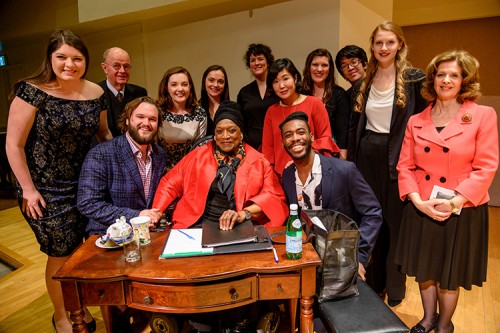 At the conclusion of the three-hour masterclass, and before she was greeted by scores of admirers who filled the Walter Hall stage in search of a few words or an autograph, Norman answered questions from that audience. "Take a deep breath to relieve tension," she told one singing student. As to how she dealt with negative criticism, she brought down the house: "First you have to consider where the criticism is coming from. As my grandmother used to say, 'Consider the source.'"
Her advice to a young dramatic soprano: "Sing a lot of Handel and Mozart to keep the oils running and keep the weighty voice agile," she said. "Mozart and Handel will save your life."
And finally: "Sing truly what suits you, what you love. Don't allow someone to label you. Listen to other singers."
"Be brave," she said.
Paul Ennis is the managing editor of The WholeNote.