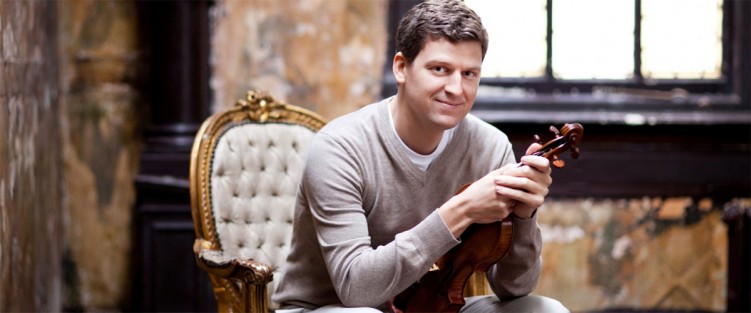 After Toronto Summer Music cancelled its Beethoven Unleashed festival on April 9, TSM's friends and supporters worked with artistic director Jonathan Crow and his team to mount a stripped-down version of its 15th anniversary season online, between July 16 and August 1. Anyone wishing to partake of its heavy-on-chamber-music menu need only go to torontosummermusic.com for the schedule. All events are free.
Canada's pre-eminent violinist, James Ehnes, opened the festival on July 16 with his longtime collaborator Andrew Armstrong in a program of Beethoven's Sonatas for Violin and Piano Nos.1 and 5. In an effort to be "as live as we can do it," as Crow told me in a phone interview for The WholeNote's July/August issue, the concert was recorded live, in advance of its broadcast date, at the Seattle Chamber Music Society. Ehnes introduced the program from his BC home, calling the first sonata big and bold and optimistic, typical of the composer's early works. It's "full of great virtuosity and wonderful lyricism," he said.
The performance more than measured up. Right from the beginning, Ehnes' playing was authoritative, sensitive (especially in dialogue with Armstrong) and exuberant, tossing off melodic shards with aplomb. The cheerful middle movement opened with a simple Haydnesque classical tune, the theme for a set of variations judiciously balancing angularity and lyricism. Superb phrasing was the hallmark of the joyful, unfettered Rondo. The Sonata No.5, Op.24 "Spring" radiated a feeling of the newness of spring (despite the fact that Beethoven did not supply the nickname). The expressive Adagio linked melodic turns and fragments with broad strokes; the light and airy Scherzo was brief and companionable, the compact Rondo beckoning, welcoming. The formidable encore, the second movement of Beethoven's Sonata No.6, Op.30, oozed grace and gentle strength, a lovely way to conclude an auspicious start for the reborn TSM.
Both the TSM Academy for Emerging Artists and the Community Academy for Adult Amateur Musicians were cancelled due to COVID-19 concerns, but given how performance is an integral part of the Academy experience, the online TSM is devoting three recitals to past and present fellows. The first, recorded live in the sanctuary of St. Andrew's Presbyterian Church in Thunder Bay, featured violinist Gregory Lewis (2019 and 2020 fellow) and Bethany Hargreaves (2020 fellow). It was broadcast at noon on Friday, July 17. As the musicians explained before the concert, Hargreaves, based in Cleveland, was visiting Lewis in Thunder Bay when the pandemic hit North America and her stay stretched out to four months. Their recital consisted of two duos and two solos in repertoire of varying familiarity.
Mozart's sparkling String Duo No.1 K423 opened the concert with its sunny first movement energetically conveyed, the musicians well attuned to each other. The Adagio didn't quite scale Mozart's heights, however, while gentility and restraint coursed through the Rondeau. Hargreaves showed good tonal contrast in the well-executed Vieuxtemps' Capriccio Op.55 "Hommage à Paganini" for solo viola. "I've had a lot of fun working on that piece," she said. It showed. Lewis' exacting playing on Ysayë's solo violin Sonata No.4 Op.27, No.4 (which was inspired by Bach and dedicated to Kreisler), built a nice arc in the Sarabande; the Finale, featuring links to a Kreisler prelude, was confident and assured. The recital ended with Shostakovich's Five Pieces for Two Violins and Piano, orchestral film and ballet music arranged by Levon Antomyan. From the sedate Gavotte to the simple Elegy, from the charming Waltz to the proletarian Polka, this was salon music perfectly suited to the midday hour. In an (un)intentional nod to the Community Academy for Adult Amateur Musicians, the piano part was played by Gregory's mother, Pamela Lewis.
Saturday evening's concert in the Isabel Bader Centre for the Performing Arts in Kingston began with Philip Chiu's traversal of Beethoven's Piano Sonata Op.27 No.2 "Moonlight". Chiu focused on the tranquility of the famous first movement; his meticulous attentiveness in the second and third was a preview of his collaborative gifts displayed when he was joined by the splendid Rémi Pelletier in Shostakovich's Sonata for Viola and Piano Op.147. It was the composer's last work, completed just weeks before his death in 1975. From the opening Andante's first notes it was clear that Chiu is a superb chamber music partner, matching the contrasting mood and dynamics of Pelletier in a compelling opening movement, suffused with anguish and punctuated by melancholy. After a lively, biting, sarcastic Allegretto came the moving Adagio (in the memory of Beethoven) with its direct quotes from the Moonlight Sonata, both broken chords and bare melody.
This programming is a prime example of what TSM does so well. Putting these two pieces together is a stroke of genius, however obvious it might seem – Beethoven's justifiably popular sonata illuminates Shostakovich's monumental mastery. And introduces the TSM audience to a major work that is seldom heard in concert.
Toronto Summer Music continues through August 1. Check the schedule at torontosummermusic.com.
Paul Ennis is the managing editor of The WholeNote.