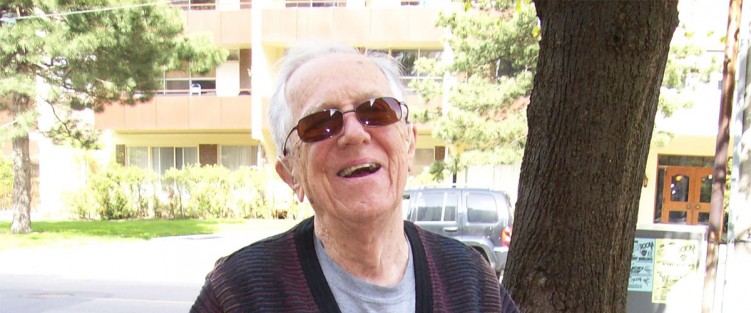 Confluence Concerts most recent event was a marathon of composer John Beckwith's music for solo voice – three 90-minute back-to-back online recitals. The production was a family affair, curated and co-hosted by the composer's son, Larry Beckwith, and granddaughter Alison Beckwith. Confluence Concerts is a relatively new presenter on the Toronto scene with their concert debut occurring in September of 2018, with deep previous roots in Larry Beckwith's Toronto Masque Theatre, but a unique and diverse artistic manifesto, with artistic associates Marion Newman, Andrew Downing, Suba Sankaran and Patricia O'Callaghan joining Larry Beckwith to create a variety of intimate and stimulating concert events.
This particular series, celebrating the 94th birthday of the esteemed composer, writer, pianist, teacher and administrator, was available on YouTube from March 7-21. Interspersed between performances of the music were interviews with colleagues and with the composer himself, as well as special birthday greetings from a number of wellwishers. One of them, the current Dean of the Faculty of Music at the University of Toronto, Don McLean, described Beckwith's songs as capturing the "essence and range of his musical personality – his lyricism, pianism, craft, conceptual focus and wit."
Beckwith's song repertoire featured in this series was composed from 1947-2014, with performances from an astonishing array of singers in all stages of their careers, from students to seasoned professionals. Each performer created their own performing environment, filming in classrooms, living rooms, empty concert halls, and churches using portable cameras, iphones, and other devices. Many of the singers performed while listening to the piano accompaniment through ear buds with the video screen split between the two performers.
One of my favourite locations was a classroom at U of T's Faculty of Music, featuring large glass windows with protective bird decals, overlooking the campus's Philosophers Walk and other university buildings, and with car traffic visible in the distance. It brought the outside world into the performance and because of the preponderance of natural light, reflections were cast in a variety of directions, all contriving together in making a most out-of-the-ordinary concert setting. Having the performances in settings of the performers' choosing created not only a wide range of different visual elements but also the challenge of a series of constantly changing acoustic spaces.
In one of the recorded interviews, colleague and pianist William Aide spoke about how one the strong characteristics of Beckwith's music for voice arose from his close association with words and with literary people. "He has a perceptive response to the rhythm of the words", Aide said. When Beckwith himself was asked about his relationship with text and poetry, he explained how he has always allowed himself to be guided by the way the poetry is spoken. "This gives you a guide to the tempo, inflection, melodic ups and downs you would use in setting to music – the pauses and musicality of speech." Throughout the three concerts, his close association with a variety of poets and authors was clearly evident.
Another compelling feature of these concerts was the inclusion of performers of all ages as in the performance of his Ten English Rhymes (1963) by various members of the Canadian Children's Opera Company. The texts were taken from a collection of nursery rhymes entitled Lavender's Blue that John Beckwith's own children had loved. Many of the rhymes already had traditional tunes, but for those that didn't, Beckwith made up the tunes. As music director Teri Dunn stated in her comments about working on this production, the challenge for the performers, ranging in age from 8 to 15, was going from singing and learning in an ensemble to singing alone in front of a camera.

The first concert of the series showcased two works set to texts by e. e. cummings. The first of these, Four songs to poems by e. e. cummings was commissioned in 1950 by soprano Lois Marshall for her professional debut at the Eaton Auditorium. One this occasion one of Marshall's prize students, Leslie Fagan, performed the piece in a classroom setting, with a Happy Birthday greeting written on the white board behind her. The second work, for baritone, Six songs to poems by e. e. cummings from 1982 was performed by three different singers, including Cameron Martin who performed in the glass-window classroom environment mentioned above. During an interview with singer and teacher Mary Morrison, she spoke of how unique the first four e.e. cummings works were in the early '50s, and how her students throughout the years have loved to perform them. She also spoke of her friendship with Beckwith during their student days in the late 1940s, and of how there was a close-knit circle between Canadian composers such as Beckwith, Harry Somers, Harry Freedman and Oskar Morawetz, and performers such as herself interested in what Canadians were writing. "It was a very rich time," she said.
Beckwith also consistently championed Canadian writers, and throughout the three-concert series, we hear works set to texts by Miriam Waddington, Colleen Thibaudeau, Margaret Laurence and bp Nichol. In 1985 Beckwith collaborated with the sound poet Nichol to create the tour de force work entitled avowals performed for this occasion by tenor Benjamin Butterfield and keyboardist Robert Holliston who moved seamlessly between piano, celeste and harpsichord. Due to some inventive camera work, we were able to see close-ups of each of the keyboards as well as shots of the score. William Aide's comments about this piece sum it up quite comically: "I never played anything so crazy in all my life." He stated that the keyboard performer has to have a wide wingspan in order to get from one instrument to the other. In Beckwith's book Unheard Of: Memoirs of a Canadian Composer, he describes the unfolding drama of the piece. "The soloist personifies a pop singer who is unable to detach his own love pangs from the lyrics he is performing on stage. Besides three fragments in a realistic crooning style, the inventive script offers vocalizing sections on plain vowels, some with double meanings and some without."
Not only does Beckwith champion Canadian writers, but also traditional songs from the diverse cultures that make up Canada. Over the course of these three concerts we hear four different collections that feature his arrangements of songs from the Hungarian, Lithuanian, Ukrainian, Doukhobor, Mennonite, Quebecois, and Atlantic Canadian communities.
One stand-out is a touchingly intimate performance by soprano Barbara Hannigan accompanying herself on piano from the living room of her rural home in northern France while singing Müde kehrt ein Wanderer zurück, a song from the Mennonite community in Manitoba. This song is featured in Beckwith's collection of traditional songs entitled I love to dance, written in 1999. Fittingly, these songs end the third recital, mirroring the song collection titled Young Man from Canada, written in 1998, which opened the first recital.
Beckwith's contribution to establishing a Canadian musical identity is enormous, being a life-long creator and advocate for the country's many singers, writers and performers, as well as being himself, in the words of Don McLean, one of Canada's most diversified musical presences. On a personal note, it was in Beckwith's History of Canadian Music course at the University of Toronto that my own awareness of local musical traditions such as the Sharon Temple just north of Toronto expanded in a course that gave new meaning to musical history previously relegated in a Faculty context to a distant Europe.
The series ended with the raising of a glass and a toast given by Larry Beckwith "to the memory of all the poets, novelists and playwrights whose words we heard; to all the traditions represented in the Canadian cultural mosaic of traditional songs; to dad, Dean Beckwith." And when singer Mary Morrison was asked if she had any words for Beckwith on this occasion of celebration, her answer was simply – ONWARD!
Wendalyn Bartley is a Toronto-based composer and electro-vocal sound artist. sounddreaming@gmail.com