"We are the Halluci Nation. We are the tribe they cannot see. Our DNA is of earth and sky. Our DNA is of past and future. We are the Halluci Nation." These words written and spoken by Indigenous poet, author, musician and activist John Trudell on the first track of A Tribe Called Red's album We Are The Halluci Nation (2016) reverberate with strength and conviction. Based in Ottawa, A Tribe Called Red (ATCR) currently consists of musicians Bear Witness from the Cayuga First Nation and 2oolman from the Six Nations of the Grand River. Their powerful blend of music mixes traditional pow wow dance music with electronic dance music, otherwise known as EDM. Their collaboration with Trudell on the Halluci Nation album has sparked a movement that continues to grow and expand.
The poem describes "an imagined nation made up of people living within the philosophy of remembering what it is to be human, and what it is to treat other people like humans," Bear told me during our recent phone interview. Not only do the words that articulate this vision appear as the opening track, but the entire album itself is a model of the idea of that nation. Each track is a collaboration with other musicians who by their very participation are expanding the scope of the Halluci Nation and were invited to participate "because the work they are doing already makes them part of Halluci Nation," Bear said. Tanya Tagaq, Lido Pimienta, Chippewa Travellers, Jennifer Kreisberg and Northern Voice are some of the participating musicians. They are coming together to advocate for change, particularly around the issues of reconciliation and reparation, and to resist the mainstream, exploitative "ALie Nation."
As Bear states: "The Halluci Nation are a group of people that break off from society to return to natural ways of life. It's not just for Indigenous people, although it is a movement led by Indigenous people. It's open to anyone as a mind frame and rallying point for those who understand there is something wrong with the current system."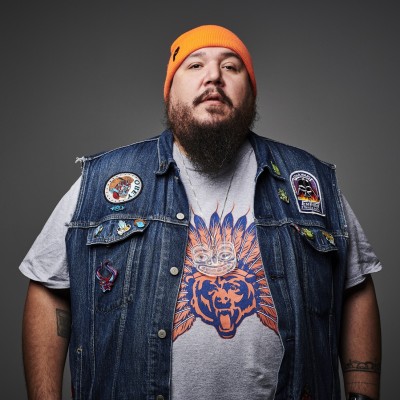 X Avant
With this year's X Avant festival at the Music Gallery, the Halluci Nation will grow and expand even further. Artistic director David Dacks has invited Bear to be the guest curator for the 13th edition of this annual festival. Bear, in turn, has taken this opportunity to bring together a Canada-wide lineup of artists to create this next iteration of the Halluci Nation. Musically, the overall sound of this festival will be a distinct contrast to earlier festivals, as many of the invited musicians come from backgrounds in the plethora of approaches that have grown out of electronic dance music since the first devices for performing electronic music were developed at the end of the 19th century.
With the manifesto of the Italian futurists in the early 20th century, various sounds not previously considered musical began to be heard in artistic settings. Electroacoustic music as a European art form was introduced mid-20th century, with Canadian pioneers Hugh Le Caine and Norman McLaren contributing to the development of unique electronic technologies. Before the introduction of digital synthesizers and the MIDI system in the 1980s, the production of electronic music was largely limited to radio and university-based studios as the equipment was not easily transportable. Eventually, large-scale studios became somewhat obsolete with the introduction of laptops and iPads and other portable gear, making it possible for live and interactive performances. Electronic Dance Music arose in the late 1980s as music created largely for nightclubs, raves and festivals, and was produced for playback by DJs seamlessly mixing tracks. This club-based artform has mushroomed over the years, and this year's X Avant festival will be a perfect opportunity to hear the latest innovations in these genres.
The opening concert of the festival on October 11 promises to be a visual feast with sets by Tasman Richardson, See Monsters, and Creeasian & Bear Witness. Before becoming a musician, Bear had a visual arts career that was mainly video based. Working with images that depicted misrepresentations of Indigenous people in the media, he sampled and reworked this material to create installations and short experimental films, highlighting the empowering aspects of the images and discarding the negative ones. Once ATCR began to take up more of his time, he folded his video work into his DJ sets.
Toronto-based Richardson was a huge influence on Bear's visual work. Richardson will present two new three-channel live A/V performances, the first of which will use glitches from an Atari game console, and the second will use satellite-based images. See Monsters are a duo that come the closest to what ATCR do, using video, sound and sampling of traditional music. Being based in Northwest Coast traditions however, they have a very different aesthetic than ATCR. Bear's collaboration with dancer and musician Creeasian will give him an opportunity to use some of his video work outside of the Tribe context and is for him another extension of the Halluci Nation idea. Sound artist and DJ, Maria Chávez, who will open the October 12 concert, was a new discovery for Bear who was intrigued by one of her signature DJ processes – using broken LPs layered on the turnable to create her unique sonic language. Bear cites Geronimo Inutiq as one artist who started working in a similar way as ATCR over 20 years ago, working with throat singing as well as electronic music and video production. The October 12 concert will conclude with respectfulchild, a solo instrument project of Gan from Saskatoon on Treaty 6 Territory. These ambient soundscapes are created from nuanced improvisations on their violin, resulting in a sound that takes the listener on an introspective reflective journey.
Saturday night's events on October 13 will feature an all-out beat fest with Los Poetas, Above Top Secret and Ziibiwan at the Music Gallery, then wrapping up the evening with a dance party at The Mod Club. Headlining the dance party will be the sounds of El Dusty's Colombian cumbia music, an artist with whom ATCR is currently collaborating. Following this will be mixes by two of Toronto's most highly regarded DJs Dre Ngozi & Nino Brown; finishing off the evening is a set by Bear and his ATCR colleague 2oolman.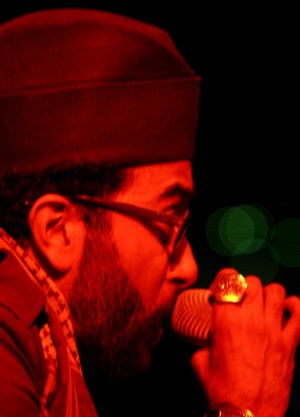 Closing out the festival on October 14 will be the music of veteran performers and innovators Narcy, Jennifer Kreisberg and Lillian Allen. Narcy is a pioneer of the Arab hip-hop movement working in Montreal, while Kreisberg innovates using multilayers of stunning vocal harmonies. Allen, of course, is well known in Toronto for her groundbreaking work in dub.
The festival also offers two occasions for audience members to engage with some of the festival artists. There will be a panel discussion at 6pm on October 14 about the concept of the Halluci Nation and a Sampler Café at 1pm on October 13 hosted by Creeasian where participants will have a chance to try out and play with different digital equipment. This is open to people of all ages and abilities.
Currently, Bear is developing material for the next album, and is reaching out to various artists that come across his path in Los Angeles. This album will be a contrast to We Are The Halluci Nation, although the very creating of it will be another extension of the Halluci Nation concept by bringing in other artists to collaborate. "This time the focus will be on celebration rather than dealing with the dystopian sci-fi vision of what the Halluci Nation could be," Bear told me. When I asked the reason for this change, he replied that he feels that "people are getting stuck in the ideas of fighting and struggle. We need to start envisioning what it would be like beyond struggle."
We concluded our interview by discussing how he would sum up the current issues facing Indigenous people, or whether that was even possible to do. "It's a hard question to answer as there are hundreds of nations across one of the largest land masses in the world. One important thing for people to realize is that the things we talk about as Indigenous issues aren't just that; they are human issues. Water rights, clean water, oil pipelines – we all need clean water, we all need to live on this planet. This is one of the most important things for people to realize at this point in time."
The Halluci Nation vision is an invitation and call out for all those who find themselves seeking a more just world for all peoples and are committed to helping that come into being.
IN WITH THE NEW QUICK PICKS
OCT 12, 8PM: Soundstreams, "Six Pianos," Koerner Hall. Steve Reich's music returns to Toronto with a performance of Six Pianos (1973), a work that the composer originally wrote for all the pianos in a piano store and subsequently pared down to six pianos. This concert will feature the veteran Reich performer Russell Hartenberger who will be joined by five other local pianists. Other works on the program include music by Ristic, Cage, Lutosławski, Louie and Palmer.
OCT 15, 8PM: The Azrieli Music Prizes Gala Concert, Maison symphonique de Montréal. Although a bit of a drive away, this concert will feature Ottawa-based Kelly-Marie Murphy's composition En el escuro es todo uno (In the Darkness All is One). Murphy wrote this piece after winning the 2018 Azrieli Commission for Jewish Music, one of the biggest prizes for composers in the country. An interview with Murphy about her vision for this composition can be read in the October 2017 edition of The WholeNote.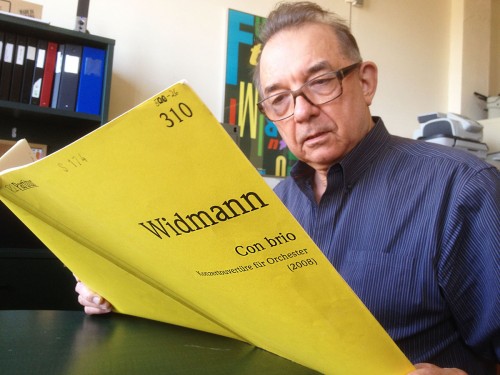 OCT 24, 8PM: Esprit Orchestra. "For Orbiting Spheres," Koerner Hall. Esprit Orchestra opens their current season with four orchestral works inspired by the various phenomena of the cosmos. Two Canadian premieres of works by Missy Mazzoli (USA) who composed Sinfonia (For Orbiting Spheres) and Unsuk Chin (Korea) are paired with Netherlands composer Tristan Keuris's Sinfonia and Charles Ives' tour de force An Unanswered Question. A heavenly night of music.
OCT 26 TO 28, 8PM: Arraymusic/Exquisite Beat Theatre, Rat-drifting 2: SlowPitchSound presents: Alternate Forest, Array Space. Rat-drifting is a concept developed by Martin Arnold to bring together free improvisation, noise, psychedelic process music and DIY para-punk composition. This month's version features SlowPitchSound's multidisciplinary adventure into a mystical forest space combining sound, dance and video.
Wendalyn Bartley is a Toronto-based composer and electro-vocal sound artist. sounddreaming@gmail.com.