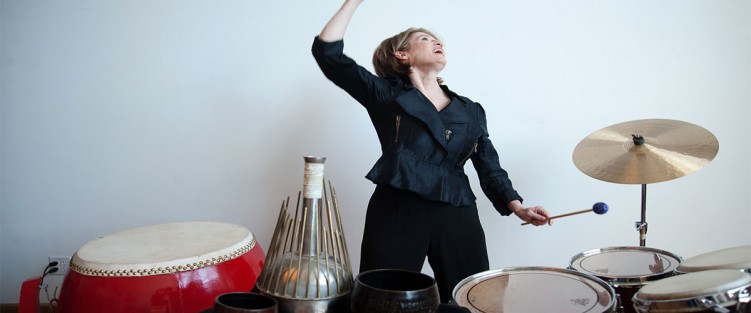 Two concerts, one in early March, the other in early April, resonate with the day on the calendar set aside to celebrate the historical, cultural and political achievements of women: International Women's Day (IWD) on March 8. This special day has its origins in Russia, a fact that feels significantly ironic – as I sit writing this column, Russia has begun its invasion of Ukraine. On March 8, 1917, the women textile workers of Petrograd rose up to demand "Bread and Peace" – which meant for these women an end to World War I, to food shortages and to czarism. It remained a holiday primarily in Communist countries until 1967 when second-wave feminists in Western Europe, the UK and North America adopted the date as a day of action, highlighting issues such as equal pay, reproductive rights, and the prevention of violence against women.
On March 8 of 2022, percussionist virtuoso Beverley Johnston will be performing a series of compositions that highlight various mythic and real-life female characters in a concert she is calling Finding HER Voice. When I asked Johnston whose voice she is referring to in the title she responded by saying that it has several meanings. "It can be my own voice because I've been incorporating a lot of voice into the percussion works that I've been learning, either by singing or speaking. Metaphorically, the title draws attention to how women through the ages have empowered themselves, found their voice and become stronger within themselves."
Johnson uses her voice in all of the pieces, and even though she is not a trained singer, she became comfortable using her voice due to her experience as a member of the URGE collective in the 1990s and in workshops with Richard Armstrong, an original member of the Roy Hart Theatre known for its pioneering of extended vocal techniques. These activities "empowered me to know that it's okay to find that gruff quality in the voice, and allowed me not to be afraid to use my voice," she said.
Two of the works on the program are composed by Alice Ping Yee Ho: Woman Runs with Wolves (2010) and Witch on Thin Ice (2019). The first work was inspired by a story from the well-known book Women Who Run With the Wolves written by Clarissa Pinkola Estés. After reading the book, Ho approached Johnston with the idea of writing a trilogy of pieces for Johnston to perform about iconic female figures, the first based on the myth of La Loba, the opening story in Estés' book. It tells the tale of a woman who gathers the bones of wolves, sings over them, and brings them to life in the form of first a wolf, and then a woman. Coincidentally, Johnston had also read the Estés book and was enthusiastic about the idea. When Ho proposed Yoko Ono as a second character, Johnston was more reluctant at first due to the fierce opposing opinions held about Ono. However, after reading more about Ono's life, her peace-activist work, and understanding that Ono's work is rooted in the avant-garde of the 1960s, particularly Ono's use of vocal screaming, Johnston embraced the project; Witch on Thin Ice is the result. Johnston described her role in the piece as alternating between being an accompanist to a video, and other moments when "I grab the microphone and start screaming Yoko Ono style and playing the drums at the same time." The video uses both animation and slides from various periods of Ono's life, spanning from her early childhood up to her husband John Lennon's death.
Other works include To the Earth (1985) by Frederic Rzewski who pays homage to Mother Earth with a Homeric style text and a performance on pitched flowerpots, and the world premiere of Eris (2021) by Christos Hatzis, a work based on the Greek myth of the Judgement of Paris. In the story, the Prince of Troy (Paris) has to choose from among three goddesses: Hera, Athena, and Aphrodite, which ultimately leads to the catastrophic consequence of war with Troy. The piece is named after Eris, the Greek goddess of strife and discord.
The second world premiere on the program, wild with the world of color (2021), is composed by Holly Winter, whose work Johnston heard during an online Continuum concert. After a conversation between Winter and Johnston, they agreed that the new work would highlight three moments in Georgia O'Keeffe's life. During the performance, Johnston will be wearing a paper dress that she will rip while performing in a duet with an audio playback full of ripping sounds and O'Keeffe's spoken voice. In keeping with the legacy of IWD, proceeds from the concert will go to Nellie's Shelter.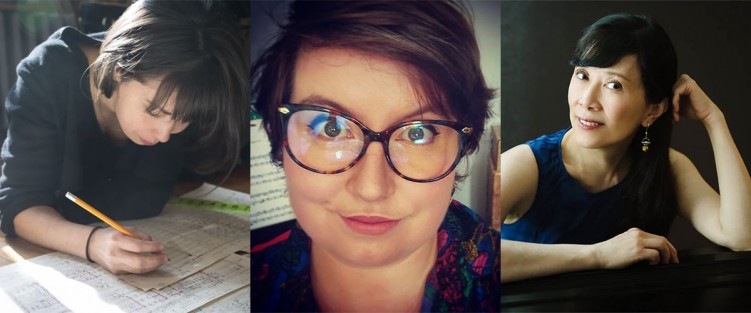 Imagined Sounds
Imagined Sounds is the title of a concert on April 10 produced by New Music Concerts that offers a fitting connection with Johnston's March 8 event. The evening's program is curated by Montreal-based composer Keiko Devaux, conducted by Juliane Gallant and includes several works by female composers. Devaux's 2020 Azrieli Prize-winning work Arras will be featured: to complement this award, she was invited to create an entire program of works that inspired her imagination.
Composing Arras gave Devaux the opportunity to consider the meaning of her own Canadian identity, a blending of Japanese and French backgrounds. In the piece, she investigates her contrasting cultural upbringing by incorporating the influences of environmental soundscapes, such as bird and wind sounds, the sound of a Japanese weaving loom similar to the model her grandparents used, and Japanese sacred chant. Although we do not hear literal recordings of these sounds in Arras, Devaux's process involved transcribing the rhythmic patterns she heard in the recordings, and using a computer-based process called spectral analysis to identify the complexity of pitches that make up any given sound. All the differences and commonalities in these varied sound sources were then integrated into an instrumental score.
One of Devaux's key interests as a composer is an inquiry into how we imagine sounds in our mind, the ways in which we remember sounds and the relationship many composers have had over time with musical works from the past. "Those memories can be either consciously or unconsciously integrated into a composer's work," she said during our phone conversation, "and some people do it in a very formal way with a citation or an homage."
In choosing works for the evening's concert, she began by listening to a playlist of composer's works that inspired her, listening for timbral details that she found "striking and beautiful, pieces that would catch my breath." She followed that by reading more about what inspired those works, with an eye out for descriptions that mentioned the creative influence of other composers or artists from the past. Her third criterion for selecting works was to create a program of contrasts. The end result will be a fascinating evening to stimulate our sonic imaginations with works by Canadians Cassandra Miller and Margareta Jeric (who wrote a new work for the evening commissioned by Chantal Perrot), Montreal-based French composer Olivier Alary, and Americans Carolyn Chen, Tyshawn Sorey and David Lang. In addition to this opportunity to hear Arras in March, Esprit Orchestra will be presenting Devaux's new work Excavated Sound on April 20. See the Quick Picks entry below.
QUICK PICKS
MAR 9, 10, 12, 7:30PM & MAR 12, 1PM: Canadian Opera Company, COC Theatre. Fantasma. Music by Ian Cusson. Text by Colleen Murphy. Fantasma is a chamber opera created in particular for audiences ages 12 to 18. When creators Cusson and Murphy began exploring ideas for the production, they shared stories important to them about life, and in particular, stories of children's fears of being lost. They sought to create something that was both exciting and dangerous, that had artistic depth and was not patronizing to the audience. Cusson's experience watching a play when he was 12 years old led him to the conviction that theatre is a sacred place where stories can be told, and he knew immediately that he wanted to be part of this world. For Murphy, it was important that the two masks of theatre – comedy and tragedy – be presented together. The story follows two friends as they make a discovery while visiting an old-fashioned carnival. They are faced with the dilemma of what to do in the face of suffering. Do you stop to help out, or do you run away?
MAR 11, 8 PM: New Music Concerts, Harbourfront Centre Theatre. Difficult Grace: Seth Parker Woods in Concert. American cellist Seth Parker Woods presents a solo multimedia concert made up of works inspired by various historical events and commentaries on the human condition. Woods has been described as an artist full of power, grace and possessing a versatility that enables him to both straddle several genres and willing to go to the brink.
APR 3, 8PM: Esprit Orchestra, Koerner Hall. Esprit Live 2022! Act 1. Works by Canadian composers Alexina Louie and Christopher Goddard. Louie's The Void, Rivers of Stars from 1990 will be performed along with a world premiere of Goddard's Piano Concerto (2020). A third piece, by American Andrew Norman, will also be presented.
APR 20, 8PM: Esprit Orchestra, Koerner Hall. Esprit Live 2022! Act 2. In an evening full of premieres, Canadian composer Eugene Astapov will be appearing as a guest conductor as well as presenting the premiere of his Esprit-commissioned work A Still Life (2020). A second world premiere, also commissioned by Esprit, will be Keiko Devaux's Excavated Sound. Other works on the program include Mannequin (2014) by Korean composer Unsuk Chin and Saudade (2019) by Lithuanian composer Žibuoklė Martinaitytė.
Wendalyn Bartley is a Toronto-based composer and electro-vocal sound artist. sounddreaming@gmail.com.