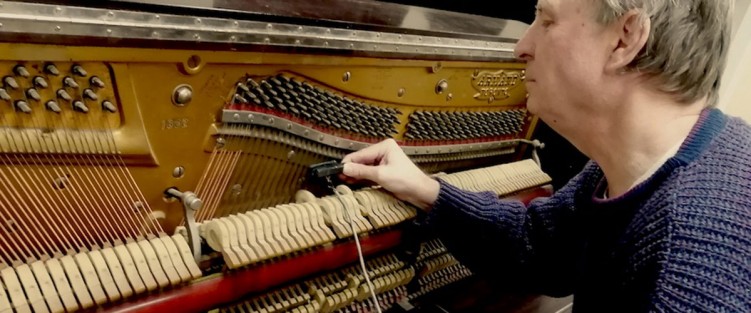 Radio art is a lesser-known creative medium yet is perfectly designed for these concert-barren times we're in. Deep Wireless is a festival of radio and transmission art, plus encompassing installations, performances, radio programs, symposiums and a series of CD compilations. The festival is entering into its 21st year of activities, thanks to the committed vision of New Adventures in Sound Art (NAISA) and its artistic director Darren Copeland,
When I proposed this story to my WholeNote editor, he recalled that he had performed the role of a live radio host at a very early Deep Wireless event in 2002 held at Theatre Passe Muraille. One of the memories of that event that stood out for him, he said, was a performance of Radio Music by John Cage, a work written in 1956 for one to eight performers. His mention of that event in turn jogged my memory – I too had been involved in it. Later when I chatted with Copeland about this year's festival, he was able to confirm that, not only was I involved, but that I had actually conducted the Cage work. In fact, most of the performers were students from my sonic arts class at OCAD who executed the movements on the radio dials according to the notated score.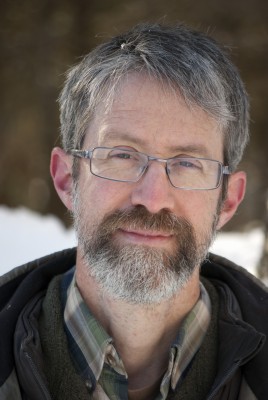 Now Deep Wireless is 20-years old and this year's festival opens on February 3 with sound installations by James Bailey and Shaughn Martle that will run for the duration of the festival, ending on April 4. The events will be presented online and in-person and are described not as concerts, but as Listening Parties or Group Listening events, often accompanied by a Q&A.
One event in particular caught my eye because of recent stories I wrote in this magazine: on February 5 and 6, a new work titled Winter Diary Revisited by Claude Schryer will be presented as a Group Listening event; it will also appear as an episode in Schryer's ongoing conscient podcast series. The "revisiting" of the work's title is a return to recordings Schryer made in 1997 with Murray Schafer in rural Manitoba that Schafer used in his radio piece commissioned by Westdeutscher Rundfunk Köln (WDR) in Cologne, Germany. For the Deep Wireless event, Schryer will remix sounds from this trip along with some of Schafer's writings and new winter soundscapes he has recorded in Ontario and Quebec in 2022.
Radio art, also known as Hörspiel and Ars Acustica, has been a prominent art form in Europe over the last number of decades largely supported by the larger state radio stations such as WDR in Cologne, who commissioned many different composers to create full one-hour pieces or radio dramas. Canadian equivalents have mostly arisen from CBC programs such as Ideas and Outfront and productions by the Radio Drama department. In fact, for several years, Deep Wireless partnered with Outfront to create shorter ten-minute radio-art pieces, assigning four artists from across Canada to a CBC producer who provided mentorship and guidance in the development of the story ideas. Wonderful pieces were created during this time, many of which can still be heard on NAISA's SoundCloud page. [soundcloud.com/naisa]. One that I recall often when riding the TTC, featured the story behind recording the voice heard over the sound system announcing the next stop.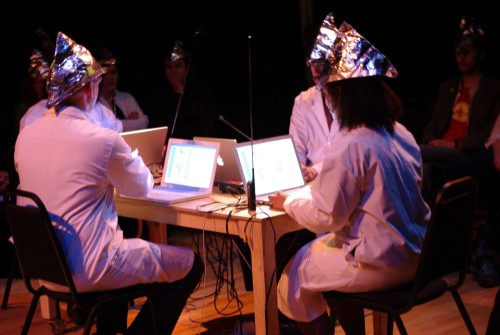 Looking back, Copeland spoke about the creation of a Deep Wireless Ensemble as being "a distinguishing feature" for the NAISA organization. This initiative brought together disparate artists to create live radio work. Copeland described it as being like a "four-way blind date" combining artists from different disciplines and backgrounds, each responsible for creating a piece with input from the others or alternatively, all working together to create a larger collective work. These interactions would often result in the start of a new direction for some of the participants. One such recent collective work was Power Play created for the 2021 version of Deep Wireless by Anna Friz, Christine Duncan, Richard Windeyer and Richard Lee with contributions from Gregory Whitehead. It can be seen on NAISAtube as part of the 20th anniversary collection.
Transmission art
Over time, both the field of radio art and Deep Wireless' objectives have evolved and changed. Copeland explained: "In the early days, public radio was certainly a destination or influence, but also community radio in North America became an outlet, with NAISA hosting a radio program on CKLN. With the beginning of Internet broadcasting and CKLN closing down, we shifted to a podcast format and also have an online radio station that streams 24/7 on our website." As things moved to digital platforms, transmission art, as it was called, became a more prominent way for artists to engage. (Transmission art uses the conventions of broadcast technology to create artwork incorporating the transmitters as a sound source. It is even possible to work with the transmitter like a theremin, with body movement affecting the nature of the sound.)
In this year's festival, the installation by James Bailey is a good example of transmission art. Several transmitters will be placed onto the strings of an upright piano, creating a type of prepared piano. The difference in this case is that the physical activity of the string vibrating on the transmitter itself is picked up and broadcast to a radio. Bailey's piece –The Piano Travels – places multiple transmitters on a series of piano strings so that the frequency of each string will be broadcast to its dedicated transmitter without any microphone being needed. "It will be like a piano radio," Copeland said.
Other events at this year's Deep Wireless Festival include the presentation of British composer Trevor Wishart's The Garden of Earthly Delights - A Comic Opera, an hour-long radiophonic journey through the landscapes of the human predicament presented online and in-person on February 13. Wishart's piece will be presented in a new binaural audio version adapted from the 8-channel surround version. As well, two opportunities to experience an electromagnetic composition workshop given by Dan Tapper will happen on February 20 and 27.
This year's Deep Wireless Festival coincides with the opening of the newly purchased NAISA North Media Arts Centre in South River, Ontario, an artist-owned dedicated space for the multiple projects that NAISA produces. This facility, Copeland hopes, will help usher in a new era for this ambitious arts organization, one of the few in Canada dedicated to the ever-expanding field of sound art. A full listing of festival events can be found on the NAISA website: naisa.ca/festivals/deep-wireless.
Rhubarb is back at Buddies

Buddies in Bad Times Theatre has recently announced a return to mainstage programming at Buddies, with the return of Canada's longest-running new works festival, Rhubarb, back for its 43rd year from February 4 to 13. In this year's version, curated by festival director Clayton Lee, participating artists will respond to a large-scale installation, titled Calculus of an infinite rot, part 1, being created by designer and architect Andrea Shin Ling. Ling's award-winning work, as described in this year's Rhubarb announcement, "explores how biological and digital processes can intersect in design". In her conceptual prompt to this year's participating artists, she asks, "What does it mean after a year such as this, to regenerate one's practice? What have we left to deteriorate, and what do we use as fodder and fuel for new creation?"
The festival's 2022 programming includes, among many others, work by generational duo Lara Kramer and Ruby Caldwell Kramer, an impromptu sonic performance by New York-based Jesús Hilario-Reyes and a performance lecture by Sarah Garton Stanley. The Buddies website will be updated regularly to reflect changes and developments.
'Tis the season, it would seem, for piano-and-weather-related art works. One particular event, currently slated for February 4 ahead of the festival's official start, caught my eye too – a composition, Fragile Glim, by neo-speculative artist Stanford Cheung and poet Alvin Wong. Described as a multi-form soundscape composition, it derives its sound materials from an upright piano that has been exposed to the weather elements over many months, becoming a "degenerative piano that pushes against our human-centric ideas of what is considered beautiful." The performance will also include free improvisation on found objects such as stones, sand and tuning forks, field recordings, electronics and spoken word.
QUICK PICKS
FEB 17, 8PM: New Music Concerts continues its series of commissions for distanced ensembles in celebration of their 50th anniversary with a performance of John Oswald's re-Refuse. ONLINE: www.newmusicconcerts.com
FEB 25 to 27: Continuum and Jumblies Theatre + Arts. Small Arms Inspection Building, Mississaugua. The Grounds for Goodness collaboration brings together Continuum's contemporary music practice and professional ensemble with Jumblies interdisciplinary and community-arts practices, including many diverse and mixed-ability community participants. Two newly commissioned works by Robert Fleitz (NYC) and Christina Volpini (CA) will be performed. The event is part of a Jumblies multi-year interdisciplinary project "which presents works that artfully explore and express why and how people sometimes behave in good ways towards each other." Check www.groundsforgoodness.ca for space updates and times.
MAR 6, 7PM: INNERchamber Ensemble. Revival House, Stratford. This concert, titled Flow, will feature two contemporary works: String Quartet No.3 by Kevin Lau and Strum by Jessie Montgomery. Ravel's String Quartet in F will round out the program. Performers: Julie Baumgartel, violin; Andrew Chung, violin; Jody Davenport, viola; and Ben Bolt-Martin, cello. LIVE & LIVESTREAM. www.innerchamber.ca
AND AT YOUR LEISURE: The Music Gallery has put together a series of music documentaries to watch to get you through February. Included will be favourites drawn from the Music Gallery archives. Sign up to have their recommendations sent to your inbox: Sign Up for Film Fridays
Wendalyn Bartley is a Toronto-based composer and electro-vocal sound artist. sounddreaming@gmail.com