This time of year and the ensuing holiday cheer inevitably result in a rash of Messiahs, Nutcrackers, and other ubiquitous advent events. But those with a taste for the new shouldn't fear. There's still plenty to satisfy now and into the new year. In fact, Toronto music presenters have produced such a rich arrangement that curious ears will be challenged in deciding what to hear.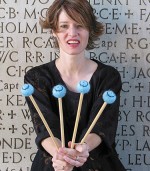 December 3 is a good case in point, when the calendar is triple booked with new music. Wind enthusiasts will want to make their way to MacMillan Theatre to hear the U of T Wind Ensemble perform Christos Hatzis' Tongues of Fire. This eclectic percussion concerto was originally commissioned by the Scotia Festival in 2007 for full orchestra and soloists Beverley Johnston and Dame Evelyn Glennie. The work caught the ear of conductor Glenn Price, who commissioned Toronto composer Kevin Lau to arrange a wind ensemble version for an international assortment of eleven ensembles. Beverley Johnston serves as soloist for this Toronto premiere, part of an all-contemporary programme, with works by Americans Joseph Schwanter and Morten Lauridsen, and Canadian John Estacio. Call 416-978-3744 for more info.
Those with a taste for French music should visit the Alliance Française, where pianist Adam Sherkin, soprano Jennifer Taverner, flautist Tristan Durie and toy pianist Stéphanie Chua perform a sonic architecture of music by Iannis Xenakis and Philippe Leroux. Details are available by phone at 416-922-2014. Meanwhile, those seeking the latest sounds from New York City can shuttle over to Gallery 345 to hear Canadian pianist Vicky Chow. An internationally accomplished soloist and new-music collaborator, Ms. Chow has worked with top-tier composers such as John Adams and Louis Andriessen. In addition to being a member of the illustrious Bang On A Can All-Stars, she is the pianist for the Chicago-based avant-garde Opera Cabal and NYC's ai ensemble. For her visit to Toronto, Ms. Chow performs an assemblage of world and Canadian premieres by the likes of Bang on a Can colleagues David Lang and Evan Ziporyn, as well as works by early-career composers Ryan Anthony Francis, Daniel Wohl, Eliot Britton and Andy Jakub Ciupinski. For more info visit www.gallery345.com or call 416-822-9781.
Those who want to avoid selection stress should wait until December 4, when the San Agustin Duo appears at Gallery 345 in an all-Canadian programme of music by women composers. Violinist Emma Banfield and pianist Diana Dumlavwalla perform a gamut of Canadian violin literature, from pioneer Gena Branscombe through to contemporary classics from Kelly Marie Murphy and Alice Ho.
On December 10, there's a mixed double bill to challenge your choice-making skills. Canadian violinist Leila Josefowicz appears at Koerner Hall with a programme including Stravinsky and Shostakovich, but more notably a recent work by world-famous Estonian composer Erkki-Sven Tüür. Tüür's music isn't often heard in Toronto, and I can't really describe it well myself, but this Conversio for violin and piano has been compared to a cross between Steve Reich and Messiaen. Sounds intriguing. Meanwhile, over at the Isabel Bader Theatre, New Music Concerts continues its decades-long relationship with the long-lived American composer Elliott Carter, who continues to create at a remarkable rate. This concert features the Canadian premieres of several new works written within the last two years, among them the long-awaited Flute Concerto. Carter gets his tribute concert on the eve of his 102nd birthday no less! More details are available at www.newmusicconcerts.com.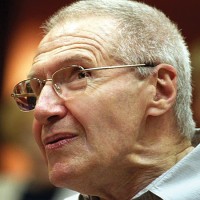 We arrive at mid-month with a simple selection of demanding but mesmerizing music by Hungarian composer György Kurtág. On December 16, mezzo Krisztina Szabó and pianist John Hess offer a programme of vocal and chamber works in tribute to this most important Hungarian composer. The noon-hour concert at the Richard Bradshaw Theatre will feature Kurtág's harrowing Attila József Fragments for solo voice, Three Old Inscriptions for voice and piano, as well as works for solo piano and piano four hands. More details are available at www.coc.ca.
Then you'll have plenty of time to enjoy the holiday season and rest up before the New Year. And I assure that you will want to recharge your batteries, because the January new-music schedule is jam-packed with not-to-be-missed events.
We start with the spectacular, Victoria-based Aventa Ensemble, which returns to Toronto on January 4 to launch their 2011 Canadian tour at the Music Gallery. The programme includes a word premiere from Vancouver-based Jordan Nobles for spatialized ensemble, alongside works by Quebec's quirky André Ristic and a contemporary classic from Pierre Boulez.
New Music Concerts opens the second half of their season on January 14 at the Music Gallery, with the renowned Diotima Quartet in a programme of recent works by 21st century, heavy-hitting composers like James Dillon, Emmanuel Nunes, Roger Reynolds and Thomas Larcher. This music selection – all Canadian premieres – has been carefully curated in co-operation with NMC to represent the range of international composers that both groups have worked closely with over the years.
On January 16, Mooredale Concerts pairs trombonist Alain Trudel and organist Peter Webb for an unique afternoon concert. The programme includes works by well-known 20th century composers Holst, Schnittke, Messiaen and others, but also features the world premiere of Flow for trombone and organ by Vancouver Symphony Orchestra composer-in-residence Scott Good. More details are available at www.mooredaleconcerts.com and 416-587-9411.
The following day, Continuum launches its season with a one-two punch. On January 17, soprano Carla Huhtanen joins Continuum's ensemble to release Raw, the Centrediscs CD of James Rolfe's chamber music, marking in the process a 20-year partnership between the presenter and one of Canada's most accomplished composers. A scant week later, on January 24, Continuum collaborates with students from OCADU to explore associations between visual and musical arts. Choosing from some of Continuum's best repertoire – including thirteen works by the most adventurous Canadian and international composers – students filter music through the visual in various curatorial fashions. For more info visit www.continuummusic.org or call 416-924-4945.
In between, on January 22, Tapestry New Opera Works delves back into its library of contemporary stage works to pick the most memorable arias for "The Tapestry Songbook." The selections have been carefully made by long-time Tapestry collaborator Chris Foley and will be performed by members of the Tapestry New Work Studio Company alongside recent workshop participants. For more info, visit www.tapestrynewopera.com or call 416-537-6066.
Spanning the last week of January is the ever-expanding University of Toronto New Music Festival, which this year hubs around distinguished visiting composer Chen Yi. Now based in the USA, Chen is a prolific and highly awarded Chinese composer who blends musical traditions from the East and West, thus transcending cultural boundaries. The ten events that cover the January 23-29 festival dates include composer talks, student recitals, faculty concerts and multimedia events, and feature no less than six concerts of Chen's music. For full details visit www.music.utoronto.ca/events/nmf.htm.
Once again, on January 25 we arrive at a choice challenge. At noon, wind and string ensembles from the Glenn Gould School fill the Richard Bradshaw Theatre with a celebration of the Argentine composer Osvaldo Golijov. In addition to select Golijov works – Lullaby and Doina for mixed chamber ensemble and a new work for violin and piano – the programme includes pieces by Ginastera and Prokofiev that reflect Golijov's rich cultural heritage. And while Chen Yi gives a talk at Walter Hall, Soundstreams will be presenting works by other Chinese composers at Koerner Hall, most notably fellow American Tan Dun and his Ghost Opera. This chamber work for string quartet and pipa explores ancient Chinese shamanism. Surrounding Ghost Opera are a premiere from Canadian composer Dorothy Chang and works by Chen Xiaoyong. You can find details at www.soundstreams.ca.
The month closes out without conflict (but perhaps very full ears) on January 30 at Koerner Hall, where Esprit Orchestra will partner with the Elmer Iseler Singers for a powerful programme hinging on Giya Kancheli's Styx for orchestra, chorus and viola. Haled as a 21st- century choral masterpiece, Styx is dedicated to departed composer colleagues Schnittke and Terterian. The masterful violist Teng Li joins Esprit as soloist. The programme is completed with a counterbalance of works from Ligeti and Canadians Douglas Schmidt and José Evangelista. More details are available at www.espritorchestra.com.
From cheer to lament, new expressions through music never cease. So be sure to get in with the new via The WholeNote's concert listings, here and online at www.thewholenote.com.
Jason van Eyk is the Ontario Regional Director of the Canadian Music Centre. He can be contacted at newmusic@thewholenote.com.