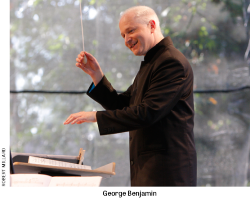 Even though the temperatures are still fairly frosty this month, adventuring outside to take in some of the hot new creations and sonic explosions will be sure to warm you right up. It's that time of year again when the Toronto Symphony offers up its annual festival of New Creations, which regularly features the works of a specific composer. This year, that composer is George Benjamin from Britain, who will also be conducting in the three festival concerts on February 28, March 3 and March 7. This year's festival is also highlighting soprano Barbara Hannigan, widely acclaimed for her impeccable performance of contemporary music. For the full scope of Hannigan's musicality and her contribution to the festival, check out the cover story.
Back in his teens, Benjamin was fortunate to have been one of Olivier Messiaen's last pupils, and by the time he was 20, he was seen as one of the brightest stars in British contemporary music. His compositions are full of sensuous colours that breathe an air of newness, all the while containing the fluency of earlier musical languages. And despite the resulting fluidity, when asked how he begins creating a new piece, his answer is a surprising "with confusion. The clarity of sound and form I desire can take many months to attain." Festivalgoers will have an opportunity to hear this for themselves in his two works: Duet for Piano and Orchestra (2008) and A Mind of Winter (1981) one of his earlier works. His compositions enjoy a popular following in Britain and in Europe, yet nothing prepared audiences for the emotionally raw intensity of his opera Written on Skin, which premiered in France at the Aix-en-Provence Festival in 2012. Seen as a watershed work for not only Benjamin but also for British opera as a whole, this work combines cannibalism, suicide, sex and murder. In the festival we will hear the opera-in-concert version with some of the original cast, including Hannigan who performs the role of Agnès.
This year's festivalgoers also have an opportunity to hear works by two composers not so well known in Toronto – Dai Fujikura from the U.K. and Hans Abrahamsen from Denmark. Fujikura, originally from Osaka, Japan and a former student of Benjamin's in the UK, brings his passion for the Venezuelan El Sistema music education project into his composition Tocar y Luchar (2011). Receiving its Canadian première at the festival, the title means "to play and to fight." This practice is part of the El Sistema program that provides opportunities for children to perform and compose music as a way of helping them cope with difficult living situations. Hans Abrahamsen's let me tell you, an orchestral song cycle composed in 2013, is a project initiated by soprano Barbara Hannigan and uses the text of a novel by the same name by Paul Griffiths. The orchestral music breathes an air of mystique with its glistening textures, while the voice soars into the upper limits of the soprano range.
The Toronto Symphony will also be performing the world premieres of two festival commissions by Canadian composers Chris Paul Harman and Vivian Fung. Harman's piece Lieder und Arien (performed March 3), draws on music published in the appendix of Bach's 371 harmonized chorales. The resulting composition is a series of musical episodes created by moulding and shaping the original sources into a new being that may or may not be recognizable. Vivian Fung's work, Of Snow and Ice, to be performed on the February 28 "A Mind of Winter" concert, is a violin concerto written for the TSO's concertmaster Jonathan Crow. Fung's piece is one continuous movement in five sections and is inspired by recent nostalgic thoughts of her childhood growing up with the harsh but beautiful winters of Alberta.
Whispering and Raging: Given our increasingly moment-by-moment dependency on the internet, I'm sure most readers can relate to the notion that there are some things we're comfortable revealing about ourselves online, and yet in person, we would never expose those same things. This contemporary reality is what forms the backbone of New York composer David Lang's the whisper opera being presented by Soundstreams from February 26 to March 1. With a libretto assembled from search-engine responses to intimate key words and phrases, the performance is structured in such a way that only an audience of 52 people can experience it live. Lang's intent is to highlight the contradiction between our collective outrage over government surveillance as exposed by people like Edward Snowden, and our acceptance of how advertisers have free access to our personal online activity. The work calls for intense listening skills on the part of the audience, as the singer and musicians are playing and speaking so softly that you can only fully perceive the sounds as each performer passes you by. What one person hears will be quite different from what another experiences sitting elsewhere in the room.
The opera is performed by members of the International Contemporary Ensemble (ICE), a New York-based modular-like ensemble with up to 35 participating musicians. The ensemble not only performs works, but is also dedicated to presenting concerts that help promote a greater awareness and understanding of innovative musical practices. During their stay in Toronto, they will be performing a concert of pieces on February 28 selected to showcase the extensive range and depth of contemporary music written from the 1960s to the present day. The concert will include pieces by Pauline Oliveros, Michael Finnissy and Mark Applebaum.
In stark contrast to the quiet and intimate setting of the whisper opera, the Thin Edge New Music Collective from Toronto and Ensemble Paramirabo from Montreal are joining forces on February 19 to present an evening full of sound and driving rhythms. It's a rare opportunity to hear music from two of the giants of minimalism: Steve Reich's Pulitzer Prize-winning Double Sextet alongside Louis Andriessen's politically charged Workers Union. Presented at the Music Gallery, the evening is titled "Raging Against the Machine" and is an expression of the challenges artists are currently facing in Canada. The evening will also include premieres of works by Brian Harman, Anna Höstman, and Patrick Giguère. And to make sure the message is heard across the country, the two ensembles will be presenting this concert in Edmonton, Calgary, Winnipeg, Vancouver and Victoria.
The intensity will continue on March 6 when the TorQ percussion ensemble takes its turn at the Music Gallery space. It seems that the energy created by pairing Reich and Andriessen is in the air in early 2015. In this concert it will be Reich's Sextet as well as a sextet version of Andriessen's Workers Union that will be performed by the four members of TorQ and pianists Greg Oh and Wesley Shen. A new work by TorQ's own Jamie Drake will complete the program.
China and Canada: In the previous issue of WholeNote, I wrote about the upcoming new music festival presented by U of T's Faculty of Music which pairs music by composers from China and Canada. As a reminder, this series of concerts and lectures runs throughout the first week of February, with the final program on February 8. But another opportunity to hear and compare music from these two distinct countries occurs on February 14. The New Music Concerts program titled "New Works from East and West" presents a unique evening of five world premieres, all commissioned by NMC from both Chinese and Canadian composers. Canadians Adam Scime, Laurie Radford, and Norbert Palej (who is also the main organizer of the U of T festival) have each written pieces for soprano Stacie Dunlop, a passionate performer and commissioner of contemporary music. Dunlop will be joined by members of the NMC Ensemble and in Scime's piece, by violinist Véronique Mathieu. The Chinese composers Fuhong Shi and Yan Qiao Wang have written their pieces for virtuoso pipa player Lan Weiwei from Beijing. The pipa is a plucked string instrument on which Lan performs both traditional Chinese and contemporary orchestral and chamber music.
To wrap up this month, I want to add a quick heads up for two concerts just on the edge of the listings period for this issue. On February 7, Spectrum Music presents "Starry Night," a concert dedicated to exploring the mysteries of the cosmos through music, projections and immersive staging. And on March 8, Continuum Contemporary Music continues to celebrate their 30th anniversary season with British radicals Richard Ayres and Joe Cutler, 22-year-old Turkish wunderkind Mithatcan Öcal and works by Anna Höstman and Jason Doell.
Additional Listings:
Canadian Music Centre: Feb 13 "Prelude to Brocade" and Feb 15 "Brocade." Works by Ceccarelli (Montreal) and L.S. Smith performed by the rocKeys duo on piano and harpsichord.
Canadian Opera Company: Feb 24 Vocal Series includes a performance of Schoenberg's String Quartet No.2 with soprano Barbara Hannigan.
Scarborough Philharmonic Orchestra: Feb 21 "A Canadian Panorama for Winds" features compositions by Cable, Eddington and Royer, and premieres by Meyer and Rapoport.
DaCapo Chamber Choir, Kitchener: Mar 7 "O Earth, Return" features the 2014 New Works-winning composition, Mathew Emery's Night on a Starry Hill and works by Jonathan Dove and Arvo Pärt.
Wendalyn Bartley is a Toronto based composer and electro-vocal sound artist. sounddreaming@gmail.com.