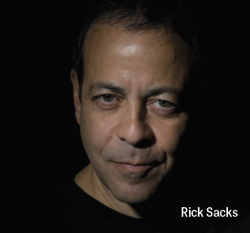 Music is like a creature that needs certain conditions and ingredients in order to thrive. Two essential components to create a sustainable environment for musicmaking are a space for the sound to exist within and a community of receivers open to listening in that space.
In the summer issue, I spoke about the upcoming visit to Toronto of composer Pauline Oliveros and her longstanding practice of "Deep Listening." Having recently witnessed her keynote address, performance and deep listening workshop at the various events organized by New Adventures in Sound Art (NAISA) in mid-August, I was struck by how much her work as a composer, both in the pioneering days of electronic music and in promoting an awareness and practice of listening, has had a wide impact on the musical community.
One event I was able to experience was an outdoor participatory performance of her piece Extreme Slow Walk, a piece I had experienced back in the late 1970s at the original Music Gallery space on St. Patrick Street. The piece requires an opening up of one's awareness to the vibratory resonance of the earth, the electrical sensations in the body and the pull of the gravitational field – all while listening to the surrounding soundscape and slowly placing one foot in front of the other. Not only did each participant experience something personally meaningful but as Oliveros commented after we completed the walk, the whole environment was responding and sounding back in its own way because of our listening. This is an example of what she calls "quantum listening."
Arraymusic: A few years back, Toronto's Arraymusic produced a concert of some of Oliveros' music. In a recent interview I had with Array's artistic director and percussionist Rick Sacks, I asked what it had required of him as a performer to realize the intentions of one of Oliveros' pieces. His answer (that it was a process of "revelation") underscores the difference of perspective that deep listening is built upon. Revelation, he explained, was the experience of allowing things to unfold while playing, instead of relying on the traditional performance practice of having things under control (as much as one ever can). It was an opportunity for personal growth beyond ego by following an intuitive process. Oliveros' entire aesthetic points towards a holistic approach to life, Sacks said: when sound is given a chance to live and breathe, it follows its own course and we are taken along for the ride. But it requires the professional musician to trust that all the learned musical impulses and skills will be there when called upon by the unfolding music.
As I mentioned above, though, music also needs a supportive and thriving environment within which to do its living and breathing. Since the 1970s, Arraymusic has been an important contributor to the creation and performance of new music in Toronto and the rest of the world. With its recent change of location, Array is now uniquely positioned to offer its new venue at 155 Walnut Street as one such living space. During my conversation with both Sacks and Array's administrative director Sandra Bell, they talked about the vision that the new space has enabled. One of the major results of the re-visioning process has been an expansion of their participation with other organizations in a series of co-productions. As well, they are equipping their space as a DIY (do it yourself) studio environment, where community members can rent the space and record audio or video on their own without having to hire a technical assistant. This keeps the costs low and accessible, helping to support young and underemployed artists. And building on their current online YouTube channel, the space will be equipped with a high definition video system to offer live streaming of concerts and events to a worldwide audience as well as creating a musical archive.
This conveniently located and great-sounding space has also expanded to incorporate other arts organizations, including plans for a future rooftop deck. It's becoming a hub that can foster a growing community, which will in turn generate artistic synergies that arise from a common meeting space.
Although Array has always been a grassroots community organization, that trend has now snowballed, and the space come alive, with many community events. These include regular improvisation jams with local and visiting guests, lectures and composer talks (Allison Cameron, October 18 and Tamara Bernstein, November 20), a collaboration with the Evergreen Club Gamelan that includes evenings for people to gather and play the EGC instruments now housed in the Array Space, co-presentations with other music organizations, free outreach community workshops and participation in the New Music 101 library series. On Toronto's improvising scene, Array is teaming up with both Somewhere There (September 20) and Audio Pollination (September 9 and 13). The first of Array's own improvisation jams happens on September 10. The days of September also offer two opportunities to participate in community events: September 21 launches the first Gamelan Meetup event and September 27 provides an opportunity for a free percussion workshop.
Array is of course more than a space, for at its roots, it is a performing ensemble. Now able to enjoy their own performing space, this season's concert series includes works by Gerald Barry, Udo Kasemets, John Sherlock, Michael Oesterle and Linda Catlin Smith. Beyond the Walnut Street address, the Array ensemble will be performing a series of miniatures composed by Nic Gotham at the book launch of Martha Baillie's novel The Search for Heinrich Schlögel on September 16 at the Gladstone. Gotham's miniatures were originally written for an online installation of postcards written by Baillie and read by members of the literary community.
INTERsections: Earlier in the month, Array along with other new music ensembles will participate in Contact Contemporary Music's annual new music event "INTERsection: Music From Every Direction" from September 5 to 7, which will include a day of free performances and interactive installations at Yonge-Dundas Square on September 6. Also included in INTERsection are concert performances at both the Tranzac Club (September 5) and the Music Gallery (September 7).
Other "intersections" also occurring in September feature two of the new music groups who are also participating in Contact's weekend event. On September 28 the Thin Edge Music Collective performs at the Array Space with guest artist Nilan Perera, and the Toy Piano Composers present a night of "inventions, oddities and hidden treasures" on September 20 at the Music Gallery. In a bit of a space switch-up, the Music Gallery is presenting an event at the Array Space on September 5 curated by Tad Michalak as part of their Departures series featuring Battle Trance + King Weather + Not the Wind Not the Flag.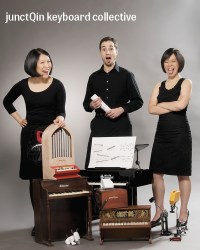 Canadian Music Centre: Alongside Array and the Music Gallery, Toronto is fortunate to have the Canadian Music Centre as a space that supports new musical sounds. September events include a concert of North American music for flute and piano on September 13; an evening of words and music (texts by Gwendolyn MacEwen and Linda Hogan) on September 27; and a special event for Culture Days entitled "Create Your Own Graphic Score" with junctQín keyboard collective on September 28. The CMC has also announced their Nuit Blanche event on October 4, which will showcase the integration of global traditions into Canadian new music.
Guelph Jazz Festival: Jumping over now to the annual Guelph Jazz festival that runs September 3 to 7, there are a few performances that will no doubt be strong draws for musical experimenters. To celebrate the 100th anniversary of pioneering jazz artist Sun Ra's arrival on planet Earth, the Sun Ra Arkestra offers a free performance at 2pm on September 6, followed by an evening performance of "Hymn to the Universe" along with the Coleman Lemieux & Company dance ensemble. The Ugly Beauties, featuring Marilyn Lerner, Matt Brubeck and Nick Fraser perform on the same day at 4pm, followed by a show on September 7 at 10:30am by renowned composer and keyboard genius Lui Pui Ming performing with Korean composer and vocalist Don-Won Kim. See also Ken Waxman's Something in the Air column on page 73 in this issue.
On a final note for this month, the good news is that the possibilities and opportunities for the nurturing and growth of new and experimental music through thriving musical spaces is well underway. Now it's up to the listeners to go out and experience the feast.
Additional Concerts:
Scott Thomson and Susanna Hood: "The Muted Note." Premieres of new music, dance and poetry based on P.K. Page poems. September 5 to 7 and 27. (See next page.)
Composer Barbara Croall performs original works for traditional First Nations flutes, piano and other instruments. September 12 at Musideum.
Soundstreams: Violinist Daniel Hope is the soloist in Max Richter's reinvention of Vivaldi's Four Seasons, September 30. See this month's Classical and Beyond column, beginning on page 20.
Groundswell Festival with Nightwood Theatre: workshop production of Obeah Opera by composer Nicole Brooks. September 10 to 14. See GTA Listings for details.
Wendalyn Bartley is a Toronto-based composer and electro-vocal sound artist. sounddreaming@gmail.com