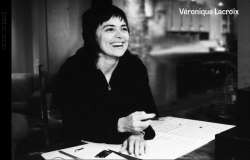 The famous quote "It takes a village to raise a child" speaks to the role of shared responsibility in nurturing the next generation. We can equally apply that same axiom to the task of creating opportunities for musical imaginations to flourish and evolve. Beyond the usual educational institutions that provide the initial stages of the fertile ground, different presenters of new concert music have been stepping up to the plate for years now to take on this responsibility. So dedicated are they, that this mandate has become one of their defining attributes. Such is the case with ECM+ (Ensemble Contemporain de Montréal), and the dedicated and passionate commitment of its director Véronique Lacroix.
The ensemble was founded in 1987 by Lacroix specifically to offer young composers a playing field in which to develop their musical imaginations. Her vision was to create the kind of environment composers need so they can pursue their musical research and exploration with live musicians. "Nothing can compare to live experimentation," she said in our conversation. "It is the only way to actually test what the composers hear in their heads and adjust their final scores according to the results of this experimentation with the musicians." Lacroix is passionate in her commitment to composers, who are always ahead of their time and often revolutionary, she says. "Observing the complex ways they integrate the global context into their scores is a constant source of inspiration." Lacroix's vision led to the development of the ensemble's distinct and unique Génération program, which is currently celebrating its 20th anniversary.
So what is so special about the Génération program that takes younger composers through a training process spanning an 18-month period of time? It begins every two years, with a rigorous selection process to choose four Canadian composers that meet artistic, demographic and gender criteria. I was impressed to see that one of these criteria was that one of the four composers was to be a woman. I had to wonder how many other presenting organizations of new music take a similar approach to their programming, given the numerous occasions we've all experienced where the program is all male?
Lacroix has "always been fascinated by the rich secrets of the scores I receive regularly and always wondered what is happening in a composer's head. How can anyone imagine musical avenues as unexpected and complex as what they have written?" It is for this reason that the Génération experience began and offers so much more than a few rehearsals with the composer present. Rather, it's an entire mentoring structure.
The composer begins their work by compiling a notebook of ideas and sketches that they bring to a series of four workshops with the ensemble. The workshops are open for anyone to attend and each audience member is given a copy of the composer's notebook so they too can enter into a deeper engagement with the emerging creative process. At the beginning of each workshop, the audience experiences each composer giving a brief talk about their work, and a mini concert of works from each composer's previous repertoire. Lacroix learns "as much from the composer experimentation as the composers learn from the musicians playing their score. After each workshop or Génération concert, many people tell me how instructive and even surprising the experience was for them."
In the second year of the program, the composer and ensemble gather for a five-day residency at the Banff Centre where the pieces are rehearsed and given the final touches. The pieces are now ready for concert presentation – but not just in one location. An extended tour exposes these germinating ideas to a larger audience in a country-wide tour. This year, there will be concerts in nine Canadian cities, with the Ontario-based concerts happening in Toronto, London and Ottawa. The mentoring and audience-education activities don't stop at the workshop stage either. At the concert, each of the composers is interviewed onstage about their piece, which is supported with musical examples from the new work. As well, in each of the tour cities, ECM+ offers reading sessions of composition student pieces, and since 2010, audiences have had a voice in selecting their favourite work through the Generation Audience Choice Award.
Throughout its 20-year history, the program has supported over 50 composers, providing many with the foundations for a successful and prize-winning career. This year's composers include Marie-Pierre Brasset (Quebec), Alec Hall (Ontario/New York), Evelin Ramon (Cuba/ (Quebec), and Anthony Tan (Alberta/Berlin). To hear the results of these fortunate composers and their 18-month process, make sure you attend the Génération concert in Toronto on November 16 presented by New Music Concerts in their season opener. Not surprisingly, NMC, who also have a strong mandate to support Canadian composers, have been the Toronto host for every Génération tour since 2000. There is also a YouTube video that has been created which offers interviews and musical examples of each of this year's participating composers. (Search Génération2014 on YouTube)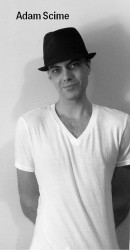 Esprit Orchestra is another organization that nurtures the creative minds of composers. A great example of this is evident in their November 23 concert and the programming of a new commissioned work from Adam Scime. When I asked Adam how Esprit has supported him and his career, he emphasized "the importance of working within a collaborative environment with musicians who are not only exceptional in their general performance capability, but also experienced with contemporary idioms." Thus, the composer "need not relinquish any virtuosic expressive impulses, and can create exactly what leaps from mind to page." Esprit offers a young composer competition, and it was Scime winning this award a few years ago that led to the commissioned piece that will be performed in the upcoming November concert. This new piece is titled Rise and is inspired by how waves propagate across the ocean. Scime has split the orchestra into a stereophonic seating arrangement in order to facilitate his wave-like orchestration and colouristic effects. The other works on the program include pieces by Joji Yuasa (Japan), Douglas Schmidt (Canada) and Henri Dutilleux (France).
[Also on the topic of supporting developing work, Tapestry Opera is renowned as well for its mentoring of composers and librettists. More details of their upcoming series entitled "Booster Shots" can be read in Christopher Hoile's column in this issue. Ed.].
Whirlwind tour: November is a busy month for new music listeners, so to begin the whirlwind tour of all that's available, we hop over to the Kitchener-Waterloo area where the K-W Chamber Music Society is collaborating with NUMUS and the Perimeter Institute to celebrate their 40th anniversary. Their concert on November 28 titled "Igorhythms" features both the Penderecki and Lafayette string quartets along with the Perimeter Chamber Players performing works of captivating rhythms by Stravinsky, Canadian composer John Estacio and Waterloo's master of groove Jascha Narveson. Earlier in the month on November 9, K-WCMS offers a concert of music by Canadian women composers including pieces by Alice Ho, Carol Weaver, and Larysa Kuzmenko. NUMUS is also presenting their Emerging Artist series on November 8 featuring composer/performer Nick Storring on electronics.
Thin Edge: Back in Toronto, The Thin Edge New Music Collective's program titled "Cuatro Esquinas" (Four Corners) combines compositions from both Argentina and Canada with guest Argentinian pianist Laura Ventemiglia and will be presented on November 6 at Gallery 345.
TCIF: On November 7, we have a co-production between the Music Gallery and the Toronto Creative Improvisers Festival in a large multi-media work pulled together by Burroughs scholar, composer and saxophonist Glen Hall entitled "Rub Out The Word: A William S. Burroughs Centennial Event." The work combines an 11-piece orchestra, an actor, electroacoustic music and projected images along with special guests, the venerable CCMC improvising ensemble.
Four more: On November 14, Arraymusic will present several works by Irish composer Gerald Barry, including a new piece being premiered by Arraymusic pianist Stephen Clarke. Then on November 21, the fast-rising southwestern Ontario ensemble Reverb Brass presents their program of cutting-edge works entitled "Passages" at Gallery 345. On November 25 Soundstreams celebrates universal spirituality with two large choral works – both ancient and modern renditions of the traditional sunset prayer service Vespers – by Monteverdi and Canadian Gilles Tremblay. And on November 29, the Toy Piano Composers presents pieces by composers who responded to their 2014 call for works.
Individual composers often end up presenting their own works. November 18 you can hear the music of Odawa composer Barbara Croall, whose music combines influences from her indigenous heritage and her classically oriented training. "Bob@60" on November 23 celebrates over 40 years of contemporary music creation by Toronto-based composer and clarinetist Bob Stevenson. This concert will feature two ensembles which Stevenson has put together to perform some of his latest pieces, which combine his classical, improvisational and jazz influences. And finally, the Toronto premiere of composer-performer Tim Brady's piece titled Journal: String Quartet No.2 will be presented as part of the Mooredale Concerts on November 2 featuring the New Orford String Quartet.
Wendalyn Bartley is a Toronto-based composer and electro-vocal sound artist. She can be contacted at sounddreaming@gmail.com.