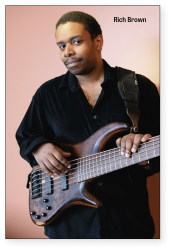 This month, I am looking forward. After all, there is a lot to look forward to in the fall: the beginning of Christmas as defined by retailers everywhere; colourful leaves and colourful sweaters; the post-Halloween candy binge; and, I suppose, even Halloween itself.
My favourite thing about this fall is going to be the sounds, I'm sure. Not only the crunching of les feuilles mortes under busy Torontonian feet, but the music gracing the stages at busy Toronto concert venues.
Let me take you back to winter. On a snowy Saturday in January, 2011, I went to check out a double bill at The Rex. Ricochet, a group featuring Adrean Farrugia, Andrew Downing, Ravi Naimpally, Anthony Michelli, Kevin Turcotte, Kelly Jefferson and Sophia Perlman, was my reason for going, but I was told that at 12:30 there would be a special late-night set by a band I hadn't yet heard of, and since I didn't have to rise early the next morning and no extra cover was required for the late set, I stuck around.
The group played original music by bassist/composer Rich Brown and featured Luis Deniz on alto sax, Robi Botos on keyboards and Larnell Lewis on the drums. For the next few years – at least two, maybe more – I followed Rinse the Algorithm obsessively, attended every one of their monthly late night gigs at The Rex and most of their gigs elsewhere, purchased their album, Locutions, which I think is still available for download on iTunes, and even spent a lot of time transcribing what I heard – melodies, chord changes, solos, drum patterns – sometimes on the spot at the concert.
The aforementioned lineup was the core group for most of the time that I knew the band, but occasionally I saw them with subs: Farrugia subbed for Botos one time, I think I remember Jefferson stepping in for Deniz, and I'm certain that at least two monstrous drummers filled the drum chair (which, with Lewis in the group, is a huge chair): Otis Williams and Chino de Villa.
Locutions is an album undeniably worth listening to (my favourite track is As if Sleepwalking With Headphones On – a tune which they didn't play live as often as some of the others), but it couldn't hold a candle to their live concerts. They brought something intangible to the stage that seems to me impossible to translate in a studio. They had, or I suppose they still have, a tune called The Lakeside Stroll. To get a sense of what it was like hearing the same repertoire interpreted a different way each month, take a look on YouTube for that tune. You'll find at least three, if not more, versions of it, which are all, despite being the same tune, spontaneous compositions in and of themselves.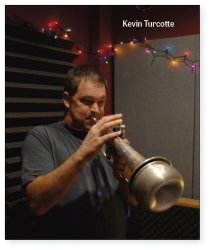 At the time I stumbled across this band, I was not that new to live jazz, and certainly not new to live music. I had heard groups before that played music I found strikingly original, like RTA did, and groups that displayed tremendous technical facility on their instruments, like RTA did, and groups that made each tune sound radically different each time they played it, like RTA did, and groups that sent me out of the venue with a goofy smile on my face, like RTA very consistently did – so it's difficult to pin down exactly why I thought they were so special. But given the huge following they had, I think I was and am in if not good company, lots of company – so I'm in no hurry to justify myself.
In the winter of 2012/13, Brown held two solo bass concerts at the now-defunct venue, 80 Gladstone, which I attended, of course. During some RTA concerts, he would open a song with a bass solo, and it seemed to me that, month to month, these weren't just improvisations, but compositions he was developing over time. It was at these lovely, intimate concerts at 80 Gladstone that I first got a more complete sense of what Brown was going for. Not only is it very good, it's available for sampling on YouTube: just search "Rich Brown:Nguyên," and it should come up. Dive into related videos. Have fun.
I don't like to say I have a favourite anything, but Brown has to be my favourite composer in the city, at least within this idiom. His compositions are deeply considered, and deeply moving as a result. They're harmonically novel – at least to my ear – and often circular in nature, much like Blue in Green. They don't always necessarily have a clear end or beginning. Brown doesn't write compositions that can be described as happy or sad. It's all much more nuanced than that. Words that better describe his compositions are meditative, unhinged, biting, nostalgic, conflicted and reverent.
This is all to say that Brown has a new project, Rich Brown & The Abeng. I don't know much about it, except that given Brown's track record and the absolutely stellar lineup, featuring Stan Fomin on keys and Kevin Turcotte on trumpet, it will be amazing.
The Abeng's CD release party will be happening at Lula Lounge on October 21 at 8:30pm and the $15 cover charge will be worth way more than that.
I look forward to seeing you all there.
Bob Ben is The WholeNote's jazz listings editor. He can be reached at jazz@thewholenote.com.