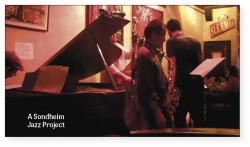 Jazz jams can be a beautiful thing. To my mind, if a jazz jam is working as it should (as, for example, it does every Tuesday at The Rex), everyone involved should be primarily interested in three things: making good music, respecting each other, and above all, having fun. To me, fun is the launching point for everything. If you don't have fun playing your instrument, you won't have fun practising it. If you don't have fun practising or playing, no one will have fun listening. Look at Oscar Peterson's face. Was he having fun? I rest my case.
But unfortunately, and this is no big secret, some jazz jams can foster an unfortunate atmosphere of tension, intimidation, and competitiveness, which destroys the fun and undermines the spirit of the music. Artists of all sorts should absolutely care about the quality and integrity of their art. But at the end of the day, it is just art. When petty concerns of quality and integrity eclipse art's purpose (whatever it is), that, to me, is tragic.
Luckily, the active jazz jams I am fortunate to regularly attend in this city evade these troubles. Generally they are welcoming and accepting of instrumentalists of all levels and walks of life – instrumentalists being the key word here; there has always been a sort of self-imposed segregation between vocalists and instrumentalists. And for reasons I don't have the space or time to discuss here, it can be difficult for a vocalist to find a jam where they are welcomed and not underestimated or relegated to the sidelines.
Lisa Particelli was acutely aware of this, as most jazz singers are, when, more than a decade ago, she founded GNO: Girls' Night Out (where gentlemen are welcome, too). GNO Jazz began its ten-plus-year run at The Cabbage Patch, a now-defunct pub that was located on Parliament St., where the Flying Beaver Pubaret existed until property damage forced that venue to close this past summer.
Although GNO has recently included a house band complete with piano, bass and drums, when it started on Parliament in January, 2005, the house band consisted only of Richard Whitehouse on piano. Within the first year, Peter Hill took over on piano, and after sitting in on several sessions, Ross MacIntyre became the official bassist.
As GNO grew, the jam – and the community which sprang up around it – cycled through a few venues, including Ten Feet Tall (defunct), Dominion on Queen (currently closed for renovations), and many more, before settling on Chalkers Pub on Marlee, seven years ago.
Chalkers: It was during GNO's run at Chalkers that Lisa Particelli was able to establish a scholarship fund to encourage and help young vocalists achieve their artistic and professional goals. Chalkers was also, during this time, a venue that hosted jazz greats like Oliver Jones, Jason Marsalis and Sheila Jordan – whom I had the great pleasure of meeting when I ushered for two of her concerts there. (In addition to being a genuine and adventurous performer, she is one of the sweetest, most infectiously charming people I've ever spoken with.)
The aforementioned Oliver Jones, incidentally, is indirectly responsible for the Chalkers piano. If you have seen, heard, or had the good fortune to play the wonderful piano on the Chalkers Pub stage, you have Oliver Jones, Don Thompson and Lisa Particelli to thank: "Oliver Jones' attendance at my jam helped me to convince the former Chalkers owner that we needed a real piano," Particelli explained. "We first got a Yamaha upright and later Don Thompson helped choose a Shigeru Kawai grand from Merriam Music which we all were sad to [say] goodbye to since leaving Chalkers after July 1st."
In addition to all these wonderful things that happened to, because of, and around GNO over the last seven years at Chalkers Pub, Chalkers was where I discovered GNO. I came into it fairly late (both in the jam's history and on any given Wednesday night), but when I got there, in addition to a great house band (Peter Hill, Ross MacIntyre and Louis Botos Sr., who is the granddaddy of the incredible Botos family), I saw wonderful and important things happening: I saw people going up on stage without – or despite – performance anxiety; I saw professors and professionals mingling with students and novices, and perhaps most importantly, I saw an audience offering unconditional support to whomever was on stage.
Since GNO left Chalkers Pub after the very last Wednesday jam on Canada Day this year, GNO has been on hiatus. But at the end of July, during her monthly session at Morgans on the Danforth (on the last Sunday of every month, 2 to 5pm) Particelli finally announced that GNO would be returning weekly, this time on Tuesdays from 7 to 11pm, at 120 Diner on Church (Ori Dagan can be thanked for that booking). Unfortunately, there will be no longer be a drummer in the house band – and Louis Sr.'s services will be missed – but aside from that, everything will be the same. The same great bassist, the same great pianist. The same great vibes. And the same amazing community.
Particelli is excited about it, as we all are. "We look forward to seeing everyone in September," she said.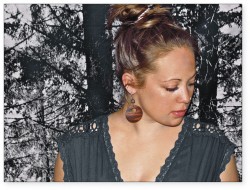 Laura Swankey is the kind of singer who will offer up variations so tastefully you could swear they were in the published melody. I first encountered her last fall when she attended a monthly jam at Habits Gastropub hosted by drummer Harrison Vetro. When I went on stage, somebody called Stella by Starlight, somebody else counted it in, and we were off. Swankey began "The soooong the robin sings ...." And before the end of the head, I was a fan.
Since then, I've attended a bunch of her shows, and found that in addition to playing straight ahead gigs – in which she will play a mix of standards and originals – she also performs "free music" (the quotation marks are there because all music, free music included, has parameters, and I am a little skeptical of the notion that free music is all that separate from other music). At gigs where she joins and is joined on stage by people like Emily Denison (trumpet), Christine Duncan (voice), Andrew Furlong (bass) and others, music is played that I, to be frank, don't fully understand. But I like it. Patterns do emerge, and my brain, being conditioned and steeped in tonal music, tries to make tonal sense of it; but ultimately, that isn't the point.
At one such show, though, Swankey surprised me with a wonderful rendition of Smile; she sang it slowly, sleepily, over a drone created by the guitar, with the trumpet playing a challenging counterline. It was one of the most engaging live performances I've seen in this city. A description on paper would not do it justice. You'll have to go and check her out in the clubs.
And luckily, this month, you can! Swankey will be performing a few days this month. On Saturday, September 12 at the CMC (Canadian Music Centre), she will be participating in the one-year-anniversary celebration of OPUS:TESTING, a bi-monthly composition workshop that started in June 2014. Swankey describes the event: "Six break-out groups from different disciplines [will come] together for the day to create some kind of improvisation art presentation." The presentation is happening between 6 and 7pm.
The next evening, she'll be playing more straight ahead music at Gate 403 with Connor Walsh on bass and Leonard Patterson on drums - a chordless trio, in which the horn is a voice.
And finally, on September 16, Swankey will be appearing with The Wind and the Water, an a cappella quartet which will be performing music by Rachel Cardiello, as part of the Dead Dad's Club premiere. The group also includes Aimee Butcher, Belinda Corpuz and Danielle Knibbe. "These three women are fantastic musicians and I love singing and creating with them,", Swankey said. Details are forthcoming on The Wind and the Water's Facebook page.
These gigs will be coming on the heels of Swankey's return from Banff, where she worked with Billy Hart, Ingrid Jensen, Vijay Iyer, Tyshawn Sorey and many more. I think we can be confident that the "amazing and life-changing" experiences she had in Banff will be reflected in her September gigs.
I have always enjoyed the types of singers who use their voices with the same improvisational spirit as any good horn player – Anita O'Day, Sarah Vaughan, and company. Swankey is in that company. She, like many singers, (including the aforementioned Sheila Jordan, who studied with Lennie Tristano) studied with at least one instrumentalist; during her time at U of T, she studied with saxophonist, Toronto jazz scene fixture and Shuffle Demon Mike Murley. Swankey describes those lessons as "Amazing! I felt very connected to him as a person and the way he teaches and approaches his playing. Mike is a very lyrical and soulful player."
One more gig I need to mention. Sadly, I won't be present at either of the two listed performances – at the Jazz Bistro September 28 and the KW Jazz Room September 19 – of saxophonist and arranger Bobby Hsu's A Sondheim Jazz Project. But I feel the need to convince as many people as possible to go in my place. In addition to the fantastic musicianship of the band, and the tremendous voice of Alex Samaras, Hsu is doing something important with this group.
It's a given that a lot of jazz standards have their origins in Broadway musicals (many of which failed, despite the success of the songs that later rose from the ashes). What Hsu's group is doing, in bringing songs into the jazz world (from a composer whose work is not nearly present enough in it), is a natural extension of the tradition we all already knew existed. A Sondheim Jazz Project does it with dedication and love, and it's very entertaining.
I cannot wait to see you all in the clubs this fall.
Bob Ben is The WholeNote's jazz listings editor. He can be reached at jazz@thewholenote.com.