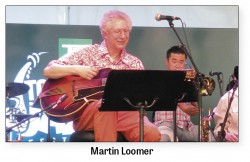 Cutting through the huge sound of the horns behind him, Martin Loomer plays the appropriate chords in the appropriate order on his electric guitar, laying down the time as authoritatively as any drummer. He wears a contagious grin and what looks to me like a bright orange jumpsuit. Which is super cool. If there's anything I admire, it's a loud outfit, and there are few outfits louder than a bright orange jumpsuit.
Martin Loomer's Orange Devils have a monthly gig, on the second Monday of every month, at The Monarch Tavern. They play music by big bands of the 1930s and 40s, like those led by Count Basie, Duke Ellington, Fletcher Henderson and more, with skill and authenticity.
And who better to bring these charts to life than someone who makes his living as a music copyist?
I first became aware of Loomer through the Orange Devils' vocalist Rita di Ghent about three years ago – almost to the day – at the end of January 2013. Since then, I've chased down the Orange Devils, and Loomer himself, attended several of their gigs and bombarded him with questions, as you do with those more experienced in your field.
I guess I must have asked the maximum number of questions he could answer at a gig or on Facebook, because he eventually invited me and a friend to come to his house to talk about composing and arranging. We convened in his living room, me, my friend, Loomer, his wife Karen, their cats, and a tray of muffins and tea, and we talked about a lot: family, education, cartoons and video games and, even at points, music.
Once we migrated from the living room, Loomer showed us his score collection, which might be the largest number of scores I've ever seen in one room, music libraries included. This was a long while ago, but one thing I remember clearly is marvelling at how messy Duke Ellington's handwriting was.
The Orange Devils combine Loomer's encyclopedic knowledge of the repertoire with the expertise of those sharing the bandstand with him: people like John McLeod, William Carn, and Richard Whiteman (including, up until recently, the late Dr. Kira Payne who passed away on January 2: Payne doubled flawlessly both on alto and tenor saxophones, and as a musician and an accomplished M.D.; she is missed by the community). Go hear this band with no skepticism. Just go. I have no doubt you will like it.
Turbo Street: Another fairly large band – as distinct from a big band – I'd like to draw everyone's attention to is Turbo Street Funk. If you don't know them by name, you might recognize them from their busking days on major street corners around the downtown core, including Queen and Spadina, Bay and Bloor and so on. The band plays a combination of original tunes and pop standards, modern and otherwise, tightly arranged and performed by recent graduates of the big three music schools in the city. Turbo Street Funk will be bringing their outdoor dance party indoors on February 9 at Fat City Blues.
This, friends, is the month when the city begins to thaw. Or, it will be if there is any justice in the world. Come out and celebrate. With any luck, I'll see you in the clubs.
Bob Ben is The WholeNote's jazz listings editor. He can be reached at jazz@thewholenote.com.