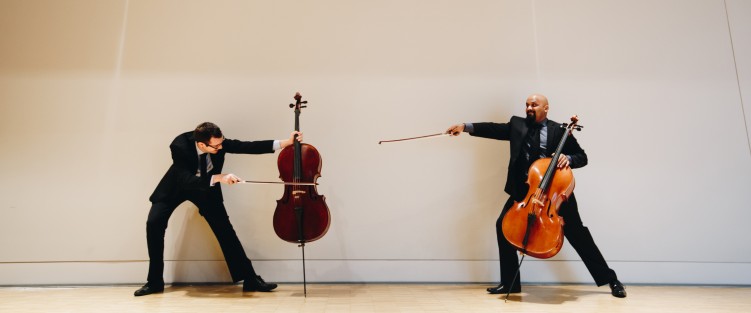 When I visit Toronto cellists Amahl Arulanandam and Bryan Holt in rehearsal, the first thing that I get is a warning.
"We're already talking over each other," they say, laughing. "You're going to have to just look at
one of us. Or point."
It's a testament to the type of eagerness – the kind of warmth and energy – that they bring to their music. As much as they are colleagues, Arulanandam and Holt – together, cello duo VC2 – are clearly friends. They also clearly care, in a very earnest way, about what they do.
And it's an enthusiasm that's catching. Since its founding in 2015, VC2 has performed across the country and internationally, including appearances last year at the Royal Conservatory's 21C Festival, Ottawa Chamberfest and the soundSCAPE Festival in Maccagno, Italy. This month, they'll be playing a duo program on February 2 at designer Rosemarie Umetsu's Yamaha Recital Space in Toronto, before taking the program on a two-week tour to New Brunswick, Nova Scotia and Newfoundland with Debut Atlantic. Once they're back in Toronto, they'll play another duo set March 2 at the Music Gallery at 918 Bathurst, in a double bill with violin/percussion group Duo Holz. And following that, they head (slightly) eastward again, to reprise their tour program on March 18 at St. Thomas' Anglican Church in Belleville, Ontario.
The program for the tour, and for the February 2 concert preceding it, is based around the idea of Beethoven. More accurately, it zeroes in on three cellist-composers of Beethoven's time – Anton Kraft, Bernhard Romberg and Jean-Louis Duport – who operated in Beethoven's inner circle, and whose music influenced Beethoven's own. They've also commissioned five new works, from five modern-day Canadian cellist-composers, that take Beethoven's five cello sonatas as their inspiration.
Arulanandam and Holt pride themselves on what they call a "multi-genre" performance practice. Both having studied under Matt Haimovitz at McGill and with Shauna Rolston in Toronto, they're now voracious musical generalists: chamber musicians, but also new music specialists, and between them, fans of jazz, world music and heavy metal.
Here, it all comes to the fore: classical masterworks by Beethoven paired with the lesser-known music of his contemporaries, plus new music by five cellists – Fjola Evans, Hunter Coblentz, Raphael Weinroth-Browne, Matt Brubeck and Andrew Downing – whose influences span far beyond that scope. It's a series of constellations that together form an image of Beethoven and his friends as inventors and innovators – and of this present-day group of cellists as modern incarnations of the same.
This interview has been condensed and edited.
Let's talk about your upcoming show, "Beethoven's Cellists." How did that idea start?
Arulanandam: Part of it had to do with Bryan's doctoral thesis research on cello pedagogy. He came across the names of these cellists who all were very deeply linked to Beethoven.
Holt: All these guys who were around Beethoven weren't only phenomenal cellists, they also were inventors of a kind. Romberg, who was one of Beethoven's earliest colleagues, is actually the whole reason why the cello's fingerboard has this sort of divot in it for the C-string to vibrate.
A: There were a bunch of actual equipment innovations that they came up with. The modern bow that we use was invented right around that time; Beethoven would've first come across it with Romberg.
I was reading recently about how that bow really influenced Beethoven's cello writing. If you look at his first two cello sonatas, you'll see a lot of long slurs and phrases that, with old-style Baroque or transitional bows, wouldn't really have been possible. And so he would've met these cellists with all this new equipment, and started really exploring extremes of colour and dynamic range for the cello in a way that composers hadn't done before.
H: I think that's what made him such a great composer, in the end. Because Beethoven's all about experimentation, and contrast. In Opus 1, he's already experimenting with extremes. And by Opus 5, he's already "Beethoven."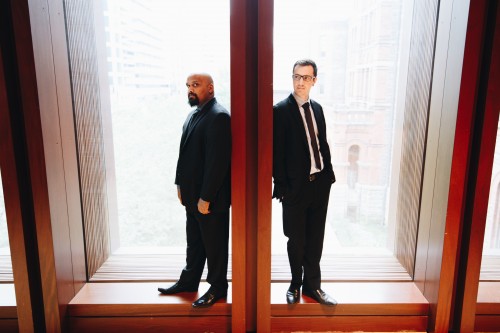 How did you first present the idea to Debut Atlantic?
A: We applied to Debut Atlantic two years ago – two seasons in advance, for them.
H: And it was very much just a skeleton [at the time]. We'd identified these composers [from Beethoven's time], and we decided that we were going to commission cellists to write new works. But we hadn't assigned pieces to individual people. So over the last couple of years we sort of figured out how that was going to go. And we scheduled the concert at Atelier Umetsu over a year ago, because we knew we were going to have the tour and that this was going to be the big jumping-off point.
What really struck me about the program for the tour was that it seems like a perfect microcosm of how you describe yourselves as a duo – taking these classic masterworks and finding the contemporary parallels.
A: That's what we were going for. A lot of our MO as a duo – and even individually – is sort of reinventing the old. Because that stuff is still great. There's a lot of amazing music being made now that has nothing to do with any of that, but I don't think it takes away from how important and necessary music [like Romberg's] was. They were breaking new ground in that time. They helped Beethoven break new ground. And we felt like the people we commissioned are people who are also constantly pushing boundaries in terms of the cello. They're all doing their own thing; they're all completely different.
How did you settle on those five composers? Were you just looking for Canadian composer-slash-cellists, and that ends up being a short list?
A: There are more than you would think!
H: It still wasn't a super long list. But with all of them we had a history, or at least one of us did. Fjola Evans and I went to high school together and had the same teacher. And then Hunter Coblentz – Amahl's known him since he was little.
A: Hunter came to mind immediately because we had played a duo of his that he wrote – one of the first non-pop tunes that we ever did. And we picked Raphael because we loved his music, and because he and I both really connect [because of our interest] in metal. The second Beethoven sonata is like – really, really, heavy metal. Like it's metal before metal. And Raphael was the first guy that sort of jumped out when we were thinking about that sonata.
H: And then with Andrew and Matt, we both worked with them in the jazz context. I think we both had lessons with Andrew at some point. And we've both taken lessons with Matt Brubeck, to learn how to improvise on the cello.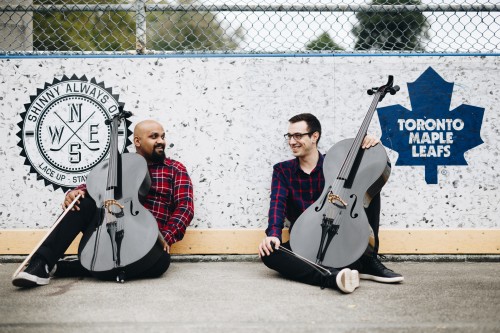 Have you two been playing together for a long time?
A: We've known each other for a long time, and we've played together in other contexts, other chamber ensembles and cello ensembles. But we'd never really played together as a duo. A few years ago, Bryan got contacted by a friend of a friend who was an event planner and was looking for a cello duo to do some Michael Jackson and Guns N' Roses, that kind of stuff. So we got together and did that. And it was fun. And did a few more of those, and realized "Hey, we work well together in this context. Let's see what else is out there."
We started off as a cover band, and then–
H: –We're still a cover band.
A: –We're still a cover band. Just of different stuff.
How has your process changed over the last couple of years of playing and rehearsing together?
H: I think we've become a lot more efficient at rehearsing. It was a little too much like best friends hanging out, at the beginning. And [we've become] better at delegating tasks between the two of us. We've figured out each other's strengths and weaknesses.
A: With rehearsing – it just gets more efficient each time. The last few rehearsals we've had, we've kind of just gone with it, and before we realized it, two and a half hours had gone by. We're now more able to separate the business and being friends...and we can get things done. Quicker.
After the Music Gallery, what's next?
A: We've thrown all of our focus at this right now. But we also have these germs of ideas that we need to put into motion. We're hoping to go into the studio in April and record all five of these commissioned works. We want to put those down and release an album.
H: There are also a few commissions [in the works], and some possibilities of projects with dance as well. And there are other cellist-composers [who we plan to work with]. We've been in touch with a couple others, whose names I won't reveal – but there are a lot of possibilities. This is only the beginning.
VC2 presents "Beethoven's Cellists" on February 2 at the Yamaha Recital Space at Atelier Rosemarie Umetsu, Toronto, followed by a two-week tour in Atlantic Canada.
For tour dates, visit www.debutatlantic.ca.
Sara Constant is a flutist and music writer, and is digital media editor at The WholeNote. She can be reached at
editorial@thewholenote.com.