The holiday season in Toronto – which begins, at least in some major retail stores, as early as November 1 – carries with it different meanings for different people. For some, of course, it is still primarily a religious occasion; for others, it is a chance to spend at least one morning drinking excessive amounts of rum and eggnog before having a recuperative nap on a disappointed family member's couch. What tends to remain constant in our shared experience of December and early January is a celebration of community and a desire to enjoy, at least briefly, a sensation of abundance and plenty.
For live music fans in Southern Ontario, this will not be difficult to achieve: December is one of the most exciting months of the year to hit the town and take in a show. This is true whether you enjoy the great canon of Christmas songs (they're fun, and they're basically just standards) or not (they're "fun," and they're basically just standards); the true gift that December brings us is the sheer volume of excellent and unusual programming, much of which is not explicitly holiday-themed. So, while there will be plenty of opportunities to hear songs about inclement weather, precocious reindeer, and bearded paternalistic wizards who watch you while you sleep, there will also be an ample supply of non-holiday music to check out in a wide variety of venues.
The Bistro: To begin: there are, of course, some really top-notch holiday shows taking place in December. On Saturday December 22, the pianists Robi Botos and Hilario Durán perform holiday classics, standards and more at Jazz Bistro, in what has become an annual tradition. It is rare enough to hear two pianists perform together, and rarer still to hear two pianists of Botos and Duran's calibre in a club setting. Other holiday offerings from Jazz Bistro include Sam Broverman's A Jewish Boy's Christmas album release show, on Sunday December 16, and the Robert Scott Trio playing music from A Charlie Brown Christmas, on Tuesday December 18. Outside of the GTA, The Woodhouse performs at The Jazz Room in Waterloo with the help of singer Barbra Lica, who has joined the band in previous years for their annual run of holiday shows.
Bernice: Another notable holiday event: Bernice, the dreamy, synthy indie project led by singer Robin Dann, will play at Lula Lounge on December 16 as part of Venus Fest's Winter Market, which celebrates women and non-binary artists and entrepreneurs. The market runs throughout the day, with performances from Bernice and the group Kith & Kin to be followed by winter bingo, hosted by the singer Alex Samaras.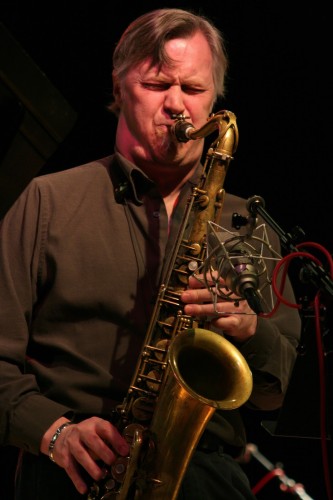 The Rex: The Rex's December lineup is perhaps its most exciting since June, when it hosted the co-curated TD Toronto Jazz Festival concert series, due in no small part to the fact that some of the same artists are back, including the pianist Geoffrey Keezer and the duo, Paris Monster. Keezer – an alumnus of bands led by Benny Golson, Ray Brown and Art Blakey, in the final iteration of the fabled Jazz Messengers group – is both virtuosic and communicative, and has tremendous access to the jazz piano tradition. His performance, which takes place on Sunday December 16, will feature the singer Gillian Margot, who sung on Keezer's recent trio album On My Way To You, and the drummer Jon Wikan, a longtime Keezer collaborator.
When Paris Monster played at The Rex in June, their performance became one of the most talked-about breakout shows of the whole jazz festival, in part because of how surprising it was that such a full band sound could be produced by just two people. The duo consists of Josh Dion, who simultaneously plays drums, keyboards, and sings, and the bassist Geoff Kraly, whose effects-heavy playing fills out the middle in a way that has more in common with shoegaze-inspired electric guitar playing than it does with traditional electric bass playing. (Dion often plays bass lines on his keyboard.) Beyond their unique performance practice, however, it's the music itself – a combination of rock, synthpop, and jazz fusion – that is at the heart of Paris Monster's compelling project. Paris Monster plays two consecutive nights at The Rex, on December 8 and 9.
The Rex will also be hosting a different two-night residency, on December 19 and 20, as Kirk MacDonald, one of Canada's pre-eminent saxophonists, celebrates the release of his album Generations, his 15th as a bandleader. Generations features MacDonald's contemporaries Neil Swainson and André White, as well as the American pianist Harold Mabern, who, at 82-years-old, is one of jazz's prominent elder statesmen, and the clarinetist Virginia MacDonald, who, at 23, represents the next generation of jazz both figuratively and literally. (Kirk MacDonald is her father.)
Virginia MacDonald, who is becoming an important presence on the Toronto jazz scene in her own right, will also be playing at The Rex on December 18, one evening before joining her father for his two-night stint. She is joined by the bassist Dan Fortin and, keeping the family theme intact, by the siblings Lucas Dann and Nico Dann, a pianist and drummer (respectively) who share a sister in Robin Dann, the aforementioned singer in the group Bernice.
Burdock: While December is typically one of the best months of the year in which to see live music, January is one of the worst, for a variety of reasons. There is usually an expectation that people don't go out as much, both for reasons financial (it's time to start paying down that credit card) and caloric (those resolutions won't keep themselves). The success of Burdock's annual Piano Fest, however, has given both artists and audiences a reason to get back into the swing of things following the holidays. Taking place from January 21 to 28, this eight-day festival sees the temporary installation of a baby grand piano in Burdock's Music Hall and, traditionally, double bills featuring complementary acts. Past performers include Joanna Majoko, Chelsey Bennett, Michelle Willis, Jeremy Dutcher and Tim Baker, amongst many others. While the full schedule has not yet been released, check out Burdock's website for full listings when they become available.
MAINLY CLUBS, MOSTLY JAZZ QUICK PICKS
DEC 18, 9:30PM: Virginia MacDonald, The Rex. The night before she joins her father Kirk MacDonald on the same stage for his album release show, clarinetist Virginia MacDonald leads her own accomplished quartet at The Rex.
DEC 16, 8PM: Venus Fest presents Bernice with Kith & Kin, Lula Lounge. As part of Venus Fest's Winter Market, watch Kith & Kin perform before a very special holiday set by Bernice; followed by bingo.
DEC 22, 9PM: Robi Botos and Hilario Durán, Jazz Bistro. Leading pianists Robi Botos and Hilario Duran present a holiday-themed show in a rare configuration.
JAN 21 TO 28: Various performers, Burdock Piano Fest. Burdock Music Hall. Burdock presents its fourth-annual Piano Fest, featuring a variety of performers in complementary double bills that make good use of a beautiful (and well-tuned) baby grand piano.
Colin Story is a jazz guitarist, writer and teacher based in Toronto. He can be reached at www.colinstory.com, on Instagram and on Twitter.