As I write this, the temperature is hovering just about zero degrees Celsius, there is a considerable amount of snow on the ground, and it is raining. It will continue to rain until tomorrow morning, apparently, as per the forecast, which is typical of Toronto between New Year's Day and the Ides of March: slushy, unpleasant and thoroughly inconvenient. It isn't all bad, of course, as such weather affords us the opportunity to indulge in unique seasonal activities, such as Snowbank Roulette, in which we try to guess which section of the ugly pile of once-pristine snow adjoining the crosswalk is solid enough to step on, and which will give way immediately, soaking our feet for the rest of the day; Being Uncomfortable All The Time, in which we attempt to wear the right outfit for the day's weather (winter jacket, toque, no gloves, umbrella?) but invariably miss the mark, resulting in profoundly unpleasant transit experiences; and, my personal favourite, Never Going To The Grocery Store, as we justify our daily desire to just order something fun tonight, and, seriously this time, pick up some real food tomorrow.
Thankfully, February isn't all wet socks, streetcar woes, and ballooning Pad Thai-related credit card debt. We are fortunate, in Southern Ontario, to have some compelling reasons to brave the outdoors, not least of which are a number of stellar shows taking place this month, including at Toronto clubs such as The Rex and Burdock. I'd like to take a moment, however, to highlight the programming at a different venue: The Jazz Room, located in the Huether Hotel, in Waterloo. (The Huether Hotel building has existed, in various iterations, since 1899; check out their website for more interesting historical information.)
The Jazz Room is a comfortable, oak-heavy listening space, with consistently great sound courtesy of their in-house engineer. With shows presented by the Grand River Jazz Society, the Jazz Room has a mandate "to support exceptional musicians from [their] own community and to invite talent from elsewhere for local audiences to hear." Included in the category of exceptional local musicians is the Penderecki String Quartet, a well-known group that has performed worldwide from their home base at Wilfrid Laurier University, where, since 1991, they have occupied the position of quartet-in-residence. The PSQ joins two different acts at the Jazz Room this month: the first, pianist/composer David Braid, has been working with string quartets for some time; his 2016 JUNO-nominated album Flow features the Epoque String Quartet. The second act to be joined by the PSQ at the Jazz Room this month is the duo of Glenn Buhr and Margaret Sweatman, who will be presenting a "jazz cabaret featuring words and music with a jazz twist."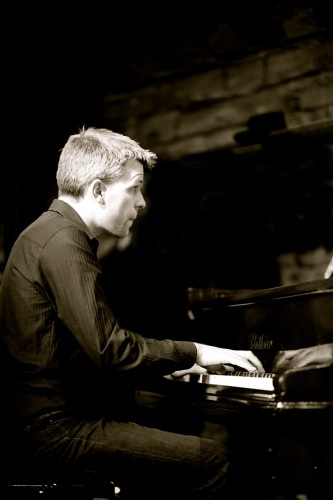 Also at The Jazz Room in February: Pianist Florian Hoefner, who makes two appearances in our listings this month – at The Jazz Room, on February 22 and, two days earlier, at The Old Mill's Home Smith Bar in Toronto, on February 20. Born in Germany, Hoefner attended the University of Arts in Berlin before being admitted to the MMus program at the Manhattan School of Music, where he studied with Jason Moran and Dave Liebman, amongst other notable names; now, as an adjunct professor in the music program at Memorial University, he is based in Newfoundland. Hoefner – part of the collective Subtone, whose album Moose Blues was reviewed in the November 2018 issue of The WholeNote – is an accomplished pianist, who performed in Toronto multiple times last year, as a leader, in trio settings, and as part of Subtone. His appearances at The Old Mill and The Jazz Room come as part of a three-city mini-tour and follow a performance at Ottawa's National Arts Centre on February 19. Playing in trio format, he will be joined by drummer Nick Fraser and bassist Jim Vivian in Toronto, and by Fraser and bassist Andrew Downing in Waterloo. As his choice of collaborators suggests, Hoefner is a sensitive, communicative pianist, whose technical prowess is deployed in service to the music he makes; with a deft, modern touch, he is equally exciting playing ballads as he is playing up-tempo swing. He typically only makes a couple of trips to Ontario each year, so take advantage of this opportunity to hear one of Canada's most exciting young resident pianists.
I would be remiss if I didn't mention at least one of February's Valentine's Day-themed shows, with the acknowledgment that Valentine's Day can inspire very different emotions, depending on a person's relationship status, tolerance for public displays of affection and appetite for subpar grocery-store milk-chocolate products. If you wish to celebrate your love – or if you don't, but you'd like to enjoy an evening of excellent music (and also, perhaps, to glance spitefully at happy couples) – Jazz Bistro will feature the vocal duo of John Alcorn and Alex Samaras on February 14th. Both singers are confident, experienced students of the Great American Songbook, and they have performed together at the Bistro on multiple occasions over the past few years.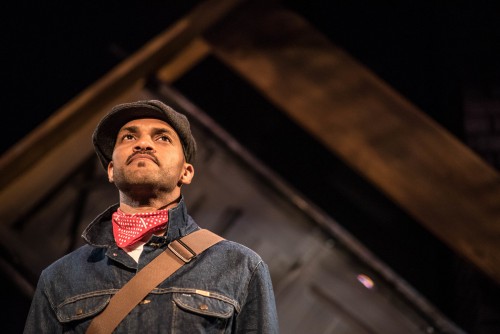 For those who definitely want to go out on February 14, but definitely do not want to see music with a specific Valentine's Day theme: don't worry, as there are some excellent options. Taking place on February 14 and 15 at Burdock Music Hall, Khari Wendell McClelland brings his brand-new show We Now Recognize, a new group of songs "that explores the power of apologies, the nature of community and the redemptive potential of music." Touring five Canadian cities in February in celebration of Black History Month, We Now Recognize is the follow-up to the Freedom Singer project, an album and documentary theatre musical created by McClelland, Andrew Kushnir, and Jodie Martinson. Freedom Singer is anchored by songs that recreate the music that "fugitive slaves carried [with them] on their journey north into Canada," filtered through McClelland's background in gospel, hip-hop and folk; We Now Recognize seems likely to occupy a similar space at the intersection of music, community, and social justice.
MAINLY CLUBS, MOSTLY JAZZ QUICKPICKS
FEB 7 AND 8, 9:45PM: Claire Daly with Adrean Farrugia, The Rex. New York-based baritone saxophonist Claire Daly visits The Rex for two nights, joined by pianist Adrean Farrugia, vocalist Sophia Perlman, bassist Mike Downes, and drummer Ernesto Cervini.
FEB 14, 9PM: John Alcorn and Alex Samaras, Jazz Bistro. Two top interpreters of the Great American Songbook, appearing together in celebration of Valentine's Day.
FEB 14 AND 15, 6:30PM: Khari Wendell McClelland, Burdock Music Hall. Part of a Canadian tour in celebration of Black History Month, singer Khari Wendell McClelland brings his new project, We Now Recognize, to Burdock for two consecutive evenings.
FEB 22, 8:30PM: Florian Hoefner Trio, The Jazz Room, Waterloo. From Germany, by way of New York, modern jazz pianist Florian Hoefner is joined by bassist Andrew Downing and drummer Nick Fraser for a night of communicative, meaningful music.
Colin Story is a jazz guitarist, writer and teacher based in Toronto. He can be reached at www.colinstory.com, on Instagram and on Twitter.