It's September, and, for students and faculty members of the Toronto jazz community, it's time to head back to school. While not all who play jazz in Toronto teach or study, the scene is still very much tied to the academic calendar, and, as the pervasive humidity of summer gives way to the first crisp whispers of autumn, everyone is suddenly back in town, venues return to their regular post-festival-season programming, and a variety of new musical ventures are suddenly at hand. September heralds the coming of a new artistic year, and, in the spirit of yearly reassessment and rejuvenation, September prompts the jazz community to undertake new projects.
Despite the persistent sentiment that performance opportunities for jazz musicians are shrinking by the minute, it is reassuring that the past few years in Toronto have seen new jazz programming efforts in festivals, clubs and other venues. These larger efforts reflect the ideals found, at the best of times, in post-secondary music programs: namely, that new opportunities and resources should be developed not for the gains of the individual, but for the betterment of the community.
TUJF: One of the best examples of this community spirit comes in the form of the Toronto Undergraduate Jazz Festival, now in its fourth year (having had its inaugural run in 2015), running from September 4 to 8. Helmed by David M.J. Lee, Dave Holla and Eunsang Edwin Yu – all of whom attended post-secondary jazz programs in Toronto – the festival's mandate is to "bring attention to the younger generation of musicians" in Toronto, with an emphasis on musicians currently enrolled in (or recently graduated from) post-secondary music programs at the University of Toronto, York University and Humber College. This mission is commendable, as it can take a considerable amount of time for young jazz acts to establish themselves and book the larger shows necessary to the process of audience development; by programming a number of these acts together, the TUJF has created both a valuable opportunity for musicians and a compelling package for audiences who, in other circumstances, might not connect with these performers for several years.
With main festival grounds at Mel Lastman Square and additional performances at Jazz Bistro, Memorial Hall, and The Frog: A Firkin Pub, all of the TUJF performances and masterclasses are open to the public and free to attend. In addition to performances from young musicians, Toronto jazz mainstays Mike Downes and Larnell Lewis are also playing with their respective bands. (Both Downes and Lewis, it should be noted, are also prominent jazz educators, and are on faculty at Humber College.) In addition to these performances, highlights from the festival include The Anthology Project, playing at 8:30pm on September 6, guitarist Luan Phung, playing with his quintet at 6pm on September 7, and Montreal pianist Marilou Buron, whose sextet will be playing at 6pm on September 8. Other notable attractions, according to the 2018 festival map: food trucks, a VIP section, and multiple bouncy castles. Check out listings in this issue of The WholeNote and tujazz.com for full schedule and additional information.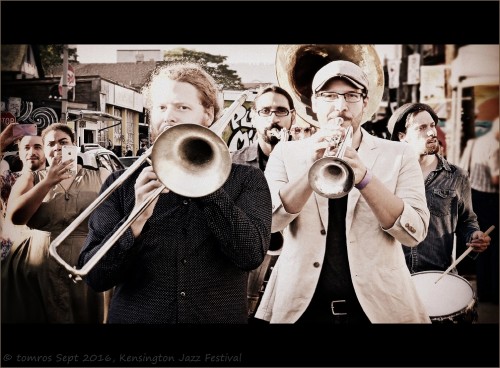 The Heavyweights Brass Band return to this year's Kensington Market Jazz Festival. Photo by Tom Rose.
Kensington Market Jazz: September will also feature the third annual edition of the Kensington Market Jazz Festival, another relatively new enterprise started by local musicians looking to fill a gap in pre-existing jazz programming. Led by Molly Johnson, Ori Dagan, Genevieve Marentette, and Céline Peterson, the KMJF will take place from September 14 to 16, with a large number of different artists in various formats, from solo pianists (including Nancy Walker, Robi Botos and Ewen Farncombe) and guitarists (such as Margaret Stowe, Harley Card and David Occhipinti) to full big bands (including the John MacLeod Orchestra, the Brian Dickinson Jazz Orchestra and the Toronto Jazz Orchestra), with all manner of acts in between.
One of the most interesting aspects of the KMJF is its engagement with Kensington Market businesses in the creation of new performance spaces: while many shows will be taking place at venues that present music throughout the year, including Poetry Jazz Café, Supermarket and LOLA, a large number of shows will be held at businesses that are not regular music venues. Some, like the coffee shop Pamenar and the Hotbox Lounge and Shop, are venues that do host live events, although they do not usually present jazz. Other businesses, like the discount suit shop Tom's Place, are functioning as special venues specifically for the festival.
Beyond the shows previously mentioned, highlights include Joanna Majoko, playing at 1pm on September 15, Tania Gill and Friends, playing at 5pm (also on September 15), and Anh Phung, who will be playing at 6pm on September 16. Please check out listings in this issue and kensingtonjazz.com for full schedule – and please note that ticketed events are cash only (although the festival features both free and ticketed shows).
Apart from new programming at emergent jazz festivals, September sees the return of post-secondary ensembles to the Toronto club scene, with representation from U of T, York and Humber: U of T jazz ensembles resume their weekly slot on Mondays at 6pm at The Rex, the Humber College Faculty Jazz Jam will be taking place at 9:30pm on September 18 (also at The Rex), and the York Jazz Ensemble will be performing in the matinee slot on September 22 at Alleycatz. Beyond school-associated acts, there are several other exciting shows taking place throughout the month, including Sam Kirmayer, at Jazz Bistro, on the 16th; The Rex's Annual Birthday Tribute to John Coltrane, with the Pat LaBarbera and Kirk MacDonald Quintet, on September 20, 21 and 22; Christine Duncan, Laura Swankey and Patrick O'Reilly at the Tranzac, on September 23; and the Nick Fraser Quartet at The Emmet Ray, on September 24.
September marks the beginning of a rich artistic cycle within the improvised music community that will play out through summer 2019. For the concert-going public – from the most casual fan to club regulars – September is a wonderful opportunity to become reacquainted with your favourite performers, check out a few new venues, and set the tone for the rest of the 2018/19 scholastic year, regardless of your own educational status. Enjoy.
MAINLY CLUBS, MOSTLY JAZZ QUICK PICKS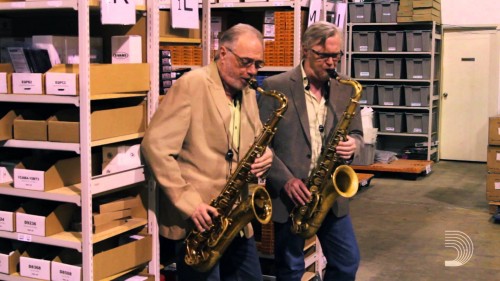 SEP 7, 6PM: Toronto Undergraduate Jazz Festival: Luan Phung Quintet. Drawing from the work of Boulez and Schoenberg as well as the jazz tradition, guitarist Luan Phung brings his exciting quintet to Mel Lastman Square for a free show at the TUJF.
SEP 16, 6PM: Kensington Market Jazz Festival: Anh Phung. Equally at home playing orchestral music and the music of Jethro Tull, flutist and singer Anh Phung performs at LOLA as part of the KMJF.
SEP 20 to 22, 9:30PM: The Rex's Annual Birthday Tribute to John Coltrane: Pat LaBarbera & Kirk MacDonald Quintet. An annual event at The Rex featuring master saxophonists Pat LaBarbera and Kirk MacDonald leading a world-class quintet, celebrating Coltrane's life and music.
SEP 23, 10PM: Christine Duncan, Patrick O'Reilly, and Laura Swankey at The Tranzac. Leading improvising vocalist Christine Duncan is joined by guitarist Patrick O'Reilly and vocalist Laura Swankey for an evening of new music at The Tranzac.
Colin Story is a jazz guitarist, writer and teacher based in Toronto. He can be reached at www.colinstory.com, on Instagram and on Twitter.