Over the past month, Toronto lost two of its most creative, sophisticated guitarists: Ed Bickert (1932-2019) and Justin Haynes (1973-2019). Though 40 years apart in age, both exemplified a dedication to the craft of jazz guitar, a broad knowledge of the ever-evolving history of improvisational music, and a deep commitment to expanding and reshaping the role of the guitar in a wide variety of conventional and unconventional settings.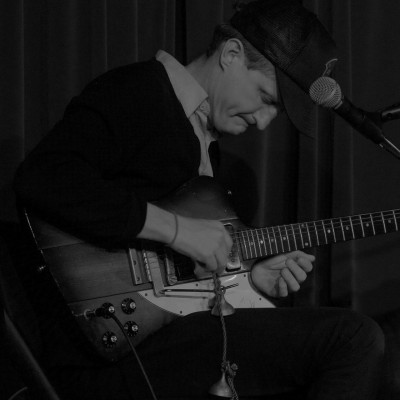 Growing up in Ottawa, Justin Haynes studied with Roddy Ellias before moving to Toronto in the late 1990s, where he quickly established himself as a creative, boundary-pushing musician, collaborating regularly with Jean Martin, Nick Fraser, Christine Duncan and many other members of Toronto's vital jazz/improvising music community. A prolific recording artist, he appeared on over 25 albums (currently available through his website), toured regularly, and performed consistently throughout Toronto. Haynes was the 2012 artist-in-residence at Calgary's National Music Centre. For those who wish to attend, there will be a remembrance service at the TRANZAC on April 19; there is also a GoFundMe page, on which visitors may donate money to benefit Haynes' son.
Ed Bickert, an active member of the Toronto music community since his move to the city in the mid-1950s, was a consummate musician, and a major influence on guitarists who came after him, both in Toronto and throughout the world. Recording and touring with a range of artists, including Moe Koffman, Phil Nimmons, Rob McConnell, Rosemary Clooney and Paul Desmond, Bickert was a tasteful, precise player, whose rhythmic and harmonic command of the guitar was such that even his simplest phrases could immediately capture a listener's attention. His most memorable performances were often in small ensembles, including the seminal album At The Garden Party, with bassist Don Thompson, which endures as one of the most important (and frequently transcribed) guitar/bass duo albums in jazz, standing shoulder to shoulder with the likes of Jim Hall and Ron Carter's Alone Together. He is also one of the reasons that it has become a relatively common sight to see a Toronto jazz guitarist playing a Telecaster (or other Fender-style guitar), in lieu of an archtop or semi-hollow body guitar; Bickert's ability to get a warm, round, articulate sound out of an instrument that is associated, even today, with the trebly twang of country and bluegrass music, is a testament to his unique artistic vision.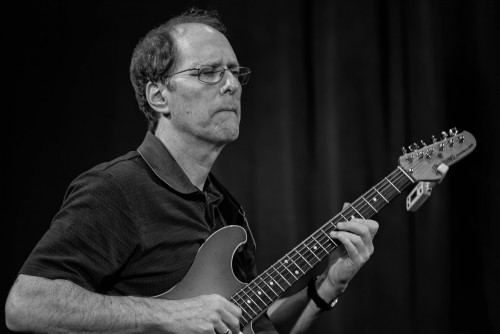 Lorne Lofsky
It is fitting, though likely not intentionally so, that April should be particularly rich in guitar performances, many of which will be happening at The Rex, a venue whose stage position, ceiling height, and relaxed atmosphere make it particularly amplifier-friendly. For two consecutive evenings on April 4 and 5, Lorne Lofsky leads a quartet featuring saxophonist Alex Dean, bassist Kieran Overs, and drummer Barry Romberg. A York University faculty member, Lofsky is, in many ways, the direct heir to Bickert: the two played in a quartet together from 1983 to 1991, releasing two albums together with the group. In addition to collaborations with leading saxophonists Pat LaBarbera and Kirk MacDonald, Lofsky spent 1994 to 1996 as a fulltime member of the Oscar Peterson Quartet, touring worldwide and playing on three of Peterson's albums. Though he performs regularly, it is not always common to see Lofsky leading his own ensemble, so his two-night stint at The Rex represents a valuable opportunity to hear him in his element.
The Rex will also host a number of other notable guitarists, including both the established and the new.
First, the new: Alex Goodman – a graduate of both the University of Toronto and Manhattan School of Music's jazz programs, and now a New York resident – brings his quartet to town on April 6. Accompanying Goodman are three of New York's top young jazz musicians: saxophonist Ben van Gelder, bassist Martin Nevin, and drummer Jimmy MacBride. Nir Felder, another young guitarist (and Fender-style guitar proponent) based in the United States, joins Toronto's Tetrahedron for two nights of music on April 9 and 10. Tetrahedron – typically a chordless trio, made up of saxophonist Luis Deniz, electric bassist Rich Brown, and drummer Ernesto Cervini – is a natural pairing for Felder, who shares their penchant for groove, melodicism, and a decidedly electric aesthetic that touches on jazz, rock and R&B.
Second, the established: on April 14, bassist Dave Young, who performed and recorded, at various points, with Bickert, Lofsky and Peterson, amongst myriad other jazz luminaries, brings his quartet to The Rex. He is joined by trumpeter Kevin Turcotte, drummer Terry Clarke and guitarist Reg Schwager. Schwager, a first-call player for many of Canada's top jazz singers, has an incredible command of the idiomatic language of classic jazz, and plays with a warm, round tone. Performing later in the month with the Barry Romberg Group, guitarist Geoff Young – who, as a faculty member at the University of Toronto's jazz program, has taught many of Toronto's most exciting young guitarists – is a dynamic, multifaceted guitarist, a thrilling improviser, and, like Bickert, a dedicated Fender player, whose biting, rock-tinged tone works to complement the sweeping lyricism of his phrasing.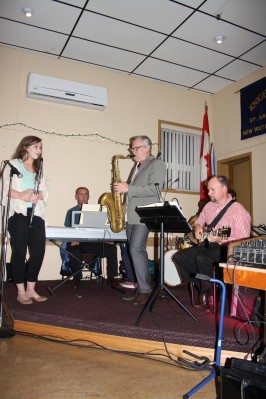 Elsewhere
April will also see some other notable guitar performances at venues outside of The Rex. On April 17, the Virginia and Kirk MacDonald Quartet plays at the Old Mill's Home Smith Bar. Virginia – an increasingly busy clarinettist, band leader, and the daughter of Toronto jazz scene mainstay Kirk – has collaborated with her father before, on the recent album Generations, featuring pianist Harold Mabern. The MacDonalds are joined at the Home Smith Bar by bassist Neil Swainson and guitarist Lucian Gray. Gray is a burgeoning master of the guitar stylings of Wes Montgomery, amongst other foundational figures, but his unique gift is his ability to make the classic sound new, vital and immediately exciting. In another part of town, and at a different end of the guitar-style spectrum, Luan Phung can be found on most Sunday afternoons playing trio at Poetry Jazz Café in Kensington Market. Aesthetically, Phung's playing can be located in the school of modern jazz guitar, and is, at times, reminiscent of players such as Kurt Rosenwinkel and Ben Monder. But his deft touch, strong harmonic sensibility and searching improvisational tendencies mark a developing style all his own.
MAINLY CLUBS, MOSTLY JAZZ QUICKPICKS
APR 4 AND 5, 9:30PM/9:45PM: Lorne Lofsky, The Rex. Lorne Lofsky appears with his stellar quartet for two nights of communicative jazz at The Rex.
APR 9 AND 10, 9:30PM: Nir Felder and Tetrahedron, The Rex. American guitarist Nir Felder joins bassist Rich Brown, saxophonist Luis Deniz, and drummer Ernesto Cervini for two evenings of fusion-tinged jazz.
APR 17: Virginia and Kirk MacDonald Quartet, Home Smith Bar. Father/daughter duo Virginia and Kirk MacDonald lead their quartet at The Home Smith Bar, with bassist Neil Swainson and exciting young guitarist Lucian Gray.
MOST SUNDAYS, 4:30 TO 7:30: Luan Phung, Poetry Jazz Café. Hear burgeoning modern jazz guitarist Luan Phung at in an intimate, communicative trio setting in Kensington Market's Poetry Jazz Café.
Colin Story is a jazz guitarist, writer and teacher based in Toronto. He can be reached at www.colinstory.com, on Instagram and on Twitter.