Reading through some of my previous columns, I realize that I've been somewhat fixated on the weather. Although "the weather" as topic is typically a signifier of reflexive small talk, I would like to propose that it is, in fact, an important and interesting subject for those of us who routinely attend live concerts in Toronto, as the weather has a large impact not only on our collective mood and mental well-being, but also on the feasibility of any potential concert venture. Grabbing a drink after work, checking out a show, walking over to another venue to catch a late set: these are all activities that seem not only less appealing but, somehow, less possible if the weather is uncooperative.
That being said, with the advent of warmer weather, the portentous reopening of the city's many accommodating patios and festival season rapidly approaching, we should finally – after many months of lacklustre, unsympathetic meteorological conditions – be able to enjoy the many upcoming shows in Toronto and the surrounding areas without fear of salt stains, ruined umbrellas or hypothermia. But! I would not be diligent in my duties if I did not divulge the fact that as I write this, in mid-May, I do so with a sunburn. Did I acquire this embarrassing evidence of my own negligence on a tropical vacation, on tour in some sunnier corner of the world, or doing anything remotely athletic? I did not. I managed to burn myself on a breezy 17-degree afternoon, in Trinity Bellwoods Park, sitting on a blanket with a friend. The afternoon was fun; the subsequent day, in which I was giggled at by side-eyed schoolchildren in the street, was not. And so, before you journey outside to experience the many exciting events happening over the next month and beyond, a friendly word of warning: if you burn easily – and probably even if you don't – wear sunscreen, drink plenty of water and consider wearing a hat, lest you too hear the phrase, "He looks like a tomato that came to life."
The first order of business: it will come as a surprise to approximately zero readers of this column that the TD Toronto Jazz Festival is taking place at the end of the month, from June 21 to June 30. (Consult the Festival website for a full look at the schedule, as there are lots of great shows to check out, and not enough ink to mention them all here.) It will also probably not be news that the Jazz Festival is now in the third year of a relatively new format, with a number of free outdoor (and indoor) stages based around Yorkville, and that as part of this format, the Festival's club shows are more limited than they once were, in order to accommodate a more focused, concise programming mandate. That being the case, there are still a number of excellent club shows that will be taking place as part of the Jazz Festival, featuring both local performers and international acts. Some of these will take place around the Festival grounds in Yorkville, at bars and restaurants that don't typically host music, or that do so in a more limited capacity than they will during the Festival. These include the Gatsby, at the Windsor Arms Hotel, which will have nightly shows at 10pm for the duration of the festival, Sassafraz, which will similarly have nightly shows at 10pm, and Proof Bar, at the Intercontinental Hotel, which will be the site of the Mill Street Late-Night Jam, primarily hosted by the Lauren Falls Trio.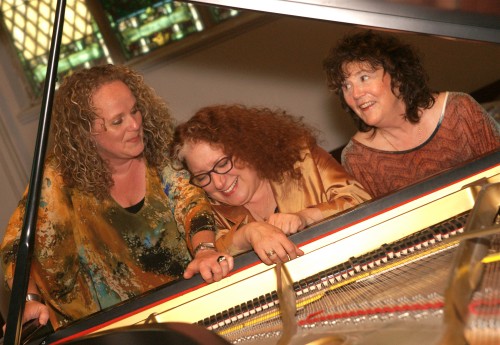 Away from Yorkville at The Old Mill's Home Smith Bar – which, of course, presents jazz year-round – Heather Bambrick leads the "Heather Bambrick and Friends" vocal series, which will feature Elizabeth Shepherd, on June 21; Barbra Lica, on June 22; Ranee Lee, on June 28; and the group, Broadsway (Diane Leah, Julie Michels, Heather Bambrick), on June 29. The most significant Jazz Festival club offerings, however, come by way of The Rex, which will be hosting no fewer than 40 shows between June 20 and 30 during the "TD Toronto Jazz Festival Cooperative Concert Series at The Rex." This 11-day event – The Rex will be starting their programming one day before the official start of the Jazz Festival – is subtitled "Saxophone Summit." The choice is an appropriate one, given the lineup, which includes Pat LaBarbera, Dayna Stephens, Brodie West, Mike Murley, David Binney, Donny McCaslin, Patrick Smith, Emily Steinwall, Autobahn, Alison Young, and, for the final two nights of the festival, Chris Potter, appearing with his relatively new Circuits Trio project, which will also feature Matt Brewer and Eric Harland. (There are also a number of great acts that are not quite so saxophone-centric, including singers Joanna Majoko and Melissa Stylianou, pianist Jeremy Ledbetter, and the experimental duo Paris Monster, one of last year's festival favourites.)
While the bulk of the Jazz Festival's club programming is concentrated in The Rex, two other Toronto clubs will be hosting their own special series. The "Jazz Bistro Cabaret Series" will be taking place at Jazz Bistro from June 19 to June 30, running more or less concurrently with the Jazz Festival, and featuring, as the name implies, a number of mostly local singers in cabaret setting. Performances included June Garber and Stu Mac, on June 21, Adi Braun, on June 25, Tomson Highway and Patricia Cano, on June 28, and Alana Bridgewater on June 29. Further afield on Dundas, Lula Lounge will be hosting their LULAWORLD Festival from June 6 to 16, and, like Jazz Bistro, will mainly be showcasing the kind of Latin American music which they present throughout the year, including the Bianca Gismonti Trio and OKAN, on June 12; Tres Estrellas de Salsa, on June 14; and Lengaia Salsa Brava NG, on June 15.
As this will be my last column until The WholeNote's September issue, I hope that those of you reading this have a great summer and check out lots of live music. If you do see some of these shows, please feel free to email me to let me know what you enjoyed, what you didn't enjoy, and everything in between. Also: please check out our website throughout the summer for online coverage of a wide variety of musical events, including the Jazz Festival, upcoming album releases, and more. And, finally: remember to wear sunscreen!
MAINLY CLUBS, MOSTLY JAZZ QUICK PICKS
JUN 6 TO JUN 16: LULAWORLD Festival, Lula Lounge. Featuring primarily Latin American music and musical artists, Lula Lounge will be one of the first venues to kick off this year's festival season.
JUN 19 TO JUN 30: Jazz Bistro Cabaret Series, Jazz Bistro. Check out Jazz Bistro for a number of cabaret performances in late June, featuring many of the vocalists who regularly appear at Jazz Bistro throughout the year.
JUN 21 TO JUN 30: TD Toronto Jazz Festival, various locations. The city's annual jazz festival, with lots of free outdoor performances in Yorkville and the surrounding area, club performances at The Rex and The Old Mill, and much more.
Colin Story is a jazz guitarist, writer and teacher based in Toronto. He can be reached at www.colinstory.com, on Instagram and on Twitter.