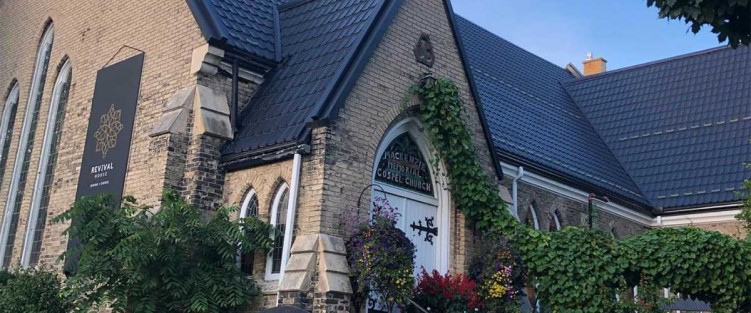 Live music, it seems, is finally, reliably, and consistently back. Barring some unexpected, novel calamity (imminent asteroid impact? Lake Ontario bursting into flames?), this will likely be the last time that I begin my column with the obligatory nod to the pandemic that seemed so necessary throughout the last 28 months. To those who continue to read my pieces: thank you. There was a point, early in the pandemic, when I thought I was going to have to do something truly depraved, like going to law school and getting a real job; thankfully, that grim reality has not come to pass.
So, to the music.
Revival House
On July 22, keyboardist Aaron Davis plays at Revival House in Stratford, as part of the Stratford Summer Music Festival. For those who may be unfamiliar, Davis has been a longtime fixture on the Canadian music scene, as a performer (with the likes of the Holly Cole Trio, Measha Brueggergosman and the band Manteca), an arranger (for the likes of Alison Krauss, Natalie McMaster and Eliana Cuevas), and a film composer with over 100 titles to his name. A newish resident of Stratford, Davis has assembled a compelling roster of musicians, including Ben Wittman on drums, Dylan Bell on bass, John Johnson on woodwinds, Lori Cullen on voice, Suba Sankaran on voice and keyboards, and Maryem Hassan Tollar on voice and shakers. With Davis' deft touch on the piano and his penchant for nuanced, interesting orchestration, expect a compelling evening of music that evokes the best from his highly capable collaborators.
Truly Something Else
Though the main bulk of Hamilton's Something Else! Festival fell from June 16 to 19 – two weeks before the publication of this issue of The WholeNote – it continues to offer shows on Saturdays and Sundays until mid-July. On July 16, at The Cotton Factory – a former working cotton mill, originally built in 1900 and now enjoying a second life as an office complex, film/photography location and event space – catch an evening of open improvised music, with sets from Lina Allemano's Ohrenschmaus project and Ottawa trio Numinosity, along with a screening of Part Four of the late guitarist Derek Bailey's 1992 documentary On the Edge: Improvisation in Music. (Parts One through Three screened on earlier dates throughout the festival.)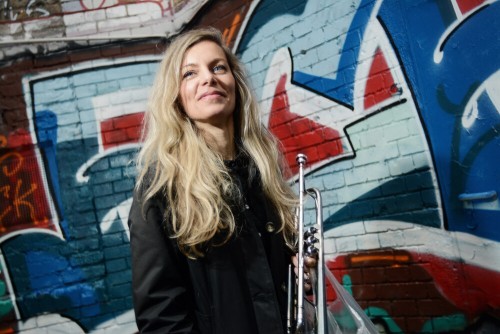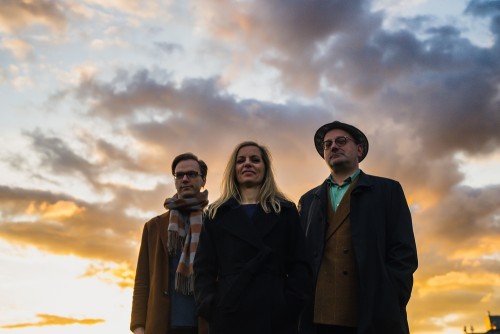 Ohrenschmaus features Allemano on trumpet, the Norwegian bassist Dan Peter Sundland and the German drummer Michael Griener, playing Allemano's compositions. The group's debut album, Rats and Mice, was released to great critical acclaim on Lumo Records, and was included in the NPR Jazz Critics Poll of Best Music of 2020, Citizen Jazz France's Best New Albums of 2020, and reviewed in this very magazine. Ohrenschmaus blends open improvisation with strong, specific elements, making the most of its bandmembers' individual voices as well as the group's capacity to listen deeply and create together.
Numinosity Trio is David Mott on baritone saxophone, Jesse Stewart on drums, and Justin Gray on upright bass and bass veena. (The latter is a hybrid fretless bass that Gray and luthier Les Godfrey first put together in 2010, with four main bass strings, two drone strings and a ten-string short-scale harp.) Nominally a chordless group, in the tradition of baritone saxophonist Gerry Mulligan's 1950s piano-less quartet with Chet Baker, Numinosity Trio's sound is as equally informed by Mott's melodicism and Stewart's percussive stewardship as it is by the lush textural imagination of Gray, both on bass veena and on upright bass.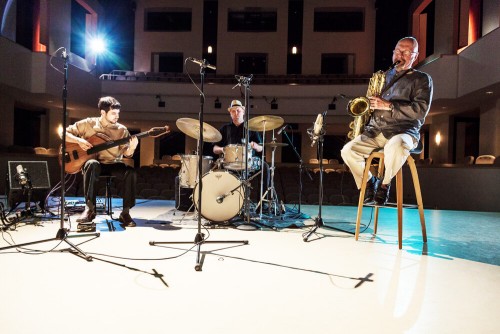 Those familiar with the kind of music presented at Something Else! will also, almost certainly, be familiar with Derek Bailey's musical legacy. A third-generation musician born in Sheffield in 1930, Bailey was an early English proponent of free improvisation, and, throughout his storied career, would play with a wide variety of musicians, including Dave Holland, Cecil Taylor, Anthony Braxton, Pat Metheny, William Parker and John Zorn. On the Edge begins with the assertion that improvisation is the "most widely practiced of all musical activities, but probably the least recognized or understood." Part Four features appearances from Jerry Garcia, George Lewis and Douglas Ewart, Buddy Guy and more.
Meanwhile, festivals aside, the club scene carries on, indoors and out, taking advantage of Toronto's pandemic-inspired CaféTO initiative while they can, and then taking the music back indoors again. Check out the Mainly Clubs list that follows, for venues that stay the course year round!
Colin Story is a jazz guitarist, writer and teacher based in Toronto. He can be reached at colinstory.com, on Instagram and on Twitter.