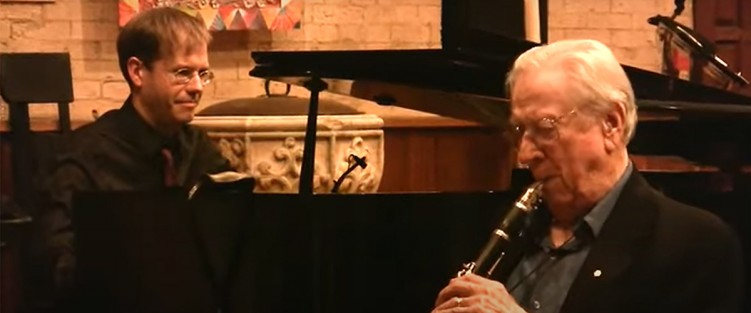 On June 3, 2023, the clarinetist, composer, bandleader and educator Phil Nimmons celebrated his 100th birthday. Born in 1923 in Kamloops, Nimmons has been a major force on the Canadian jazz scene since the 1950s, when – following his formal music education, at both Juilliard in New York and at Toronto's own Royal Conservatory of Music – he formed his much-venerated Nimmons 'n' Nine group, with which he would go on to record nine albums, embark on innumerable tours, and perform regularly on CBC broadcasts.
I first encountered Nimmons when I was in the undergraduate program at Capilano University, when he and the pianist David Braid presented a masterclass in the midst of a duo tour. As a neophytic guitarist fresh out of high school, I expected Nimmons – who, in 2005, would have been a spry 82 years old – to be somewhat senatorial, a dignified, learned representative of a music that was not that much older than he was. (The first jazz recording, Livery Stable Blues, was recorded and released in 1917, a mere five years before Nimmons' own birth.) After hearing some compelling duo playing from Nimmons 'n' Braid, as the duo was styled (after the conventions of the famous Nimmons 'n' Nine recordings), the two took some questions from a room full of young music students. One of my classmates asked how to deal with stage fright when improvising, which – for many developing jazz musicians – is a real issue that must be worked through. I think we all expected Nimmons to say something profound: something, perhaps, about cultivating a sense of calm, engaged presence when playing; about the body's sympathetic nervous system; about creating an environment of trust and encouragement with one's bandmates. What he actually said was – and I paraphrase, because it has been 18 years – "you just gotta do whatever you gotta do! Go for a walk, get your head right, have a snort of whisky – just learn how to get through the gig, no matter what it takes!" Which, of course, is profound in its own way.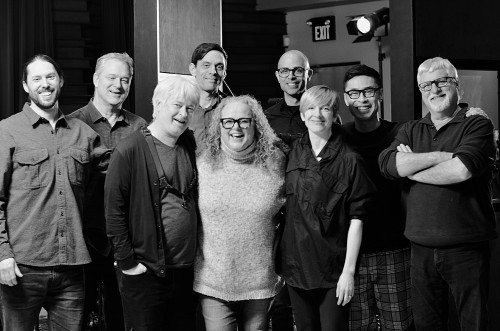 Moving forward in time – after a transfer to the University of Toronto – I found myself in Nimmons' fourth-year undergraduate jazz composition seminar. (Nimmons joined U of T as an instructor in 1973; he is currently the director emeritus of Jazz Studies.) After an impassioned warning against yawning in class, we started a semester of guided listening, compositional philosophy and assignments that were both open-ended and quite demanding. Fourth-year seminars being what they are, there were only about 12 of us in the class, and I chatted with a few of my cohort about the experience. Barbra Lica – singer, songwriter, master of deadpan quips – recalled that Nimmons gave us a duet project, an assignment in which we had to write a full piece for two monophonic instruments.
In previous years, we'd all had to write arrangements within specific musical parameters, e.g. orchestrating All The Things You Are for three horns and rhythm section. But to write an original composition for two instruments was different; it was a technically difficult task in which technique nonetheless had to follow our own compositional aims, rather than using someone else's composition as a vehicle for technical practice. Another memory: Mark Godfrey, bassist, composer and van-owner, reminded me that Nimmons would write us copious hand-written notes on any composition we turned in. He was also largely uninterested in any kind of rubric-based grading; I'm pretty sure that everyone in the class got an automatic A on every completed assignment. In short: he was kind and energetic; he treated us, undergrads that we were, with all the seriousness of valued musical colleagues, even when we did happen to be stifling yawns from staying up all night to finish his assignments.
In honour of Nimmons' centennial, several shows and special events will be taking place. The Nimmons Tribute group, which features the talents of Kevin Turcotte, Tara Davidson, Mike Murley, Alex Dean, William Carn, Jon Maharaj, Ethan Ardelli, Heather Bambrick and Phil Nimmons' grandson, the pianist, composer and arranger Sean Nimmons, performed at Lula Lounge, on May 30, at the Toronto Jazz Festival, on July 2, and will perform at the Markham Jazz Festival, on August 20. In conjunction with Nimmons' birthday, the group will also be releasing their second album, The Nimmons Tribute, Volume 2 –Generational, on June 30, with a single preceding the full release on June 9. There was also an on-air celebration of Nimmons, hosted by Laila Biali on the CBC on June 3.
The summer festival circuit
It is not long after the first stretch of warm, late-spring weather – the kind of weather that allows an individual to finally trust that a journey to the grocery store needn't be planned with all of the seriousness of an ice-climbing expedition – that a serious jazz fan's mind starts to contemplate the summer festival circuit. What international acts will be visiting? Which local artists will be playing? Will there be a spot to sit on the ground with good sightlines that isn't too close to the speakers and that will definitely not adversely affect one's sciatica? These are all important questions. Luckily, in southern Ontario, we have the luxury of enjoying a plethora of excellent festival offerings this summer, with, one assumes, a variety of seating options.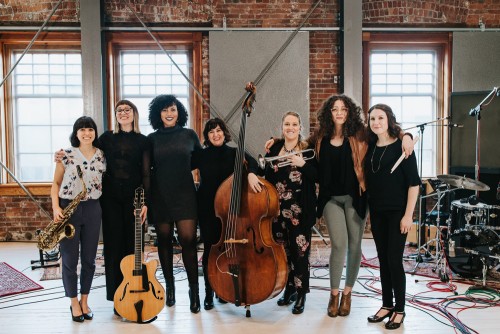 TD Toronto Jazz: The biggest, of course, is the aforementioned TD Toronto Jazz Festival (TJF), running from June 23 to July 2. As has been the case since 2017, TJF is mainly taking place in and around Yorkville, and most of its shows are available to audience members for free on outdoor stages. (A small number of shows are ticketed, and are taking place at venues such as Meridian Hall, the Elgin Theatre and Koerner Hall.) Because TJF has such an extensive lineup, there are options to satisfy many different musical tastes. Many of Canada's best and brightest will be performing, including the guitarist Debi Botos, on June 24 at 2:30pm; the jazz/hip-hop band re.verse, playing with vocalist Phoenix Pagliacci on June 27 at 8:45pm; and the Ostara Project, an interprovincial band helmed by BC bassist Jodi Proznick and Ontario-based pianist Amanda Tosoff, on June 28, at 6:45pm.
Those looking for the biggest names in international jazz can catch a double bill with the Brad Mehldau trio and the Avishai Cohen trio, on June 26, singer and guitar virtuoso George Benson, on June 27, and jazz's leading elder statesman, Herbie Hancock, on June 29. (Though, one hopes, in each of these cases, that aspiring concertgoers have already purchased tickets; these shows sell out fast.) Fans of R&B and hip-hop vocals can catch Canadian rapper Haviah Mighty - winner of the 2019 Polaris Music Prize and 2022 JUNO Award for Rap Album of the Year - perform on June 25 at 7:30pm, right before the American vocalist Ashanti, who will be on the same stage at 9pm.
At the other end of the TJF spectrum, for those who enjoy unexpected collaborations, who don't mind staying up late, and who enjoy the look of abject terror in an undergraduate jazz student's eyes when the tune they call is counted in at a much brisker tempo than they'd anticipated. The Pilot, on Cumberland St., is hosting a jam session that starts at 10pm every night throughout the festival's run. The jam begins with a set from the host band, which will be led by a different local bandleader each evening – including Jane Bunnett, on June 24; Ernesto Cervini with special guest Joel Frahm, on June 27; and Allison Au, on June 29.
Beaches Jazz: Though it may be the biggest, TJF is certainly not the only festival in town. The 35th annual Beaches Jazz Fest (BJF), long a fan favourite, comprises a number of different events throughout the month of July, including Sounds of Leslieville and Riverside, from July 6 to 9, the TD Mainstage at Woodbine Park, from July 20 to 23, and StreetFest, the quintessential BJF experience, in which Queen Street East transforms into a music festival, taking place from July 27 to 29. All of the BJF's events feature fantastic musicians, and tend to be programmed to appeal to a wide range of listeners.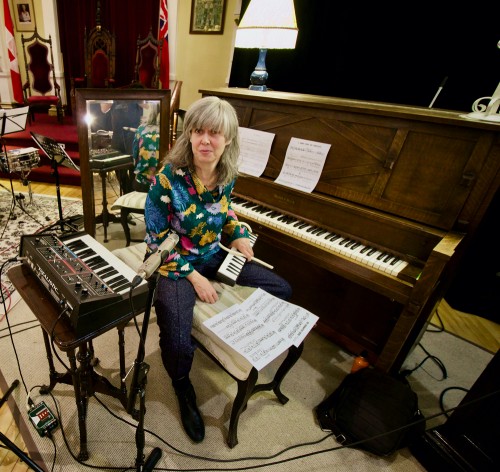 Something Else! There are many other excellent festivals happening this summer throughout Ontario. The Something Else! Festival, presented by Zula Arts and Music, takes place at St. Cuthbert's Presbyterian Church in Hamilton from June 23 to 25, focused on open improvised music, with performances from the likes of guitarist Jessica Ackerley, trumpeter Ralph Alessi, and pianist Tania Gill.
Brantford's South Coast Jazz Music Festival celebrates its tenth anniversary with a slate of shows happening from August 11 to 13, with crowd pleasers Alex Pangman, Mark Keslo & the Jazz Exiles and Platinum Blonde's Mark Holmes.
Though not strictly a jazz festival, those who make the trek to Campbellford to the Westben Centre for Connection & Creativity Through Music can be sure to enjoy the organization's picturesque setting and its summer programming. Fans of easy-listening vocal jazz have plenty to choose from, including Emilie-Claire Barlow, on Friday, July 21; Jill Barber, on Saturday, August 5; and Laila Biali and the Brian Barlow Big Band performing the music of Joni Mitchell, on Sunday, August 2.
Colin Story is a jazz guitarist, writer and teacher based in Toronto. He can be reached at www.colinstory.com, on Instagram and on Twitter.