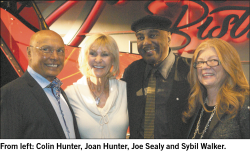 Clubs have folded, restaurants have closed and music programming has been cut, resulting in plenty of blues to be sung for the jazz community but hardly any venues to sing them in.
"If you want to make a million dollars from jazz, start with two million" is a saying that has been going around.
Enter Colin Hunter, founding president, CEO and owner of the airline carrier Sunwing Airlines and the all-inclusive package company, Sunwing Vacations. He's also a part-time crooner. Now, with the help of wife Joan Hunter and general manager Sybil Walker, he is set to open the Jazz Bistro, the long-awaited, eagerly anticipated business venture that is finally ready to roll.
Sharing the same address as the famed jazz club Top O' The Senator (1990–2005), the Jazz Bistro has been years in the making, but the wait is over, and it was well worth it.
"Toronto didn't have an establishment of this calibre, so I sensed there was an opportunity," says Colin Hunter. "I've done a few gigs with Joe Sealy in Montreal at the House of Jazz and wanted to give Toronto an establishment that was better than anything that was in Montreal. For starters, we are going to have better food, better service and better ambiance."
Designed by Joan Hunter, the Bistro is a feast for the eyes, boasting a beautiful balcony, a ruby chandelier and a signature Steinway piano that even has a name: Red Pop.
As suggested by the name of the club itself, cuisine will be instrumental in complementing the musical experience: "We have hired a chef I have known and respected for some time, Matt Cowan," says general manager Sybil Walker. "I have always been impressed with his respect for his ingredients, his passion for finding just the right food pairings and his insatiable interest in food on every level."
Walker is also responsible for booking the club and has initiated a weekly jazz brunch featuring a different vocalist each month. The series debuts on March 17 with illustrious bass-baritone Marcus Nance; another sure highlight this month will be a three-night stint with veteran American flutist and saxophonist Lew Tabackin, booked with the Mark Eisenman Trio March 28 to 30.
Tuesday nights are going to feature a variety of special events including CD releases, the first one being Tuesday, March 26, when July/August 2010 cover girl for The WholeNote, Alex Pangman, will celebrate her newest release, Have a Little Fun. Notably, this Justin Time release features a guest appearance by legendary guitarist Bucky Pizzarelli, 87 years old as of this writing.
"I was actually saying to my husband that I'd love to record with Pizzarelli one day," says Pangman. "Then I heard that Jazz.FM was bringing him to town for a concert and I just about had a heart attack. I learned that he had a little time off so I got up the gumption and asked him. You can't win a lottery if you don't buy a ticket!" she laughs. "The recording is essentially an ode to the human condition, and since I like to have a little fun, the title made sense! There are songs about love, loss, deception and forgiveness, mostly 1930s tunes but with four originals that I've written in this style." While Pangman will be playing with Pizzarelli at a sold-out concert March 4 at the Old Mill, her great band, the Alleycats, will be backing her up at the Jazz Bistro March 26. Be sure to reserve!
Meanwhile in the west end Junction neighbourhood, this year Indira Nanavati Cadena will celebrate the third anniversary of her Mexican restaurant and music venue, La Revolución. Affectionately known as "La Rev," this very inviting, unpretentious spot features reasonably priced traditional fare and service with a smile. In a dimly lit intimate back room, weekly events include a Saturday evening singer-songwriter night hosted by Jay Linden with guest headliners, as well as gypsy jazz happening every Sunday night with Mikko Hilden's Les Petites Nouveaux and special guests.
"La Revolución was initially inspired by a trip to Mexico city, which sparked my interest in the local ingredients used in traditional cuisine, the varied genres of live music and the effect the Mexican revolution had on its society," says Cadena. "Out of these three ideas was born a small but big-minded business, which is meant to be a revolution of mind, music and flavour!" Finding an acoustic piano which is kept in tune is not common these days, so it is unsurprising to learn that Cadena is herself a musician-turned-entrepreneuse.
"Whether it was composing, performing or as it turns out, running a music venue, music has always been my greatest passion. I studied classical piano up until university, at which point I took an interest in sound production and engineering. It's really nice to be able to relate to the musicians outside of business terms, and it's even nicer to be able to run the soundboard and focus on the quality of what's being presented to the listeners. The local music in Toronto is so raw and full of talent. I'm just happy to be a part of it and help support it. ... While the Junction has been known more for blues and rock bands, the response to our songwriter series and the gypsy jazz has been very enthusiastic so far."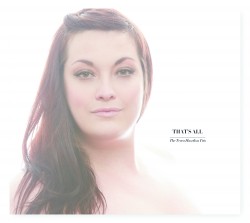 Back to a familiar venue, The Rex, where our next singer can be found on a regular basis but has a very special CD release this month. The very talented and entertaining Terra Hazelton was first heard in a jazz context as the featured vocalist with Jeff Healey's Jazz Wizards. Back then, her electrifying voice came across as the channelling of some wicked 1920s blues shouter. Now she can still do that, but in the five years since Healey's passing, Hazelton has worked with many musicians — Brandi Disterheft, Sophia Perlman, the TurnArounds and the Jive Bombers to name a few — and stepped outside of her comfort zone.
Today Hazelton sings with even more range than ever before; her ballads have grown particularly arresting and genuinely sentimental. Teaming up with a pair of very spirited players — guitarist Nathan Hiltz and bassist Jordan O'Connor — is all sorts of brand new for Hazelton, as she has usually worked with far bigger ensembles. But when these three play together, nothing is missing; a wonderful musical chemistry exists, and if you'll pardon an Ira Gershwin cliché, who could ask for anything more? Hazelton, Hiltz and O'Connor have decided to "go old school" on their new recording and do what's considered bold these days: go into the studio, record live off the floor and release what comes out without doing any fixes. The only thing better than getting this record is seeing the smiles on their faces. Don't miss the Terra Hazelton Trio's CD Release Party for That's All on Thursday March 7 at 9:30pm at The Rex Hotel. That's all! 
Ori Dagan is a Toronto-based jazz musician, writer and educator who can be reached at oridagan.com.