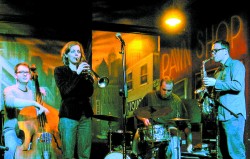 Talk about the element of surprise! In November of 2008, I was given the task of reviewing Lina Allemano's third recording, Gridjam. Truth be told, I accepted the assignment wearily and wasn't expecting to enjoy the CD nearly as much as I did, if only because at that time I thought I did not like avant-garde jazz. Isn't it funny how we think we don't like a certain genre, be it early music or hip hop, thereby prejudging a whole category of music based on its style, as opposed to its substance? Inevitably this brings one to Duke Ellington's famous quote: "There are only two kinds of music: good and bad." The Lina Allemano Four, pictured above, just might make a fan out of folks who don't believe they "like" cutting edge, contemporary jazz. This month they release Live at the Tranzac, recorded at one of Toronto's most essential spaces for creative music.
The record is the band's fourth CD and has already received some nice reviews in Europe according to Allemano. "It's our first live record," she adds. "It was recorded on three different nights during our monthly residency at the Tranzac in February and June 2012 and November 2011 by our faithful and amazing engineer, "Fedge," who recorded, mixed, and mastered it. We had great audiences all of those nights and their enthusiasm is on the recording. Fedge has done a brilliant job of capturing the live sound of the band. It's released on Lumo Records, which is my own label. (Fedge also is responsible for our YouTube videos of the band's performances at the Tranzac.) The music is all my original music which was workshopped during our various performances at the Tranzac."
Allemano's devilish, deliciously dissonant compositions are just the tip of the cool iceberg: her musical choices are unquestionably exceptional and she could not ask for a more formidable supporting cast: Brodie West on alto sax, Andrew Downing on bass and Nick Fraser on drums. The group has been playing the Tranzac's Southern Cross room once a month since about 2006.
"What do we love about the Tranzac? So many things!!!" writes Allemano. "The Southern Cross room sounds amazing acoustically, which is perfect for us as an acoustic avant-garde jazz band. The audiences are always great — they listen and they give back their energy to the musicians. The Tranzac has a very comfortable atmosphere that allows us and the music to breathe and to grow. We can take musical chances there. There is a real community feeling there ... amazing and supportive and welcoming. It's a nonprofit mentality and the programming supports all types of music that is generally alternative and non-mainstream — such an important place for musicians in Toronto, for artistic music to thrive and grow and to push the boundaries. It is just enough off the beaten path that it has kept a slightly underground feel to it, which I think keeps things real. It's my favourite place to play in Toronto, and has been for years — it's a special place and it has been really important for me personally to develop all three of my bands there over the years. Thank you, Tranzac!!"
The Lina Allemano Four's Live at the Tranzac CD release takes place right where it was recorded on November 11 at 9:30pm.
Meanwhile, a brand new group, the Ken McDonald Quartet, led by bassist Ken McDonald, is starting a monthly residence at the Tranzac's Southern Cross room November 20.
McDonald, a graduate of York University's Jazz Composition Master's program, is also a big fan of the Tranzac: "I love playing and seeing live music here. I think it's one of the few places in Toronto where music of all styles and levels of creative expression is welcomed. You can drop by any time not knowing exactly what you're going to see but knowing you'll see something good." The quartet is rounded off by Demetri Petsalakis on guitar, Paul Metcalfe on saxes and Lowell Whitty on drums. Expect tunes that draw from both the modern and classic jazz traditions, both orchestrated and freely structured.
416 Festival: November 7 to 10, the Tranzac is also home to the 12th annual 416 Festival, dubbed "the best music you've never heard." According to the press release that we received in a timely fashion (presenters, please send all your listings by the 15thof the month prior to your event to listings@thewholenote.com for our FREE listings service!), the 416 Festival was created "in 2001 as a counterbalance to the lack of innovative music programming at local jazz festivals." I asked the founder and director, Glen Hall, if he feels that anything has changed since 2001 on Toronto's jazz scene regarding this issue: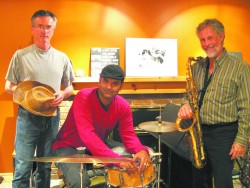 "Local jazz festivals continue to feature mostly traditional-based, tonal, metrical music of the genre widely understood and called jazz. In addition, they have added popular music forms which have little in common with the improvisational core of authentic jazz. However, the Toronto Downtown Jazz Festival has included some offerings by improvisers associated with the Association of Improvising Musicians Toronto (AIMToronto). But, to my knowledge, these are with little or no financial commitment on the festival's part: a half-hearted, qualified support. So, the 'lack of innovative programming' has not changed appreciably since the inception of the 416 Festival. This does not apply in the case of the Guelph Jazz Festival, which has been bold and adventurous in its programming choices. (Non-tonal, arhythmic, sound-based improvisation by Toronto improvisers is seldom heard outside of the 416 Festival.)"
It's fantastic that the 416 exists to showcase the incredibly rich diversity of non-traditional creative improvised music. Musicians do frequently wonder what an artistic director is looking for when booking, a question Glen is happy to answer:
"Some selections are made according to who approaches us and what their goals are. Also, new groups form constantly and I keep tabs on who is doing what and try to give them opportunities to be heard in a supportive environment. Some musicians I know personally; others are recommended to me. For instance, last year a new music aficionado suggested the neither/nor collective. While I was aware of them, it previously hadn't occurred to me to ask them to participate as improvisation is a part, not the entirety, of what they do (they were an audience favourite). Quartetto Graphica was interesting because they use graphic scores which demand improvisational interpretation. This year CCMC is featured because they embody the essence of what the 416 Festival presents: fearless, risk-taking, improvised music making. We are always open to improvisation-based artists wanting to perform at the 416."
Artists appearing at the festival this year include vocalist/pianist Fern Lindzon's trio featuring trombonist Heather Segger and drummer Mark Segger; drummer Chris Cawthray's improvised roots duo with organist Simeon Abbott; electronic wave drummer Bob Vespaziani with vocalist Tena Palmer and guitarist Arthur Bull — and that's on opening night alone! See our listings section for complete details and for more information visit 416festival.com.
Here's to the best music you've never heard! 
Ori Dagan is a Toronto-based jazz vocalist and an associate editor at The WholeNote. He can be contacted at jazz@thewholenote.com.