Don't get me wrong: I love a Gershwin tune and know nearly every verse by Hart. But it's refreshing to hear more modern composers receiving the jazz treatment.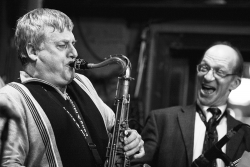 The John Lennon songbook receives an all-star Canadian jazz salute on June 13 at Hugh's Room, with the CD Release of Shine On, led by guitarist/arranger Michael Occhipinti, with vocalists Elizabeth Shepherd, Yvette Tollar, Dominic Mancuso and Denzal Sinclaire, Kevin Turcotte on trumpet, Roberto Occhipinti on bass and Mark Kelso on drums.
"It was nice to be reminded of how creative John Lennon was, not just as a writer but as a guitarist also," says Occhipinti. "He was the first to intentionally use guitar feedback or backwards guitar. Also, as much as I heard albums like Rubber Soul or Revolver when I was young, when I listened with this project in mind I was really knocked out by how the song structures changed and all the songs start and end in different ways. This was very inspiring to me as an arranger."
Interestingly, one of the brightest stars in the jazz guitar galaxy, American Bill Frisell, will also perform a jazz program of Lennon songs, "All We Are Saying," on June 26 at the Enwave Theatre, as part of the TD Toronto Jazz Festival. In contrast to Occhipinti's generous offering of vocal chords, Frisell's arrangements offer strictly instrumental explorations of the icon's music, featuring himself and Greg Leisz on guitars, Tony Scherr on bass and Kenny Wollesen on drums.
Harmonically sophisticated beyond measure, Frisell is just one of the many artists who have influenced Hobson's Choice, a unique quartet that has been making waves on the local scene, somewhere between jazz and folk, new music and chamber music. The group consists of Rebecca Hennessy on trumpet, Harley Card on guitar and vocals, Felicity Williams on vocals and Michael Davidson on vibraphone and marimba.
Besides Frisell, additional influences include Bruce Cockburn, Kenny Wheeler, Steve Reich, David Friedman, Joni Mitchell, Ron Sexsmith and Wayne Shorter, to name a few. Significantly, Hobson's Choice does not choose covers: all four members contribute original material, leading one to wonder who the leader is.
"The group started when the four of us decided to get together and learn a bunch of Bruce Cockburn's music," says Harley Card. "We eventually did some shows and then decided to continue working on music for the ensemble, but to focus on our own writing instead … Although the impetus for most songs is by one of us, we continue to develop them as a group. The songs don't really come to life until they've been filtered through the band's process."
Hobson's Choice will be releasing its third recording, Of the Waves, at the Music Gallery on June 30 at 8pm, as part of the TD Toronto Jazz Festival.
In the Clubs & Beyond: Toronto Jazz Festival Quick Picks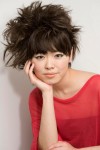 1. Hiromi: The Trio Project. Japanese jazz genius, Hiromi, is one the world's true musical wonders. Though the term "virtuoso" might be an understatement for this 33 year old, beyond her dazzling chops are highly emotional motivations. Until recently she has been a soloist, but as on her new album, Voice, for this performance she summons two sensational sidemen: bassist Anthony Jackson and drummer Simon Phillips. Bound to be unforgettable. Opening act: the acclaimed, rebellious trio The Bad Plus, with special guest Joshua Redman. June 24 at 8pm, Mainstage, Nathan Phillips Square, $42.50.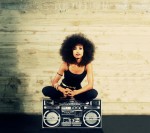 2. Esperanza Spalding Radio Music Society. Supremely talented bassist, composer and vocalist Spalding recently became the first jazz artist in history to win the Best New Artist Grammy award, beating out Bieber and Drake, and giving us all hope (incidentally, the meaning of her name!) A cross between jazz and pop, Esperanza's original music is whimsical and intelligent at the same time – a rarity. Vocalist Gretchen Parlato opens the show. June 28 at 8pm, Mainstage, Nathan Phillips Square, $42.50.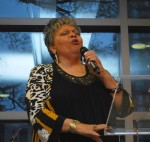 3. Jackie Richardson & Russ Little Trio with Guests. This woman is a national treasure: a larger-than-life entertainer whose magical voice, depth of feeling and incomparable stage presence belie her genuine modesty. Four shows, each with a special guest: June 22 with daughter, vocalist Kim Richardson; June 23 with saxophonist Colleen Allen; June 29 with saxophonist Alex Dean; June 30 with vocalist Heather Bambrick. All shows at The Old Mill's Home Smith Bar, 7:30-10:30pm, $20 Cover, no reservations.
4. The Jivebombers. Tight arrangements, impassioned solos, Hawaiian shirts, and contagious laughter – I can't think of a group that has more fun on stage than this nine-piece all-star outfit, led by trombonist John Karpenko, with Alex Dean, Bob Brough and Johnny Johnson, saxophones, Brigham Phillips, trumpet, Del Dako, vibes, Gord Sheard, piano, Al Henderson, bass, Curtis Smith, drums, and special guest vocalists. The Rex, June 22, 5pm.
5. Jim Galloway Trio. Born in Scotland and a Torontonian since 1964, world famous soprano saxophonist Jim Galloway is also the festival's recently retired founding artistic director and of course, The WholeNote's own Jazz Notes columnist. Old-school swing that's infectious in the best possible way. June 30 at 2pm, Distillery District, Trinity Stage, Free. (NOTE: Galloway will also interview several artists as part of the "Inside Track," presented by the Ken Page Memorial Trust. See listings section D,"The ETCeteras," under Interviews.)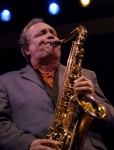 6. Canadian Jazz Quartet with Ken Peplowski. As an extension of the CJQ's popular Fridays at Five Series at Quotes, this will be one of four evenings featuring a legendary special guest. Having worked with everyone from Mel Tormé and Peggy Lee to Leon Redbone and Madonna, Peplowski is, by reputation, one of the most renowned clarinetists in the world. An absolute must for fans of the licorice stick! June 27 at 5pm, Quotes Bar & Grill, $30.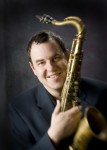 7. Phil Dwyer – A Canadian Songbook Featuring Laila Biali. This year's JUNO winner for Contemporary Jazz Album of the Year and one of the most highly regarded jazz musicians on the Canadian scene, Phil Dwyer is an exceptional multi-instrumentalist, arranger and composer. For this exciting program of Canadiana he teams up with Laila Biali, herself a radiant and multi-talented musician. Expect beauty! June 27 at 7pm, Church of the Holy Trinity, $22.50.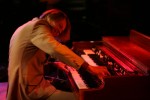 8. Clayton Doley Quartet. Australia's finest Hammond organist is a highly sought-after session musician who has already appeared on hundreds of albums and toured the world with a variety of artists, from Canada's Harry Manx to Australia's Silverchair. An exciting virtuoso well worth discovering. June 23 at 5pm, Shops at Don Mills, Free.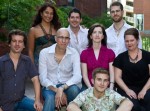 9. Retrocity. Rooted in sweet nostalgia and committed to pure entertainment, Retrocity is an eight-piece a cappella ensemble devoted to singing hits of the 1980s. The group blends beautifully and benefits from the gifts of singers Suba Sankaran, Dylan Bell and Aaron Jensen. Ideal for the whole family, especially moms and dads. June 29 at 5pm, Outdoor Stage, Nathan Phillips Square, Free.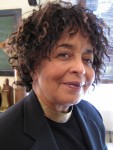 10. June Harris & Artie Roth. Chicago-born singer-pianist Harris is a seasoned storyteller, with decades of experience performing classic jazz, barrelhouse blues and endearing originals. With solid-as-a-rock Roth along for the ride, expect to be enchanted! June 26 at 6pm, NOW Lounge, $15.
For further information on the jazz fest, visit www.torontojazz.com.
Ori Dagan is a Toronto-based jazz vocalist, voice actor and entertainment journalist. He can be contacted at jazz@thewholenote.com.