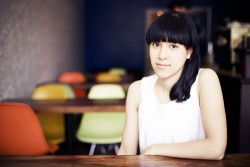 The first ten days of summer will mark the 26th edition of the TD Toronto Jazz Festival, which, according to a press release I just received, promises that "500,000 music lovers will be entertained as 1,500 musicians take over the city, performing 350+ concerts in 10 days."
It's safe to say that these numbers would be significantly lower were it not for the festival's Club Series, featuring many venues familiar to readers of this column and artists who are at those venues month in and month out. So another way of looking at it would be to say that the local club scene is a jazz festival year round! Here are some of the fish who are already jumpin'.
Hogtown's Very Own … Syncopators!
The only quintet with a weekly house gig at The Rex Hotel, the Hogtown Syncopators play every Friday from 4pm to 6pm. Full of good cheer, the band bursts at the seams with talent: Terra Hazelton on vocals and snare drum; Drew Jurecka on violin, sax and vocals; Jay Danley on guitar and vocals; Richard Whiteman on piano; and James Thomson on bass. Sweet, saucy and sentimental songs from the 1920s, 30s and 40s, as well as band originals, make HS a fine way to beat the blues. This month: May 4, 11, 18 and 25.
Surely Murley
Mike Murley's fluid phrasing and scrumptious tone single him out as one of the finest horn players in the country, so it isn't surprising to find him exploring the challenges of solo saxophone. However, this active adventurer plays in a number of contexts: duos with guitarist David Occhipinti; in the trio Broadview with bassist Rich Brown and drummer Ted Warren; in various quartet settings featuring the likes of Dave Liebman and David Braid; and, most recently, leading his own septet: Murley on tenor, compositions and arrangements; Tara Davidson on soprano and alto saxes; Kevin Turcotte on trumpet; Terry Promane on trombone; David Braid on piano; Jim Vivian on bass; and Ted Warren on drums. A flock of local jazz fans and tourists will likely mean folks being turned away at the group's festival gig on June 30 — so catch the septet this month, May 17 at The Rex, for a sneak peek.
Swingin' at the Gate
The Rex isn't the only place to present live jazz and blues every single day of the week in Toronto — there is another, and it also features a real piano, reasonable menu and affordable pints. Located at 403 Roncesvalles Ave., Gate 403 is less central than The Rex but similarly casual; less roomy but arguably more charming. Musicians like this place not because the gigs are lucrative, (please tip generously as paper makes less noise!) but because when filled with humans, it has a certain kind of magic.
Always entertaining, the Richard Whiteman & Laura Hubert Jazz Band recently began performing at Gate 403 on Monday nights. With Whiteman making that piano sound brand new and Hubert enchanting listeners with her inimitable style, this band swings all the more mightily thanks to James Thomson on bass, Paul Brennan on drums, Shawn Nykwist on tenor and Tim Hamel on trumpet. Their official festival gig takes place on June 25; drop by this month May 7, 14, 21 or 28.
Cherishing Cherry Street
The Cherry Street Restaurant buzz is building. During the festival, fantastic daily fare will be complemented by an array of seasoned vocal and instrumental jazzers, from trumpet and flugelhorn player Nadje Noordhuis, to a group worth investigating if only because they are called the Strange Attractors. Drop by this month to check out the venue and sample the menu! My pick for this month goes to a quartet led by a splendid young alto player, Allison Au, on Thursday May 10. An exceptional improviser and composer, this Humber College graduate is currently working on her debut album. Au will be joined by Todd Pentney, piano; Jon Maharaj, bass; and Fabio Ragnelli, drums.
Party Time!
It's hard to resist an exclamation point for this one: The Old Mill's Home Smith Bar presents a brand new series in May and June called the Thursday Night Jazz Party! The concept: a leading jazz entertainer plays host, with stellar special guests gathered around the baby grand. Each evening is bound to be fun-filled, but in this musical situation, perhaps even more than usual, the audience is the life of the party. Bring your requests!
In next month's column I will go into more detail about the Toronto Jazz Festival. But why wait for the official Club Series to get excited about the live music that's happening in the city's series of clubs? A very dedicated promoter of live jazz in this city, Fay Olson is right on the money when she titles her emails thusly: "The year-round jazz festival continues!"
Ori Dagan is a Toronto-based jazz vocalist, voice actor and entertainment journalist. He can be reached at jazz@thewholenote.com.