November 30, 2012 marks the final performance by the Canadian Jazz Quartet at Quotes Bar & Grill. The venue has been home to the group's successful "Fridays at Five" series since 2006. Leader of the group, guitarist Gary Benson sums up the experience: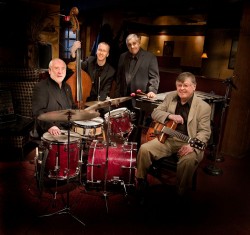 "QUOTES": A cozy jazz venue across from Roy Thompson Hall, below street level, under Barootes Restaurant. It would be impossible to not feel at home here with its padded booths, tiny lamps hanging over them, suspended from a wooden raftered ceiling, wooden tables throughout the room and a long bar running half the length of the room. All this made it reminiscent of a '40's New York jazz club.
The people came early to secure seating; there was no cover, no reservations. The jazz took place on Fridays from 5:00 to 8:00 p.m. The Canadian Jazz Quartet along with a guest performer played to a full house every week. The guests were the elite of the Canadian jazz scene.
All this ceased, not because of waning interest, but because the building was sold. The old adage "all good things must come to an end" somehow doesn't fit here. Not yet. I find it hard to believe that all this life and vitality won't find another home for "Fridays at Five".
I asked Fay Olson, project and event manager, a few questions about the past, present and future of "Fridays at Five."
Quotes has been the home of the "Fridays at Five" series for 7 seasons now. What have been some of the musical highlights?
We're actually into our 7th year, just breaking over the Christmas holidays and a couple of months after the Toronto Jazz Festival each summer so when it's all over November 30, we'll really have completed 13 seasons since Don Vickery and I first launched the "Fridays at Five" feature in September of 2006. It was in the wake of our beloved Montreal Bistro having closed, so as much as anything else, I was looking for a place that had the potential to provide some of the same aura so many of us had experienced for so long, as a new downtown setting for the presentation and enjoyment of great jazz.
For me, it's been a lifetime musical highlight since day one. As Musical Director, Don decided early on that rather than presenting different ensembles every week, he'd make the Canadian Jazz Quartet a kind of high-end "house band" to host a different leading jazz instrumentalist each week. As a member of the CJQ, Don knew, more than anyone, how capable they were of working with absolutely anyone, without rehearsal, while allowing the guest performers to play whatever they wanted. It was an ideal arrangement, that just by nature of the varied headliners, and the CJQ's innate ability to adapt to whatever they required, resulted in a new sound every week.
Of the hundreds of "Fridays at Five" performances we've presented over the years, I honestly don't remember a single one that wasn't successful. The Toronto jazz scene is populated by some of the best jazz musicians in the world, and over the years, we made it our policy to present dozens of the best of them at Quotes.
Over the past couple of years, when Quotes has been an "official venue" of the TD Toronto Jazz Festival, we've been able to add some big international names to the roster, so there's no question they all delivered highlight musical performances with the CJQ unfailingly rising to whatever was demanded for a memorable concert by the likes of Houston Person, Harry Allen, Scott Hamilton, Ian McDougall, Randy Sandke, Guido Basso, Byron Stripling, or Ken Peplowski.
Anyone who was there when legendary saxophonist Scott Hamilton appeared in 2011 will agree that that was a highlight performance, as much for the star's professionalism as his playing. His flight (from Germany, where he'd played the night before) was scheduled to arrive in Toronto just a couple of hours before his scheduled Quotes performance. As Murphy's Law dictated, his flight was delayed, so while a TDJ driver waited for him at the airport, the CJQ went on alone. They were well into a second hour of performance when we got the word he was nearly there. The CJQ was still playing for an increasingly agitated audience, when Hamilton raced through the door, and without even removing his jacket, opened his sax case, listened for about 30 seconds to what the band was playing, and walked up to the mic to join them. He later kept the concert going for a full extra hour after it was scheduled to finish...and not a person left.
What will you miss about Quotes the most?
Everything! There's no single element of "Fridays at Five" more important than anything else (other than the music itself, of course). I've always loved the "New York" feel of walking down just a few steps below street level, in the heart of downtown Toronto, into the lovely dark wood and long bar decor, the open kitchen, and the "Cheers" kind of atmosphere we've built where everyone who comes there -- regulars or first-timers -- feels the love.
Will the series have a new incarnation in the foreseeable future? If so, what do you look for when seeking out a venue?
We fondly hope so, as do the hundreds of patrons who love "Fridays at Five". We've attracted full houses from the very beginning, and our crowds keep increasing from year to year, so there's no question that in another "right" location, the concept still has a long life span, and a devoted following.
Needless to say, I've been quietly on the hunt since I learned Barootes had sold the building, as there's no question, the "Fridays at Five" concept offers a surefire turn-key success with the right venue components in place, but it's a tall order. As a lifelong career event manager/marketer, I know that the "right" formula involves much more than just putting "background" music into a room. Ideally, we would like to settle into a downtown venue, with easy TTC access, a warm and cozy ambience, a bar, a good (and reasonably priced) kitchen, and above all, a room that's large enough to allow for 80 to 100 people to have good site-lines to the area of the room where we can set up a five-piece band.
In addition is that we need a venue that needs us!! A couple of possibilities I've been very interested in are already jam-packed after work on Fridays, so obviously, there's no point in their making an investment in us. Other venues who have been interested in us just wouldn't work as a "listening" room. Even though we definitely don't adhere to a strict "quiet policy", we do want to encourage an atmosphere that respects the performers and the patrons who are there to listen, and a pool-table in full operation while the performance is taking place won't do that!! :-)
I'm very hopeful that we'll be able to announce a venue early in the new year, but whenever we re-launch the concept, it will be at a time when I'm convinced that it has every chance of carrying on for another several years.
Stay tuned!
Canadianjazzquartet.com