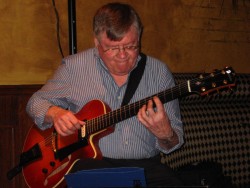 The jazz community mourns the loss of guitarist Gary Benson, who last month peacefully succumbed to Creutzfeldt-Jacob disease, a rare and incurable degenerative neurological disorder. In his accomplished 75 years, Benson was deeply respected as a musician, composer and educator, as well as for his amiable personality and sense of humour. Over 300 mourners attended the funeral, including many members of Toronto's jazz community. In recent years Benson performed regularly with the Canadian Jazz Quartet, a group he formed in the late 1980s.
Speaking at Benson's memorial service on March 19, his cherished friend and musical associate for over a half-century, Don Vickery, said:
"Gary started the original Canadian Jazz Quartet in 1987 with Gerry Hoelke on bass, Gordie Fleming on accordion and me on drums. The great Bob Price later became our bass player, and Frank Wright joined the group to establish our current sound over 20 years ago. Duncan Hopkins has been our bass player since B.P. passed away in 2002. In 2006, we found a home at Quotes, where we were the resident band for nearly seven years, backing up international jazz players during the Toronto Jazz Festival every year – and every week, featuring all the best musicians in Toronto."
"That's where the CJQ really came to prominence, and during that time, recorded two more successful CDs and were featured in two global live-to-air broadcasts on JAZZ.FM91. Gary loved the gig and everyone loved Gary. When Quotes was sold, we moved to KAMA where we are to this day. And we were lucky enough to have Gary with us there until the last few months. We miss him as our friend, as our leader and as a wonderful talent. We will never forget him and I know we are all better people, and better musicians, for having him in our lives."
The Canadian Jazz Quartet continues to perform every Thursday from 5 to 8pm at KAMA on King St. W., featuring guest guitarists and as always, a featured weekly guest horn player. Consult our In the Clubs jazz listings for further details.
Walk With Jordan: On the evening of Thursday, April 24, I hope there will be a full house at the intimate Musideum (401 Richmond Street West) for what promises to be a night of heartfelt music for a worthy cause. Starting at 7pm, vocalist Vivia Kay and her band Blacksparrow will present "Send Love South: A Fundraiser for the Walk with Jordan Scholarship Foundation," in memory of Jordan Davis, a 17-year-old Jacksonville, Florida teen who was fatally shot for listening to loud music.
For those unfamiliar with the tragedy, during the American Thanksgiving weekend of 2012, Jordan Davis was in an SUV with three of his friends, listening to hip-hop while parked outside of a convenience store. Forty-seven-year-old Michael Dunn, parked adjacently, asked them to turn down that "thug music" and when they refused, he fired indiscriminately and shot at the SUV, killing Davis. The Florida jury convicted Dunn of three counts of second-degree attempted murder but the jury was deadlocked on the murder charge.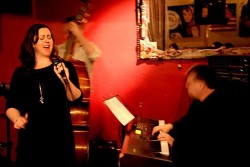 Vivia Kay had never met Jordan Davis, but being a Florida native herself, followed his trial closely.
"Growing up around the societal and systemic racism that breeds these kinds of violent crimes, I followed both the Trayvon Martin and Jordan Davis trials with a great deal of interest. Particularly after the Jordan Davis trial, I felt enraged and horrified — Jordan Davis was murdered because he was listening to music," says Kay.
"Growing up in the small-town South, driving around and listening to music was what I did, what we all did on a weekend night. I read that Jordan Davis' last words were "turn it up." That's exactly what I would have done as a teenager. I wouldn't have been targeted by a racist like Davis' killer, because I'm not black. But I wouldn't have turned down my music, either. That's why Jordan Davis' murder resonated with me on such a personal level. And it's why I'm doing the Send Love South benefit."
The artists are donating their time and Musideum owner Donald Quan has generously waived much of his usual fee for the space, so beyond the small rental fee every penny of show proceeds will be donated to the Walk with Jordan Scholarship Fund, a scholarship set up by Jordan Davis' parents in his memory. The Scholarship Fund aims to support students from the Florida/Georgia border region in pursuing a college or university education, which as someone who struggled to pay for university also resonates deeply with Vivia Kay, who recently earned a PhD in ethnomusicology at York University. With a performance background in classical singing as well as jazz vocals, her dissertation examines Southern Gospel music and the culture that surrounds it. On April 24, Kay's band Blacksparrow will feature Mark Kieswetter on Musideum's Bechstein piano and bassist Jordan O'Connor.
"The music that we are presenting is a selection of gospel, jazz and rock songs along with two originals I've written for the occasion. Mark and I have been rehearsing and working together on the arrangements, and I am really excited about them. The music will be centred around laments regarding injustice and evil in the world as well as hopes for justice and better times. I think it will be an emotional and cathartic evening, but it isn't going to be an entirely mournful one. I believe that love and hope are radical acts in today's world, and that is the ultimate message of the show."
For those unable to attend, there is an opportunity to contribute to the cause by visiting the foundation's website: walkwithjordan.org.
Ori Dagan is a Toronto-based jazz vocalist, voice actor and entertainment journalist. He can be contacted at jazz@thewholenote.com.