Over a cup of joe at his favourite neighbourhood espresso bar, English conductor Simon Capet spills the beans. We're here to talk about the inspirations behind his buzzed-about projects: the weekly Classical Social sessions at Fionn MacCool's and the monthly Monday night concerts at Lula Lounge with his exciting new group, Euphonia. A bit of chit-chat on how his surname is French in origin — pronounced Ka-pay — and his recent relocation to Toronto after 15 years as a Vancouverite, and it isn't long before we get down to the nitty gritty: what he feels is wrong with classical music performance these days and how to make it right.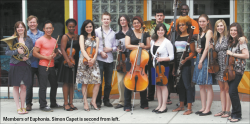 "I often make the analogy between music and food; one sustains the body, the other sustains the soul," he says emphatically. "I feel like if you look back at how food was in the 1970s it was either overcooked beef and vegetables or it was pompous French cuisine, and classical music got itself stuck into the pompous French cuisine mold. And actually my greatest inspirations for what I am doing are culinary ones — the Jamie Olivers and the Anthony Bourdains or before that the Raymond Blancs — these men actually managed to break down those barriers and now people of all social backgrounds are experimenting with different kinds of food. That's what I want to see happen with classical music."
The weekly Classical Social series at Fionn MacCool's (181 University Ave.) is a case in point. These Sunday evenings are similar to jazz jam sessions, with the main difference being that the music is not improvised, but sight-read.
"One of the things that is wonderful about Classical Social is that we are performing some of these great arrangements that have literally been sitting in the U of T library for decades. Things like the arrangement of Haydn's Symphony No.6 by Salomon — the entrepreneur who brought Haydn to London in the 18th century. Back then, this was the equivalent of taking home a CD from a gig! The way that it used to work with publishers in those days, they made no money from the sale of their symphonies, other than an initial commission; the way they made money was by writing arrangements of their symphonies for all sorts of things. Beethoven arranged his symphonies for mandolin and piano, and those he sold and made money from. And this was true up until the 20th century."
Who knew that Bach, Beethoven and Brahms would go so well with a pint? Bringing this music to the bar has proven to be a brilliant idea. Not only for the musicians, who rarely get to perform in jeans and sandals, but also for audiences who in some cases stumble upon this music for the first time. In many cases customer from Fionn MacCool's end up in the audience at Lula Lounge, where Capet's 16-piece ensemble, Euphonia, appears every month.
I attended the August concert, and was surprised to find the group situated on the dance floor, rather than the stage; another surprise was the invitation to "keep your cell phone on" during the performance, encouraging the audience to tweet throughout the evening. The orchestra members — a diverse group of women and men — wore a variety of vibrant colours. As for the music, Capet's selections for the evening functioned as sweet and salty flavour combinations that were just right, from the obscure to the familiar: Paisiello, Salieri, Mozart and Haydn. In addition to the conductor, if there was another star that night it was exuberant Tanya Charles on violin, the featured soloist on Mozart's Violin Concerto No.4 in D Major K218. To keep things innovative, Capet had Charles conduct that piece as well as present her own original, playful cadenzas. Reflecting on the experience, Charles had this to say:
"It was a challenge for us all, but as an ensemble, I feel that we learned a lot about each other. For me, it was about learning how to lead efficiently and how best to communicate with musicians for phrasing and time changes. For the ensemble, it was about trusting one another and watching and listening with a more heightened sense of awareness in order to play together and with the same musical intentions. From my experience, it was the most comfortable and relaxed performance I have played because I was literally in the centre of the ensemble and the centre of the sound (rather than being steps in front of it), and I was backed by a great band of my colleagues and friends who were truly supportive. One of our goals is to continue becoming a more cohesive group and truly finding and honing our own sound and I feel like we are on the creative track to achieving that!"
There was something about the performance by Tanya Charles that really struck a chord with the audience, and it wasn't because every note was technically perfect; rather, it was more intense and exciting, and her beaming expression throughout the performance was absolutely contagious. For Capet, this must have been a triumph; back at the coffee shop, he expressed his desire to take perfectionism out of the classical music tradition.
"I don't go to symphony concerts. I'm bored," he explains. "We live in a wonderful time now, because of the internet there are so many recordings of 20th century music that are available to us, from about 1900 onwards. And if I was to give you a dozen recordings of Brahms' First Symphony, say between 1900 and 1910, I could find you a dozen totally different takes and sounds on that orchestra. But if I took them from the last decade, they'd all sound rather similar, because what happened in the history of recordings in the 1960s and 1970s is that big companies like Deutsche Grammophon and EMI, etc., put millions and millions of dollars into the uber stars — the Karajans and the Bernsteins — and these uber orchestras, the Chicago Symphony and the San Francisco and Vienna. So what happened from the very beginning of the recording industry is that, as a recording became available, everything changed and it became "listen to this  — it's the way Beethoven intended it!" with the full orchestra. The pretension of the recording industry became "what we have is better than what you had" and so it grew and by the time Bernstein and Karajan were around, it became the battle of stereophonic sound — "our orchestra is more perfect than your orchestra," and Bernstein's recording of Mahler was "the definitive." As if we can have a definitive recording of anything, or would want a definitive recording of anything. Can there be a definitive Shakespeare? Or the definitive cover of a Cole Porter song? It's ridiculous," Capet scoffs, almost out of breath. He takes a sip of coffee and continues.
"But to get the big money, the recording contracts, you had to be perfect. And this was the analog world, this wasn't the cut and paste world of digital technology. You had to be able to do this in a take or a couple of takes, so accuracy would lead towards getting those contracts. A friend of mine in Copenhagen, after reading some of the press about Euphonia, started to have a conversation among his colleagues, and they were saying, "when did we get so afraid of pushing ourselves outside of the comfort zone?" And it's true: musicians tend to feel that they're really good when they play within this comfort zone ... but the excitement is, for example, Tanya Charles directing her piece for the first time, placed her outside of her comfort zone; us playing at the Lula Lounge, places us outside of our comfort zone because we have no acoustic to make life easy for us. If we play in a church, or at Koerner Hall, there is a little bit of resonance that will help us tune, but we have to be so much more accurate at Lula because there is no acoustic to help us. But the audience isn't complaining about our tuning, or the occasional wrong note; what they are responding to is the authenticity and energy of the experience. And that's where music comes alive, because music is an emotional communication between human beings, and it starts with the musicians, not with the music."
Here's hoping you'll all check out what Simon Capet is doing at Fionn MacCool's and Lula Lounge; these are exciting times for the ensemble. For those who wish to plan ahead, Euphonia will be back at Lula Lounge on September 16, October 21, November 11 and December 16. Admission is pay-what-you-can, suggested $10.
On a closing note, isn't it great when risks pay off? Readers may recall that the Fridays at Five series featuring the Canadian Jazz Quartet was forced to pause when Quotes (220 King St. W.) closed its doors. A few months back, the series moved a few doors down and one day back. Thursdays at Five takes place at KAMA Classical Indian Cuisine (214 King St. W.) and word is that it has been incredibly successful.
"We've been thrilled with the big crowds we've been generating all summer," says Fay Olson, who books the series. "Summer is a time when a lot of clubs don't want to risk that attendance will go down. We took a chance after only having been going for a few weeks when it was summer, but I think the fact it's on Thursdays (instead of Fridays) is why it's working. Even on long weekends when a lot of people leave town on Fridays, we've done really well on Thursday nights."
According to what I've heard, the buffet is spectacular and manager Ken Clarke has arranged for a Jazz Menu on Thursdays, featuring classical Indian takes on sliders, nachos and wings!
Let's be sure to keep this excellent series going. The Canadian Jazz Quartet features Don Vickery on drums, Gary Benson on guitar, Frank Wright on vibes and Duncan Hopkins on bass. Their exquisite horn playing guests this month are Dave Dunlop on September 5, Kelly Jefferson on September 12, Mike Malone on September 19 and Colleen Allen on September 26.
Happy fall to all, and here's hoping to see you in the clubs! 
Ori Dagan is a Toronto-based jazz vocalist, voice actor and entertainment journalist. He can be contacted at jazz@thewholenote.com.