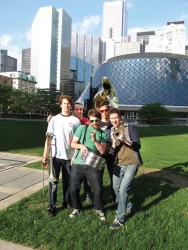 FIVE MIGHTILY AMBITIOUS twenty-somethings make up The Heavyweights Brass Band: Rob Teehan on sousaphone, Paul Metcalfe on sax, Jon Challoner on trumpet, Chris Butcher on trombone and Lowell Whitty on drums. Barely 18 months old, the band is psyched to make a splash at this year's TD Toronto Jazz Festival, with a main stage show on Canada Day and a CD Release event at The Rex Hotel Jazz & Blues Bar on July 3. Aside from their cordless instruments that harken back to a New Orleans of yesteryear, what's all the fuss about? Drumroll, please. It's the repertoire they arrange, from Lady Gaga and Beyoncé to Michael Jackson and Justin Bieber. GASP! Can a group that covers Gaga and the Biebs be a legitimate jazz band?
"It's a point of debate, depending on who you talk to," admits Teehan. "But I think the definition of a jazz band is expanding and has to encompass other styles of music that use the language of jazz, so I would say YES! we are a jazz band because what we do is very much in the tradition of improvisation."
"What we're doing is bringing our own life experience into the genre," explains Butcher, who was inspired to form the band after visiting New Orleans in 2009. "These are songs that we grew up with, they are a part of us, so we're trying to incorporate them into our sound … I'd say we're definitely a jazz band because a huge part of the jazz tradition is playing the music of the day. Thelonious Monk and Miles Davis wrote their own music, but they also played the popular music of the day. The goal of this group is to play music that anyone could enjoy, not necessarily someone who went to jazz school. As much as I love modern jazz, one of the things that scares me about it is when it only appeals to people who play bebop, not many can relate …"
The band's (ironically) light approach to entertaining a crowd is winning them fans of all ages ("the reaction from young children has been explosive!") and in the tradition of old-school swing bands, their infectious rhythms inspire even the stiffest audience members to dance. Guess the lesson here is don't judge a band by its covers.
Accurately defining the term "jazz" seems about as challenging as using it to generate a sizeable fortune. Arguably, a true definition is impossible, since the word is itself a mystery. Furthermore, in
a mere century, the umbrella term has sheltered Dixieland, swing, bebop, cool jazz, hard bop, modal jazz, free jazz, Latin jazz, post bop, soul jazz, jazz fusion, jazz funk, acid jazz and many other variants – a welcome flood of musical expression.
Many of the above varieties can be found at this year's TD Toronto Jazz Festival, from some surprising choices (Jessye Norman, Koerner Hall, June 28 at 8pm) to one of the music's most currently electric success stories, Kurt Elling (Enwave Theatre, June 27 at 7pm). As Elling himself recently defined for Jazz Times, "A jazz singer is somebody who devotes their life to an art form that demands a spirit – at least a spirit – of improvisation and risk taking."
By Elling's definition, prolific Canadian actor and multi-disciplinary artist Don Francks (Dominion on Queen, June 29 at 8pm) is very much a jazz singer. Having sung standards, originals, Native songs and children's music while playing drums, trombone and flute along the way, this tremendously gifted musician, actor, poet, visual artist and raconteur will turn 80 years young in February. Francks in live performance is fiercely committed to the moment, making him, in my book, as genuine a jazz artist as they come.
Under the category of blues, much adored singer and multi-instrumentalist Julian Fauth is not going to be singing the blues for a while, at least not on stage. After a serious fall on the eve of his western Canadian tour, Fauth suffered a badly broken shoulder and is expected to be out of action for at least six months. The music community has responded by putting together several fundraising concerts, including one on Tuesday June 28 at Hugh's Room. The concert will feature performances by Harrison Kennedy, Paul Reddick, Bobby Dean Blackburn, Treasa Levasseur and Donné Roberts, with band members James Thomson, Jay Danley and Bob Vespaziani. For those unable to attend, a trust fund is currently being set up. Visit www.julianfauth.com for more information.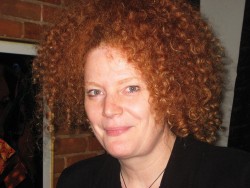 One element that defines a jazz festival's success is the official jam session. For the first time, the Toronto Jazz Festival sessions will take place at Quotes Bar & Grill, hosted on most nights by fantastic pianist Stacie McGregor. There will be a $10 cover charge for the general public, but musicians who wish to sit in will be welcome to attend at no charge. Here's hoping a variety of players and singers show up to make the sessions as engaging as possible, for these sessions are the meeting place of musicians, audiences and the folks behind the scenes – where, in the true spirit of this music, surprises are an expectation.
Back one last time to the question of "Is this jazz?" Consider this from the late, great Sarah Vaughan (Down Beat magazine,1982):
"I don't know why people call me a jazz singer … I'm not putting jazz down, but I'm not a jazz singer … I've even been called a blues singer. I've recorded all kinds of music, but (to them) I'm either a jazz singer or a blues singer. I can't sing a blues – just a right-out blues – but I can put the blues in whatever I sing. I might sing 'Send In the Clowns" and I might stick a little bluesy part in it, or any song. What I want to do, music-wise, is all kinds of music that I like, and I like all kinds of music."
And as Louis Armstrong put it: "All music is folk music; I ain't never heard no horse sing a song."
Ori Dagan is a Toronto-based jazz vocalist and entertainment journalist. He can be contacted at jazz@thewholenote.com.