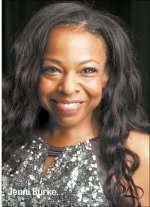 Acclaimed actress and singer Jenni Burke is happy to be leading "Saturday Swing-Along" brunches at Jazz Bistro, taking place December 7, 14, and 21 at 12:30pm. Burke's charming voice and warm stage presence, along with special guests and sing-alongs will offer folks from one to ninety-two a chance to get into the spirit of the season.
"I love this time of the year when I remember to take a moment to remember what it's all about," says Burke. "For all the material hoopla associated with the holiday season, its meaning doesn't lie in the perfect gift, the obligations, the running around, all the glitter and bows, but in the birth of something lovely and new inside our hearts ... we are reminded at this time of year that we can be more than we are. That we can and should be the force of love in this world. A time to count our blessings and be grateful and experience the joy of giving." Jazz Bistro will be accepting food donations at the door in support of Daily Bread Food Bank and CBC's Sounds of the Season; those who bring a non-perishable donation will be admitted free of charge.
Anyone looking for a bargain on New Year's Eve should hurry up and make reservations at Gate 403. Cover is only $10 for the evening, with entertainment provided by the Denielle Bassels Jazz Band. A recent graduate of Humber College, Bassels is a brilliant talent with more than just a gorgeous voice. Reminiscent of the late Amy Winehouse, the singer-songwriter's music is all at once classic, contemporary and appealing. Gate 403 is an unpretentious venue, and one of the only clubs in Toronto that features live jazz and blues seven days a week. It's certainly deserving of your continued support, and there is hardly ever a cover charge. That being said, most of the money the musicians take home for their hard work comes from the Pay-What-You-Can jar, so be sure to contribute, especially if you enjoy their performance. Generous tips make for excellent karma!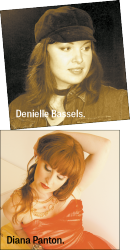 A few months back I had the honour of playing a gig with Canadian jazz legend Don Thompson. Afterwards we chatted about some of our favourite singers. He asked me whether or not I had heard Diana Panton, a vocalist he has been working with for years, with whom he recently toured Asia.
"Oh, they just love her over there ... people revere her singing over there," he said. "They come to meet her after the show and they are in tears. She is so honest and beautiful and they really get it." Asked whether she would be playing here anytime soon, he said no, I better just listen to her records, and so I checked out some of her work. Panton's sensuous voice and her pared-down approach translate beautifully on recording, often sounding like she is whispering in your ear. Thankfully, some gigs have been booked since then, and we can all see and hear the Diana Panton Trio live on a few occasions in the near future. With the exquisite backing of Don Thompson and Reg Schwager, Diana Panton will perform Christmas material on December 12 and 13 at Brampton's Rose Theatre, and on January 25 the three are at the Paintbox Bistro as part of an exciting series booked by the Jazz Performance and Education Centre, JPEC. As part of the same series, piano master Randy Weston will appear at the Paintbox on Friday, January 11; tickets for the series can be purchased at paintboxbistro.com
If you've never been to Hugh's Room, there are some great reasons to check it out in the coming months. On Friday and Saturday, December 6 and 7, singing guitarist Leon Redbone makes a rare appearance. As reclusive as he is spellbinding, the enigmatic performer has amassed a sizable following thanks to his signature style; check out his YouTube channel for a taste of his tasteful talents. Meshing old-school jazz, folk, blues and ragtime with self-effacing comedy, the singular troubadour will be accompanied by pianist Paul Asaro and bluesman Colin Linden.

Speaking of troubadours, Toronto's very own Rik Emmett will also be performing at Hugh's Room, on Friday December 20, with Dave Dunlop on guitar. One of the founding members of famed 1970s/80s Canadian power rock outfit Triumph, Emmett struck out on his own as a singer-songwriter 25 years ago and has never stopped rocking. I had the pleasure of studying songwriting with Emmett at Humber College, where he performed new songs for the class week after week; his gift for melody, enchanting voice and performance style make this performer one Toronto should treasure.
The music of Chet Baker appears to be inspiring plenty of singers these days, including Shannon Butcher, who has just released an EP of seven songs made famous by the icon. Butcher has always been fascinated by Baker's "Dark and aloof personal life, burdened by addictions, contrasted by his evocative performances that deeply connected him to his audience." The resulting Butcher Sings Baker ranges from the melancholic "Almost Blue" to the effervescent "Happy Little Sunbeam," and features Rebecca Hennessy on trumpet, a lovely choice for this project. The album can be found on iTunes or in hard copy, autographed live in person. Butcher performs at the Dovercourt House for the Saturday Night Swing Dance on December 21, and in duo with bassist Ross MacIntyre at Musideum on January 30.
Guitarists and lovers of jazz guitar should take note of an exciting few days at Chalkers Pub with Gene Bertoncini. Born and raised in New York City, the 76-year-old master guitarist has been playing this music for nearly seven decades, fusing together jazz, classical, pop and bossa nova styles on both acoustic and electric guitar. He has worked with Benny Goodman, Tony Bennett, Lena Horne, Buddy Rich, Wayne Shorter and Michel LeGrand, to name a few. On January 25 at Chalkers Pub, Bertoncini will appear in duo format with Dave Young; the following afternoon, January 26, he will be teaching a guitar clinic, and performing solo that evening. Anyone interested in hearing the guitar sing should not miss it!
Thank you all for reading and for your continued support of this vibrant scene, made all the more bright by your attendance and applause. Wishing you all a wonderful holiday and plenty of live music in 2014! (Our jam-packed In the Clubs listings start on page 61.) 
Ori Dagan is a Toronto-based jazz vocalist, voice actor and entertainment journalist. He can be contacted at jazz@thewholenote.com.